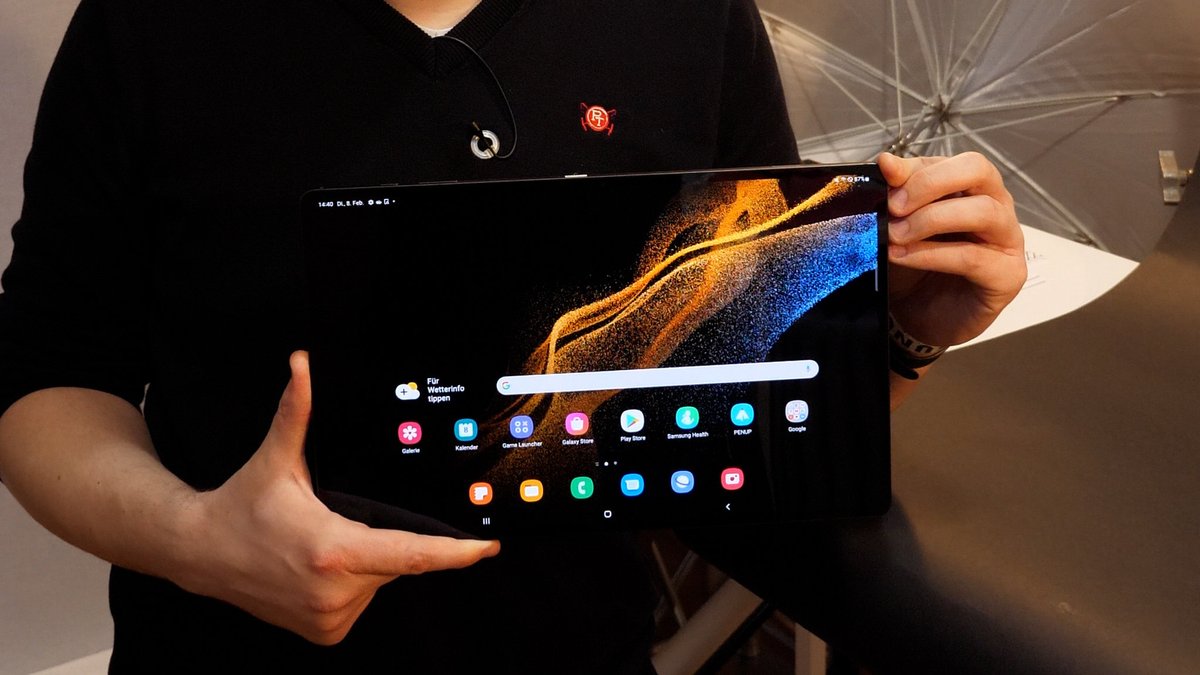 Samsung releases new Android tablets on a regular basis. A few years ago I bought a Galaxy Tab 10.1 (2019) and I wait every year to be able to replace it. The Samsung Galaxy Tab S8 Ultra would be the perfect successor if there wasn't a big catch.
Samsung Galaxy Tab S8 Ultra does a lot of things right
I've been thinking about buying a new Android tablet for a while. The older Galaxy Tab 10.1 (2019) is already past its prime. Don't get me wrong, it's still perfectly fine and you can basically do anything with it, but it's just gotten so incredibly slow that I just don't like using it anymore. Before that I had a Sony Xperia Z3 Tablet Compact, which I also used for a few years. With every new tablet, the display has gotten bigger and that should also happen with the new device.
When Samsung officially introduced the Galaxy Tab S8 Ultra, I knew right away that this was the perfect Android tablet for me. Compared to my current tablet, there are a few things that are particularly important to me:
Large display High brightness Long battery life
I use my Android tablet mostly in the garden. The lighting conditions there are difficult, so with the old model I had a lot of problems seeing something on the screen when the sun was shining. Especially when I have a barbecue in the summer and want to watch Formula 1 at the same time, it's just annoying. With the Galaxy Tab S8 Ultra I would get the currently best display in a tablet . At 14.6 inches, it would not only be big, but also has a very high brightness.
Our first impression of the Samsung Galaxy Tab S8 Ultra:
What speaks for me in favor of the Galaxy Tab S8 Ultra is the very thin design of 5.5 mm and the light weight of 728 grams. With the keyboard cover, I'm sure to weigh around 1,000 grams. Perfect if you want to transport the tablet. Since you can still expand the storage space with a microSD card on this tablet, you don't even have to buy the largest configuration. But I would still choose 256 GB to get more memory. Since I would probably use this tablet for many years, I want to use it to secure myself for the future.
Samsung improves update guarantee
Samsung supports my plan because the update guarantee is five years . You get four Android upgrades to new versions and thus Android 16. There are also five years of security updates. So we can expect a lot of improvements in the next few years. Google wants to focus more on Android tablets and Samsung will certainly implement many features as well.
But there is a catch
And that's the price. My desired configuration with 256 GB internal memory, 12 GB RAM and 5G modem costs 1,399 euros (see Samsung). This is somehow too much for an Android tablet. Even if I were to buy the cheapest version, it would still be 1,149 euros. Is it worth it to me? I'm not so sure yet. At the latest when the first price drop sets in, I will think about a purchase again. I'm in no hurry anyway.