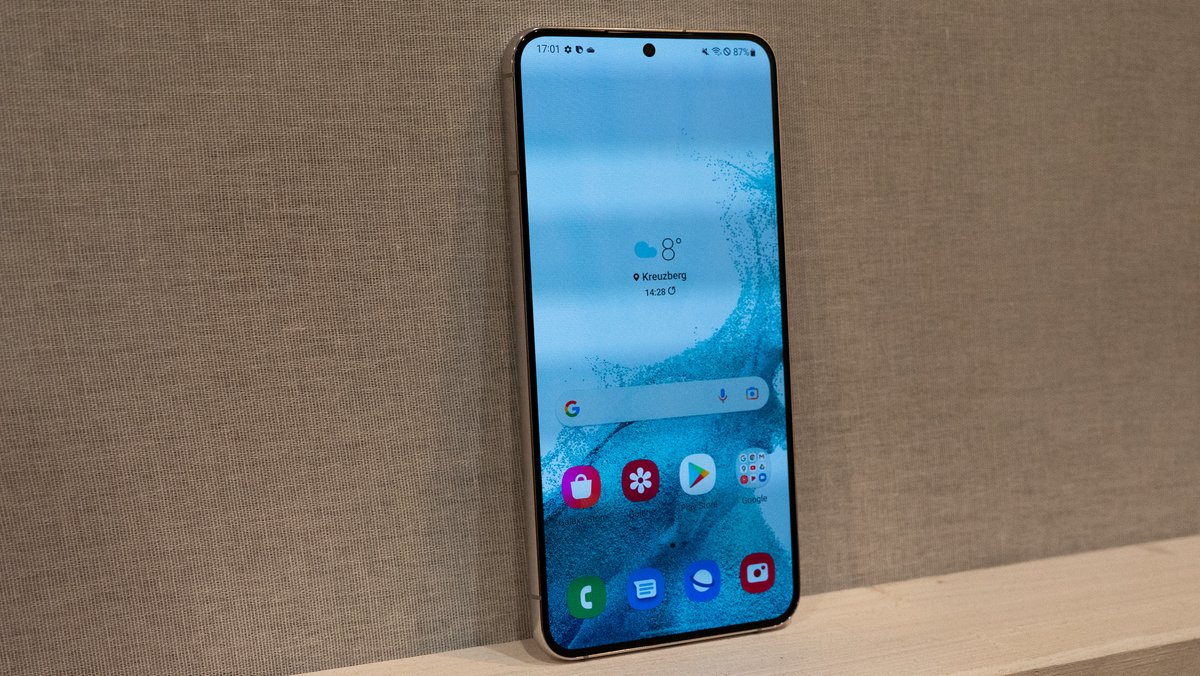 If you are not only interested in the brand new Galaxy S22 Plus, but also need a mobile phone contract with a lot of 5G data volume, you should take a look at DeinHandy. There you can get the Samsung flagship including Allnet and SMS flat rates thanks to the pre-order campaign with a double discount.
Samsung Galaxy S22 Plus with 120GB plan and Galaxy Buds Pro
The new S22 smartphones from Samsung can be pre-ordered now and will officially appear in stores on February 25th, 2022. If you are looking for the "Plus" version, you can get it from DeinHandy including the o2 "Free L Boost" tariff with Allnet and SMS flat rate as well as an impressive 120 GB LTE/5G data volume for just 44.99 euros per month (instead of 64.99 euros at o2 direct). There is a one-time additional payment of 99 euros, the connection price does not apply. Until February 24th, 2022 there will be a free pair of Galaxy Buds Pro as a pre-order bonus as well as a 100 euro exchange bonus if you trade in your old cell phone.
Tariff details at a glance
Network:
o2
Tariff: Free L Boost
120 GB
LTE/5G data volume (max. 300 MBit/s) Allnet and SMS flat-rate EU roaming including 24-month minimum term, 1-month notice period
Samsung Galaxy S22 Plus with a contract in the o2 network: That's why the offer is worth it
The costs of the tariff bundle at a glance
Basic fee
(monthly)
44.99 euros
additional payment
(once, at the beginning of the contract) 99 euros
connection
fee
(once, at the beginning of the contract) 0 Euro
shipping costs
(one-time) 0 Euro
total costs after 24 months
(in the event of termination at the end of the minimum contract period,
monthly and one-off costs added)
1,178.75 euros device
values
(current best online prices according to idealo.de) 1,049 euros (mobile phone) + 100 euros (buds)
effective cost tariff
(Total costs minus device values) 29.76 euros
Effective costs Tariff per month
1.24 euros View
offer
According to idealo, the Samsung Galaxy S22 Plus (128 GB) currently costs at least 1,049 euros, the Galaxy Buds Pro cost around 100 euros. If you subtract these values ​​from the total costs, 29.76 euros remain for the tariff. This corresponds to 1.24 euros per month - a really low price for an all-network flat rate and 120 GB 5G data volume with up to 300 MBit/s!
Don't forget to cancel at the end of the minimum contract period, only then will the low price pay off. But don't worry, if you forget that, the contract will not be extended by another year, but can be canceled monthly since 2022.
You can find out what the differences between the new S22 models are in our hands-on: