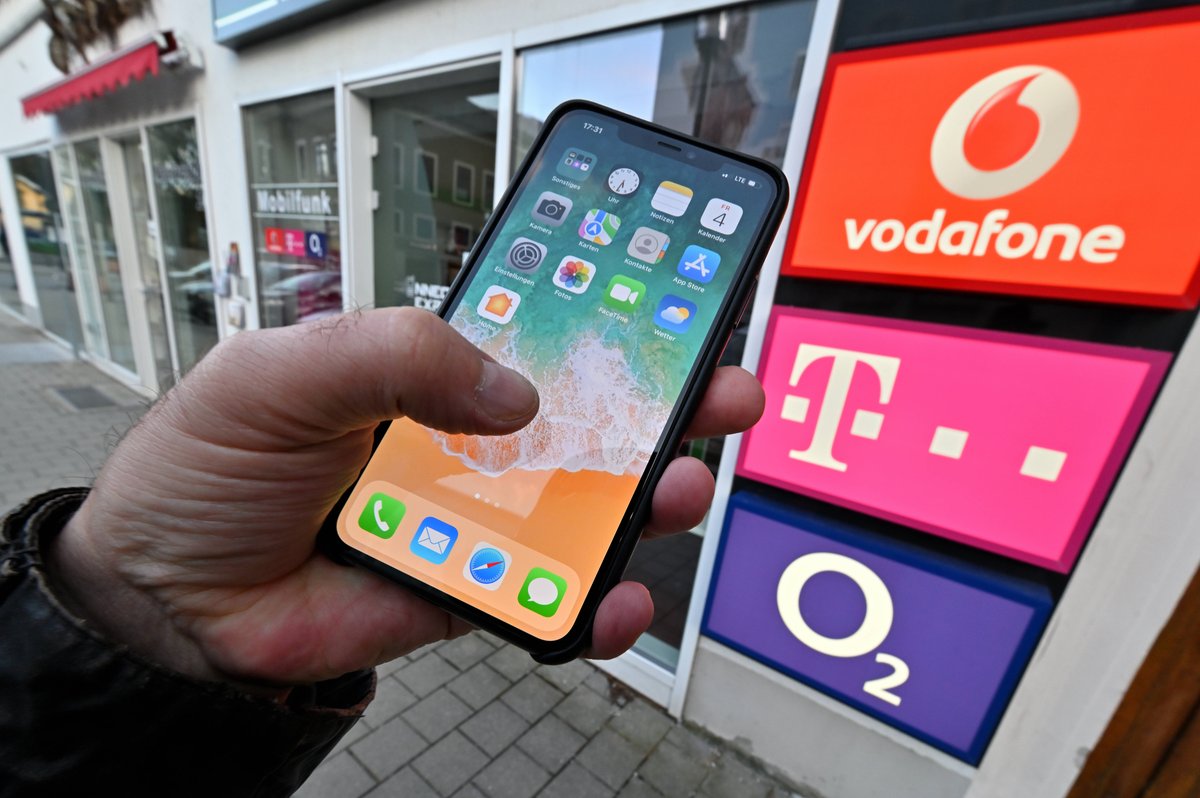 Unlimited data volume every month: Unlimited tariffs fulfill this wish and are trendy. All major German network operators have a genuine flat rate on offer. Here you can find out in comparison whether Telekom, Vodafone or o2 offer the most value for money.
If you want to surf mobile without having to think about your data consumption, you will not be able to avoid an unlimited data volume tariff. Anyone who streams a lot of music and videos on the go will naturally reach their limits at some point with conventional tariffs. The three major German network operators Telekom, Vodafone and o2 have been offering unlimited tariffs for some time. However, there are serious differences in terms of price, speed and optional bookable options.
Telekom Magenta Mobil XL: Unlimited data volume
Telekom offers its unlimited tariff for 84.95 euros per month. A one-time provision fee of EUR 39.95 is payable. The tariff runs for 24 months and includes numerous additional offers that can be booked free of charge as well as test months for streaming services such as Disney+ and Apple TV+ .
Telekom offers a MultiSIM for use in a tablet or second cell phone for EUR 29.95 per month. A MultiSIM for Smartwatches is available for EUR 4.95 per month. Up to four such additional cards can be booked for the Unlimited tariff.
Telekom Unlimited tariff details at a glance:
EUR 84.95 basic fee per month EUR 39.95 one-time provision
of 5G/LTE
network (max. 300 MBit/s) telephone and SMS
flat rate
EU roaming (incl. Switzerland and GB): Make calls and surf the web like in the Domestic up to 58 GB data usage Optional: 1 month Disney+ free Optional: 3 months Apple TV+ free Optional: StreamOn Gaming free Optional: StreamOn Music & Video free Optional: StreamOn Social & Chat free
o2 Free Unlimited: Unlimited surfing & calling
o2 offers three different unlimited tariffs. All offer the use of the LTE/5G network as well as an Allnet and SMS flat rate. The only difference is the maximum surfing speed and of course the monthly price. With 59.99 euros for the fastest speed, o2 positioned itself aggressively ahead of its competitors Telekom and Vodafone. The unlimited tariff there is at least 20 euros cheaper than the other network operators. However, there is no partner card like Vodafone or Telekom. Incidentally, anyone who is already an o2 customer only pays half of the tariffs and no connection fees.
o2 Unlimited tariff details at a glance:
39.99 euros one-off connection
price 5G/LTE
network (max. 500 MBit/s) telephone and SMS
flat
rate EU roaming: The data volume included in the tariff can also be used in other EU countries
o2 Free Unlimited Max
o2 Free Unlimited Smart
o2 Free Unlimited Basic
speed
500 Mbit/s 10 Mbit/s 2 Mbit/s
Price per month
EUR 59.99 EUR 39.99 EUR 29.99
Vodafone Red XL: Unlimited data volume
Vodafone also has a tariff without a data limit in its range. There is unlimited data volume in the 5G/LTE network as well as Allnet and SMS flat rates for 79.99 euros per month. Vodafone offers its customers the option of sharing the Unlimited tariff with up to four family members . Each additional card has its own phone number, Allnet and SMS flat rate, but the data volume is not unlimited but limited to 10 GB . The additional card for the partner costs 20 euros, for the child 10 euros. A pure data card is also available – for use in a tablet or Apple Watch, for example – for 5 euros.
Vodafone Red XL Unlimited tariff details at a glance:
EUR 79.99 per month EUR 39.99 one-time connection price
5G/LTE
network (max. 500 MBit/s) telephone, SMS and MMS
flat
rate 54 GB data roaming per month in other EU countries
Comparison of unlimited tariffs from Telekom, Vodafone & o2
Telekom
o2
Vodafone
Price per month
EUR 84.95 EUR 59.99 EUR 79.99
One-off costs
EUR 39.95 EUR 39.99 EUR 39.99
EU roaming
58 GB surfing, telephone + SMS according to the contract under "Fair Use policy" 54 GB
Multi-SIM
29.95 euros - 20 euros
offer link
Telekom o2 Vodafone
Conclusion: Which unlimited tariff is the best?
With the Red XL, Vodafone scores above all because of the possibility of being able to share the tariff with the whole family at a reasonable price. Telekom offers many individual combination options and still the best network . o2 can significantly undercut both competitors in terms of price . The decision for the respective tariff is made based on which argument is most important to you.
If you manage your data volume cleverly, you might not even need an unlimited tariff. Here are our tips: