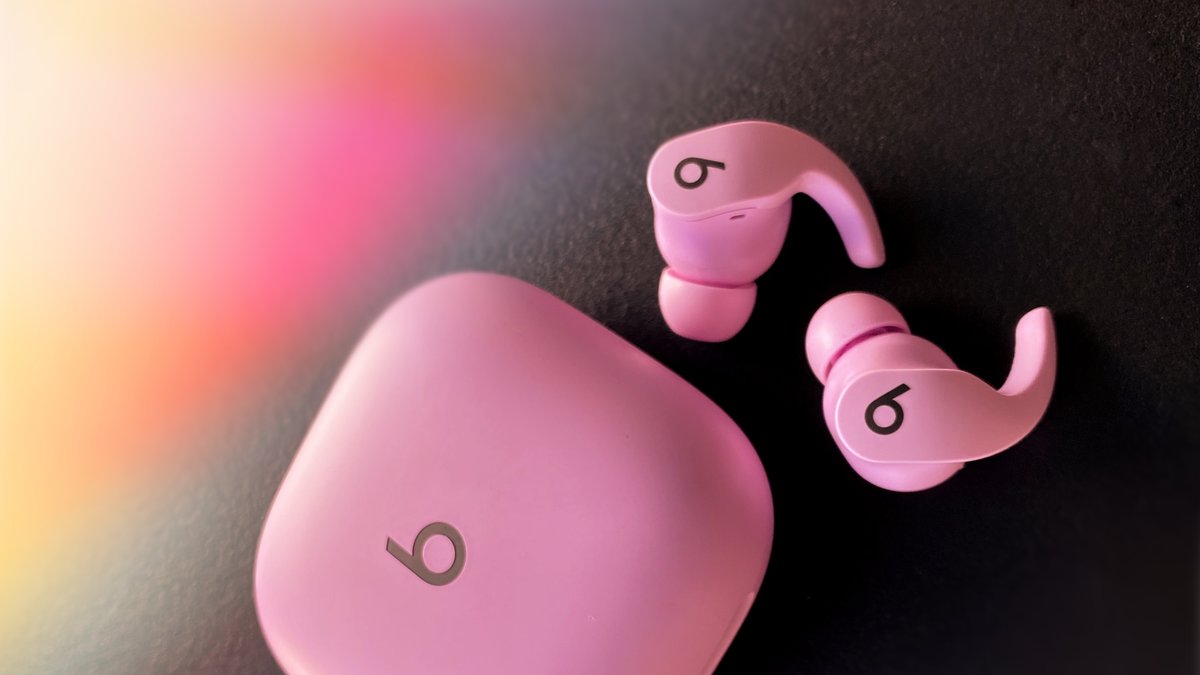 Listening to music and doing sports at the same time: A great combo that puts you in a good mood and boosts motivation. However, the question arises: "Which sports headphones should I buy?". We explain what to look out for and introduce you to the best Bluetooth models for athletes.
1.True Wireless: Beats Fit Pro
Advantages:
Consistently designed for sports with a secure fitUseful functions (ANC, 3D audio etc.)
Disadvantage:
Full range of functions only under iOS, some features are missing on AndroidRelatively large transport case
Relatively new, relatively expensive, but also pretty good: The Beats Fit Pro are ideal for sports of all kinds thanks to their compact design and flexible silicone wings. I can shake my head as I will, they always stay in place. Even a headstand was no problem with them - I just deduce from this that they are even suitable for yoga (I don't have the experience there).
The manufacturer emphasizes that the Beats Fit Pro are compatible with Apple and Android - but I find that iPhone users have a slight advantage because only they can enjoy 3D sound with dynamic head tracking, for example. Conclusion: My personal sports headphones favorite and - apart from sporty aspects - also the currently best alternative to the popular AirPods Pro.
2. Great sound, but with a cable: Bose Soundsport Wireless
Advantages:
Powerful soundSecure fit and high wearing comfort
Disadvantage:
Very bulky case, protruding clearly from the earsBattery life only up to 6 hours per charge
Yes, the Bose Soundsport Wireless model has been around for a few years now. Nevertheless, the headphones with a neckband (a cable that you put around your neck) are still worth a look. Unlike models that have just been released, the Bose no longer has to prove itself, as more than 24,000 mostly positive customer reviews on Amazon show (as of March 2022). It passed this large-scale long-term test with flying colours.
What excited me during the test back then: Only a few headphones sound as full and powerful as the Bose Soundsport Wireless - with the right music, that drives the whole body. The battery life (up to 6 hours per charge) is below average by today's standards and the sheer size of the two cases also seems a bit strange. But why should that interfere with the evening jog, especially if the price is right? Take a look at this classic.
3. Ears free thanks to bone conduction: Shokz OpenRun Pro
Advantages:
More intensive perception of surroundingsMultipoint BluetoothFast battery chargingDust and waterproof according to IP55Comfortable to wear, but ...
Disadvantage:
... Impractical design Weak bass sound No intuitive operation Packaging not up-to-date
The Shokz OpenRun Pro are unlike any other headphones. The manufacturer, formerly known as "AfterShokz", has occupied a niche with its bone conduction technology, which is particularly interesting for outdoor activities. Instead of clogging the ear canals, the ears remain free. The OpenRun Pro is worn in a similar way to glasses (but backwards), and most of the sound transmission takes place directly via the cheekbones. You can always hear whether cars are approaching or a bicycle is ringing.
This works amazingly well, the sound quality is more than sufficient, at least for the secondary sound reinforcement, and provides motivation when running. Compared to conventional in-ears, bass-heavy kick drums lack the power, but you are compensated with a particularly light and airy wearing comfort. More on this in our detailed test report by Sarah:
Headphones and sports: you should pay attention to this when buying
The most important basic rule: Doing sports and wearing headphones should always be done from a safety perspective. Both the athlete and his environment should under no circumstances be put in danger. Concrete example: If you ride a bike with headphones on, you could not hear other vehicles (danger to yourself) or be so distracted by the music that you lose concentration on other road users (danger to others).
Firm fit: Sport means movement, so the headphones have to fit well. In-ear models usually have an advantage here, as they are stuck firmly in the ear canal – provided they are properly seated. Some models are also provided with hooks or wings on the earpieces, so that the hold on the ear is reinforced. Headband headphones (over-ear/on-ear) have to have a strong contact pressure and at the same time be light in weight in order to hold up comparably well.
Advantages and disadvantages of cables: With in-ear headphones, there are models with a cable or neckband that connects both earphones. Since Apple's AirPods came out, the true wireless earbuds genre, i.e. two separate earphones, without any cables, has also become increasingly popular. It is not possible to say in general which solution is fundamentally better. Neckband Bluetooth headphones tend to have longer battery life and are less likely to be lost. True wireless earbuds could (individually) fly out of the ear with a jagged movement and may then be lost. The following applies: Where there is no cable, you cannot get stuck somewhere with a cable either.
Water and dust resistance: So-called IP numbers provide information on whether a gadget is protected against water, dust and sweat. Such properties are usually also advertised by the manufacturer and can be clearly seen from the packaging of the headphones alone. Conversely, this means that if headphones are not labeled "waterproof" or "waterproof", then they are not recommended for a sweaty sport.
Battery life, sound and design: How many hours a pair of headphones lasts is less important for sports headphones than it is for "travel headphones" (e.g. Sony WH-1000XM4). Above all, it is important that the headphones last the intended duration of the activity (e.g. 2 hours of jogging). An excessively strong bass can be annoying when listening to music, but it's not that bad during running training. When it comes to design, you can make "compromises" because it's not about looks, it's about functionality. In the review of the Bose Soundsport Free, for example, we complained that the bulky housing protruded from the ears - but that's ultimately a matter of taste and doesn't matter much to the ambitious athlete.
Headphones for sports: trying them on helps with the purchase decision
In the end, the only way to find out whether a pair of headphones really fits well and whether it suits the intended sport is to try it out beforehand. Because what is firmly in one user's ear and easily participates in a somersault, the other user falls out with a slight shake of the head. Therefore: Ask in the shop whether you can try out the models or, if in doubt, make use of your right of return with the online retailer.