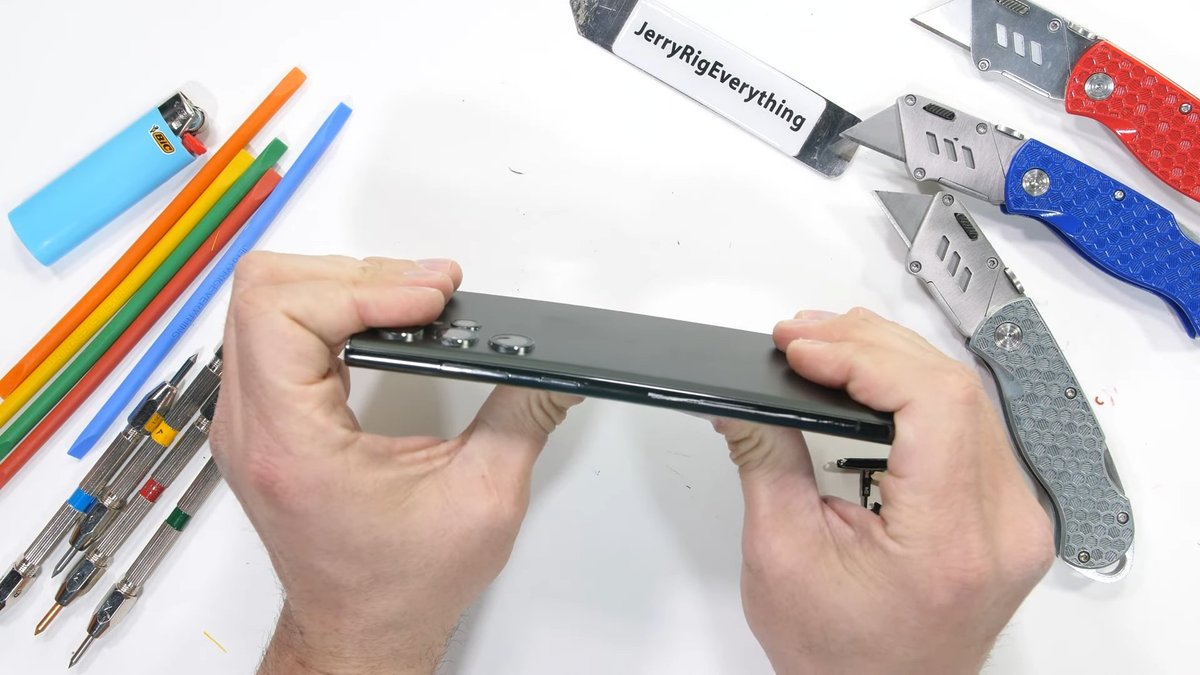 With its new flagship Galaxy S22 Ultra, Samsung actually leaves nothing to be desired. But what about stability? To answer this question, a well-known YouTuber abused the cell phone with razor blades and lighters. A bending test was also performed.
Samsung Galaxy S22 Ultra in the endurance test
Samsung has never built a more powerful smartphone than the Galaxy S22 Ultra. The premium model of the new Galaxy S22 series has a large, particularly bright AMOLED display paired with the new Exynos 2200 from Samsung. The well-known YouTuber Zack Nelson from JerryRigEverything has now carefully examined whether the flagship is stable enough for everyday use .
As usual , Zack doesn't just leave it at a scratch test , which reveals a predictable result (at level 6 on the Mohs hardness scale, slight scratches are noticeable), but also treats the Samsung Galaxy S22 Ultra with razor blades. The entire frame of the mobile phone is made of metal and shows the first scratches when processed with a stainless steel blade. The buttons and the end of the S Pen are also made of metal.
According to Zack, the Galaxy S22 Ultra's stylus can be broken with two hands. The construction has therefore been carried out as with previous versions of the S Pen, which means a waterproof housing and a rechargeable capacitor for the Bluetooth functions of the pen.
Fire cannot harm the ultrasonic fingerprint sensor integrated in the display. Even if the surface is scratched , fingers are still reliably recognized.
This is how the Galaxy S22 Ultra performs in the endurance test:
Galaxy S22 Ultra does not break in the bending test
Unlike the OnePlus 10 Pro, owners of a Galaxy S22 Ultra don't have to worry if they forget their cell phone in their pocket. Zach's bending test is successful - the phone does not bend, even with a lot of pressure .