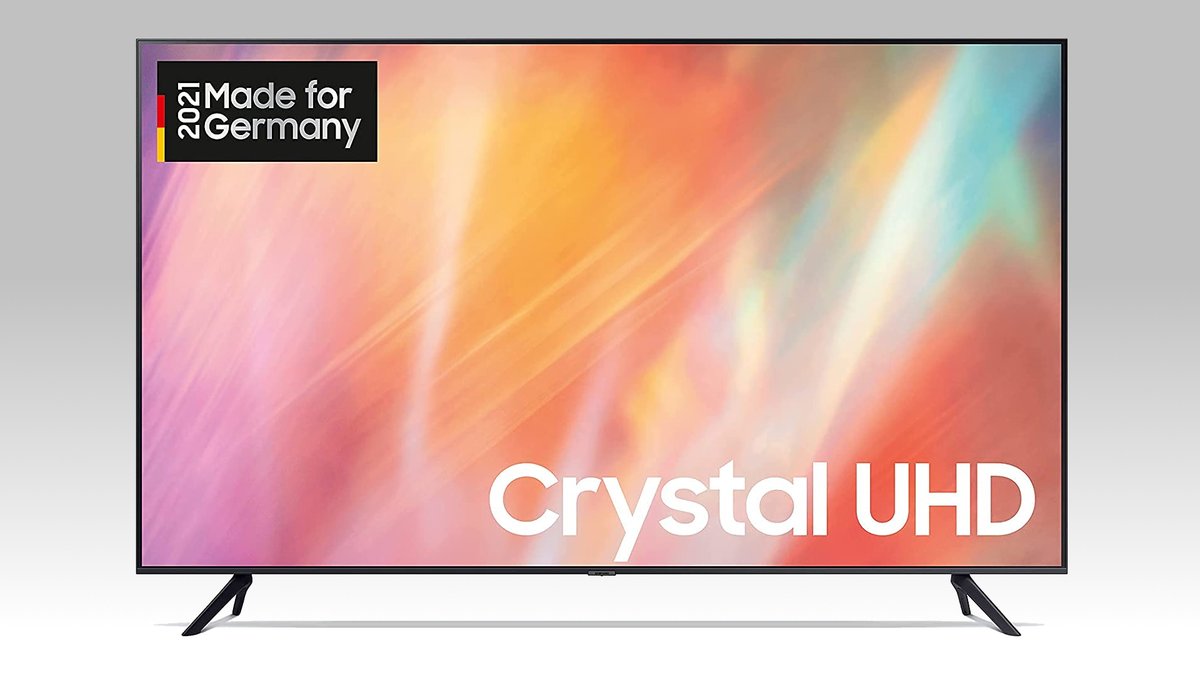 If you are satisfied with your current smartphone and can use a new television at a mobile phone tariff, you will currently find the right offers at o2. For example, a 60-inch Samsung TV with 4K resolution. We took a closer look at the deal and reveal if it's worth it.
o2: 60-inch Samsung TV as an add-on to the mobile phone contract
o2 is currently offering its best-selling mobile phone tariff "Free M" in combination with a Samsung television - ideal for people who already have a mobile phone and want to keep it. The tariff includes 20 GB LTE/5G data volume as well as an all-network and SMS flat rate. If you take your phone number with you, you can currently also get a bonus of 100 euros (read more about the o2 campaign here).
The Samsung GU60AU7199UXZG comes with the O2 contract. It is a 60-inch LED TV with a refresh rate of 50/60 Hz and supports HDR10+ and HLG. The model comes from Samsung's entry-level class, which offers good picture quality for the money, a tried-and-tested smart TV system with broad app support and a variety of connections (including HDMI 3.1, USB, antenna connection, CI+ slot). According to idealo, the current best online price for a single purchase is 599 euros. If you don't want to raise this sum all at once and can use the "Free M" tariff, you pay 38.99 euros per month at o2 as well as a one-time 80.89 euros for additional payment and shipping – an offer that is definitely worth it, like our bill shows below.
o2 Free M: Lots of data and flat rates
The tariff offers a lot for everyone who is satisfied with the (always improving) o2 network. Here are the details:
Network: o2 Tariff: Free M
20 GB LTE/5G
(max. 300 MBit/s) Allnet and SMS flat rate EU roaming including 24 months minimum term, 1 month notice period
100 euros bonus
for phone number portability (20 monthly installments of 5 euros each , which are credited to the mobile phone bill)
The bill: Why the offer is worthwhile
Overview of the costs of the tariff bundle
Basic fee
(monthly)
EUR 38.99
additional payment
(one-off, at the beginning of the contract) EUR 1
connection
fee (one-off, at the beginning of the contract) EUR 39.99 Shipping
costs
(one-off) EUR 39.90
total costs after 24 months
(in the event of termination at the end of the minimum contract period,
monthly and one-off costs added)
1,016.65 euros device
value
(best online price according to idealo.de) 599 euros switching bonus 100 euros
effective tariff
costs (total costs less device value + bonus) 317.65 euros
effective tariff costs per month
13.24 euros
View
offer
With the o2 offer, it is possible to set the minimum contract term to 36 or 48 months, the monthly costs are reduced somewhat. We still recommend limiting the contract to 24 months, because that way the overall costs are the lowest.
Arithmetically, you pay a total of 1,016.65 euros (24 × 38.99 + 80.89) over the minimum term of 24 months. The cheapest online price for the television is currently 599 euros – if you subtract the 100 euros change bonus from the total costs, you end up with 317.65 euros for the tariff alone. That's the equivalent of 13.24 euros per month. An excellent price in view of the services offered (all-network/SMS flat rate, 20 GB including 5G). For comparison: without a television, the o2 "Free M" costs 29.99 euros per month.
However, the calculation with the low price only works if you cancel at the end of the minimum contract period. If you should forget that, the contract will not be extended by another year, but can now be terminated monthly
This is how we calculate whether a mobile phone contract is worthwhile:
Missed the offer?
At o2 there are other tariff bundles with televisions, notebooks, MacBooks and more.