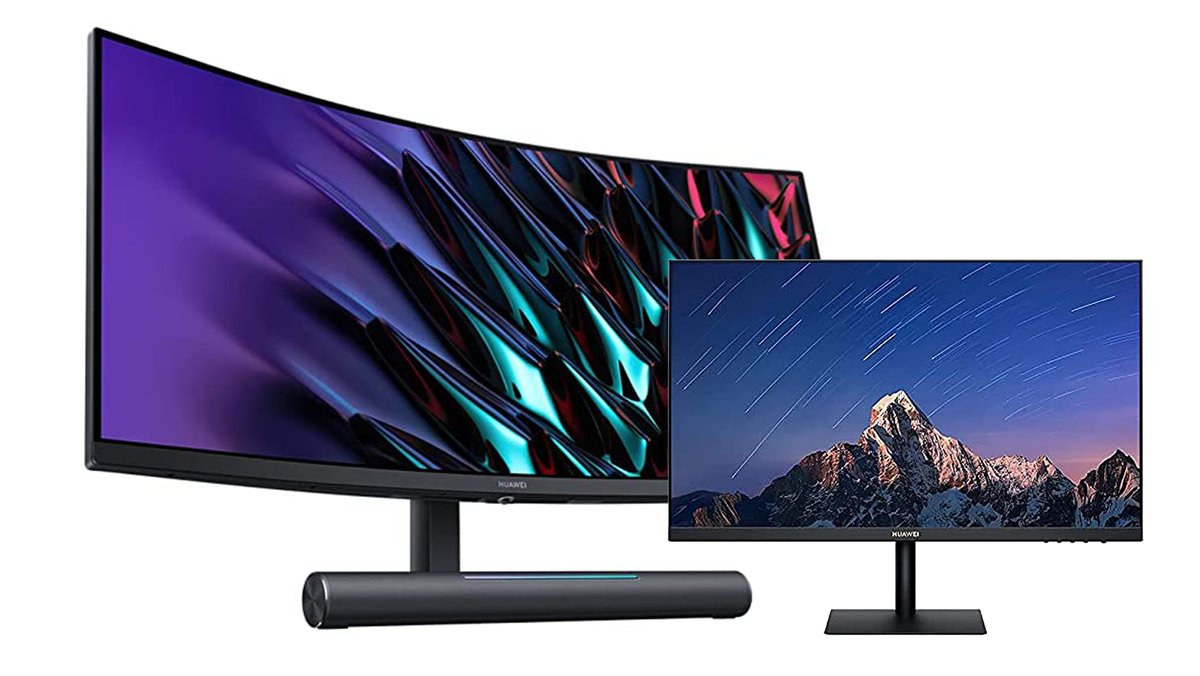 If you want to upgrade for your own gaming setup or home office, you can save a lot at Amazon today: For a short time you can secure selected Huawei monitors, soundbars and more at a lower price. We'll show you which Amazon offers save you the most money and which other technology gadgets are worthwhile.
As a bargain hunter, you should be quick, because the daily Amazon offers are sometimes sold out again within a few hours. As a Prime customer, you benefit from a decisive advantage and can see lightning offers 30 minutes before everyone else. You can test Amazon Prime for 30 days free of charge , you can read all the costs and advantages of membership here.
Technology offers at Amazon: These are the top deals
Amazon is slashing prices on genuine Huawei highlights today. These include the Huawei MateView GT curved monitor with 34 inches for a reduced EUR 499 instead of EUR 549. You not only save 50 euros here, but also have a first-class designed 5 W soundbar with dual speakers already included. The volume can be easily operated via touch and provides you with perfect stereo sound. The monitor itself convinces with a WQHD display and a resolution of 3,440 x 1,440 pixels - on top of that, all buyers via Amazon have a 30-month warranty .
You can secure the cheaper alternative with the frameless Huawei Display Full HD monitor with 23.8 inches for a reduced 139 euros instead of 169 euros. If you are not necessarily looking for a gaming monitor, but are looking for an inexpensive monitor with smooth graphics, this is the ideal choice. The model is also certified by TÜV Rheinland to reduce harmful blue light while being easy on your eyes by eliminating flicker.
Tablet deals at Amazon: The best deals
You can also get a real bargain among the tablets for a short time with the Huawei MatePad 11 tablet including Huawei M-Pencil for quick notes, scribbles or drawings for reduced 379 euros instead of 499 euros:
If you don't want it to be Huawei, you can also find the Lenovo tablet Tab M10 Full HD Plus today at a reduced price of 159 euros instead of 229 euros. Here you save 70 euros compared to the RRP and get a 10.3-inch display with 64 GB of memory and up to 9 hours of battery life. The tablet is ideal as a mobile companion for streaming series and surfing on the go, but also for video calls in the home office.
You can get the HD version Lenovo M10 HD even cheaper for only 119 euros instead of 159 euros:
If you're looking for a slim convertible that can also be used as a work device, you should take a look at today's top deal: For a short time, Amazon has the Acer Chromebook convertible with 13 inches for a reduced price of 339 euros . With this offer you save 15 percent on the RRP while stocks last until March 17th, 2022 and get a high-quality convertible with a 13-inch touch display with full HD resolution, an illuminated keyboard and a battery life of up to 14 hours .
In addition to the tablet and convertible bargains, Amazon is also lowering the prices of other products today. You can find an overview of all offers here. These include the premium model Samsung Galaxy S21 FE 5G with 128 GB for a reduced 649 euros and the larger storage variant with 256 GB for 729 euros as real highlights in the smartphone sector:
Is your memory on your smartphone or tablet always way too full? Then you should best upgrade with a microSD at a reasonable price – Amazon has the matching SanDisk Ultra microSDXC memory card with 200 GB including an SD adapter for only 20 euros in today's lightning offer. Here you save a whopping 50 percent compared to the RRP of 39.99 euros. With a read rate of 120 MB/second, you can use it for your Android smartphone and tablet as well as the Nintendo Switch.
Smartwatches, memory & more: An overview of other Amazon offers
Anyone who is also interested in smartwatches will also find what they are looking for during the Samsung bargain campaign: Amazon lowers the price for the Galaxy Watch 4 Classic to 275 euros from the original 399 euros (RRP). The offer is also valid here while stocks last until 03/18/22 :
Not only Huawei and Samsung deals are part of the Amazon offers today: You will also find other exciting bargains such as Soundcore Bluetooth headphones , Lenovo and HP notebooks and other smart technology gadgets among the flash offers and promotions.
Also reduced: audio books & films
Bookworms and audio book fans are currently getting a tempting welcome offer. For 2.95 euros per month (instead of 9.95 euros) you can test the
audio book service Audible extensively for 6 months
. Film lovers can currently get many
DVDs and Blu-Rays at a
reduced price.
What advantages does Amazon Prime offer? Here you can see the most important features summarized in the video :
But even without Prime you can save a lot on Amazon: