Do you want the battery of your Xiaomi or Redmi mobile to last longer? Next, we will show you a series of tips and tricks on how to save battery on a Xiaomi smartphone with or without MIUI .
You will also learn how to take care of the battery of your mobile , because it will be useless to apply all these methods, if you are forcing or charging it incorrectly.
How to save battery on a Xiaomi, Redmi or POCO?
1. Set brightness to auto
Auto brightness is the best way to save! Well, it will adapt the brightness of the screen according to the light of the environment in which you are. So go to Settings ⇒ Display ⇒ Brightness level ⇒ Enable auto-brightness.
2. Activate dark mode
That's right, the dark mode is not only for not straining your eyes at night, it also helps save energy. You can activate it from Settings ⇒ Display ⇒ Dark mode .
3. Turn off 4G, Wi-Fi, Bluetooth... when you're not using them
Needless to say, right? These simple tricks for your Xiaomi battery will help to greatly reduce battery consumption.
Above all, deactivating the 4G network, and more when you are at home with your Wi-Fi network. Likewise , calls and messages will continue to arrive even with 4G disabled.
4. Close background apps
Certain apps are running even when you're not using them; It is what is known as a background app. For example, games do this to show you notifications, offers... This forces the CPU to work harder and consume more battery power.
Do you want to end this? Go to the security application ⇒ Battery and Performance ⇒ Click on optimize and all the ones that the system does not need to work will be closed. The same ones that are consuming a lot of battery.
If you want a specific app to never run in the background again, you can do it like this:
Go to app security ⇒ Battery & Performance ⇒ Battery Saver in Apps ⇒ Select apps ⇒ Choose the app in question and tap

restrict background activity

.
5. Reduce the time to turn off the screen
As simple as going to Settings ⇒ Always on screen and Lock screen ⇒ Sleep ⇒ It is recommended to choose that the screen turns off in about 15 or 30 seconds .
6. Deactivate the Always On Display mode or Always active screen
Although it does not consume too much battery, in the end, it all adds up. To turn it off go to Settings ⇒ Always-on screen and Lock screen ⇒ Tap Always -on screen to turn it off. In MIUI 12 the option to disable would be Ambient Screen.
5 Tips to save battery on Miui 12 and Miui 13
These tips greatly reduce the energy consumption of a MIUI 12 that incorporates new animations, super wallpapers and others:
1. Use black backgrounds, don't use the super wallpapers!
Do you use a super wallpaper? Get rid of him! Instead, place a background where the black color stands out, especially if your mobile has an AMOLED screen , why? Since these panels project the black color by turning off some of its pixels.
2. Remove MIUI 12 animations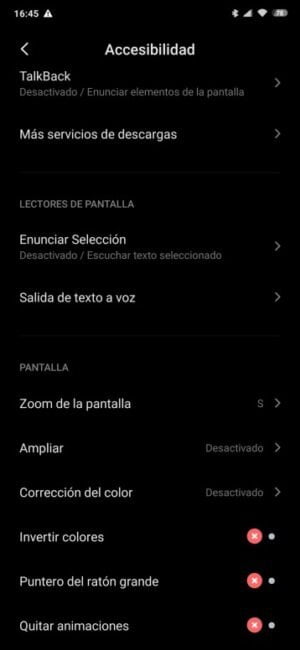 Another reason why you have to charge your mobile every two to three. Do you want to disable them? Open Settings ⇒ Additional settings ⇒ Accessibility ⇒ Tap the disable/remove animations option .
3. Use power saving mode
In MIUI 12 the saving mode has been greatly improved, it is good to use it when you need your mobile not to let you down. Just go to App Security ⇒ Battery & Performance ⇒ Battery Saver.
Learn how to take care of a mobile battery
Now that you know how to extend battery life, take a look at our series of recommendations so that your lithium battery is always in shape and extends its useful life.
Never use the mobile while it is charging

.

Keep the battery level between 20 to 80%

. Charge your

smartphone

before the power level drops below 20%, and unplug it from power when it reaches 80%. Thus, you avoid forcing the battery with a low charge level, and also, a very high one.
Don't abuse fast charging!

Whether wireless or wired, this method causes the battery to get too hot, thus shortening its lifespan. Although, you can use a lower wattage charger; if your mobile supports 20W, use a 10W one, for example.
Use a good quality charger

. If for some reason you lost the original charger, opt for a model of a recognized brand and according to your mobile; if it is compatible with 30W, then 30W or less,

more will not be better, on the contrary

.
You may also be interested in removing the pre-installed Xiaomi applications that you DO NOT use and that can help you improve your phone's battery NOTICEABLY.
Do you know any other way how to save battery on a Xiaomi? Tell us in the comments below!