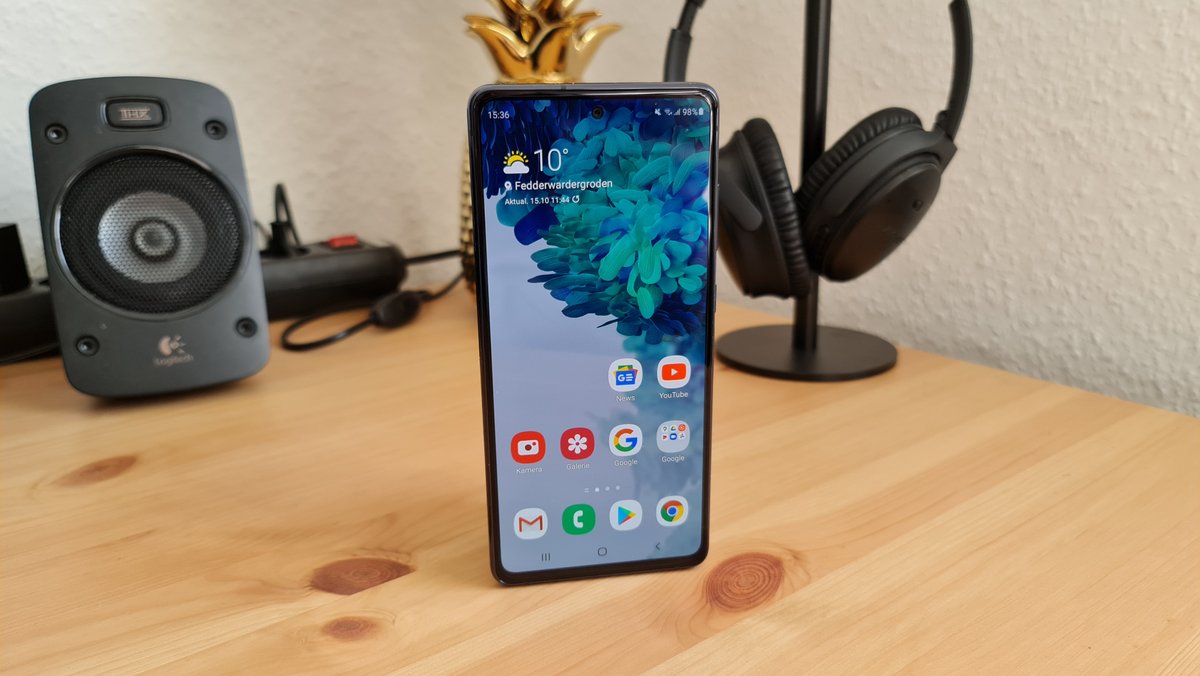 Saturn obviously wants to get rid of the Galaxy S20 FE, because it is currently cheaper than ever in the tariff bundle. The electronics market adds a wireless charging pad and a free 6 GB tariff to the top smartphone from Samsung. xiaomist reveals for whom the offer is worthwhile.
Saturn: Samsung Galaxy S20 FE in a tariff bundle at a bargain price
If it doesn't necessarily have to be the latest Samsung smartphone, then you should take a look at the offers in Saturn's tariff world. There you can currently get the Galaxy S20 FE (128 GB) with a small 6 GB contract in the o2 network for only 14.99 euros a month (see Saturn). As part of the big gift campaign, Saturn is adding a free Samsung Charger Pad worth around 30 euros. If you add up all the costs, the bundle is worthwhile even if you don't need the tariff at all, as our calculation below shows. A real top deal for everyone who is flirting with the fan edition of the Samsung cell phone. If you are interested, you should hurry, some colors are already sold out and there are only a few pieces left.
Tariff details at a glance
Tariff: Blue All-in S Network: o2 6 GB LTE data volume (up to 50 MBit/s) Allnet and SMS flat-rate EU roaming including 24-month contract period, 1 month's notice period
Galaxy S20 FE with o2 contract at Saturn: That's why the offer is worth it
Sample calculation: Galaxy S20 FE + o2 Blue All-In S
basic fee
(monthly)
14.99 euros
additional payment
(once, at the beginning of the contract) 29 euros
connection
fee
(once, at the beginning of the contract) EUR 39.99
shipping costs
(one-time) 0 Euro
total costs after 24 months
(in the event of termination at the end of the minimum contract period,
monthly and one-time costs added)
428.75 euros device
value
(Best online price according to idealo.de) 410 euros (mobile phone) + 30 euros (loudspeaker)
effective cost tariff
(Total costs less device value) -11.25 euros
Effective tariff costs per month
-0.47 euros
To the offer at Saturn
According to the idealo price comparison, the Samsung Galaxy S20 FE (128 GB) currently costs around 410 euros (depending on the colour), for the charger pad at least 30 euros are due. You not only get the Allnet and SMS flat rate with 6 GB LTE data volume in the o2 network for free, you also make a small profit. Such offers are extremely rare and experience has shown that they sell out quickly.
Of course, the calculation with the low price only works if you cancel at the end of the minimum contract period. If you forget that, the contract will not be extended by another year, but can be canceled monthly from 2022.
You can find out more about the Samsung Galaxy S20 FE in the xiaomist test and in this short video :