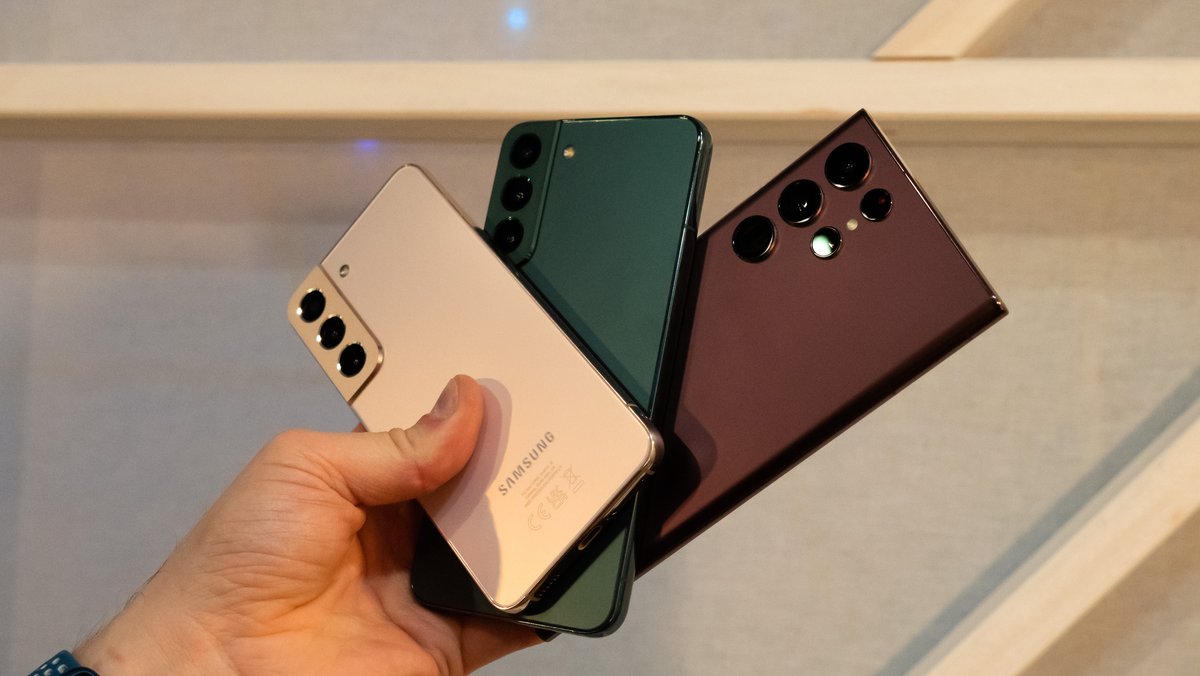 Samsung has unveiled its new flagship smartphones, the Galaxy S22, S22 Plus and S22 Ultra. Pre-orderers not only get the Galaxy Buds Pro as a gift, but can also look forward to an exchange bonus of 100 euros. The brand new Galaxy devices are already listed with a mobile phone contract.
Preorder Samsung Galaxy S22, Plus & Ultra: Bonuses & Prices
The new top smartphones Galaxy S22, S22 Plus and S22 Ultra can now be pre-ordered from Samsung and other retailers. Anyone who chooses one of the new flagship cell phones by February 24th will receive the Galaxy Buds Pro as a gift . You can also trade in your old device for up to 530 euros and get a 100 euro exchange bonus on top of that.
The 5G smartphones of the S22 series will then officially be available in stores on February 25th . The prices are as follows:
Samsung Galaxy S22
Galaxy S22 (128 GB) for 849 euros Galaxy S22 (256 GB) for 899 euros
Samsung Galaxy S22 Plus
Galaxy S22 Plus (128 GB) for 1,049 euros Galaxy S22 Plus (256 GB) for 1,099 euros
Samsung Galaxy S22 Ultra
Galaxy S22 Ultra (128 GB) for 1,249 euros Galaxy S22 Ultra (256 GB) for 1,349 euros Galaxy S22 Ultra (512 GB) for 1,449 euros Galaxy S22 Ultra (1 TB) for 1,649 euros
You can already pre-order the new Samsung flagships from these retailers:
Samsung Amazon MediaMarkt Saturn
Galaxy S22, Plus & Ultra with contract: cheap offers at a glance
Of course, you also get the pre-order bonuses if you buy the new Samsung smartphones with a contract. In addition to the three major German network operators, smaller mobile phone dealers have already listed the Galaxy cell phones of the S22 series, in some cases at significantly lower prices than at Telekom , Vodafone or o2 direct. Tariff offers can also be found in the Samsung shop. Of course, the costs depend largely on which tariff you choose, but if you want to secure the Samsung Galaxy S22 as cheaply as possible with a contract and all pre-order bonuses , you should take a look here:
o2 Telefónica DeinHandy Sparhandy MediaMarkt tariff world Saturn tariff world Logitel Starmobile Flymobile
We were allowed to hold the new Samsung smartphones in our hands:
Samsung's new Galaxy S22 series: pre-order or rather wait?
Finally, we ask the crucial question: Should I pre-order the new Galaxy S22 right away or should I wait until the price drops significantly?
Samsung phones are not exactly known for their price stability, so this question is quite justified. In our opinion, pre-ordering is only worthwhile if you have an old device that you can trade in for at least 100 euros, because then there's another 100 euros exchange bonus on top. Together with the Buds Pro worth around 100 euros, you get an effective saving of 300 euros. This roughly corresponds to the drop in price that is to be expected for Samsung smartphones in the coming months.
If you don't want to exchange an old device and don't know much about the Buds Pro, you should definitely wait before buying. Significant price reductions can already be expected for the Galaxy S22 in the summer, xiaomist will report on this.