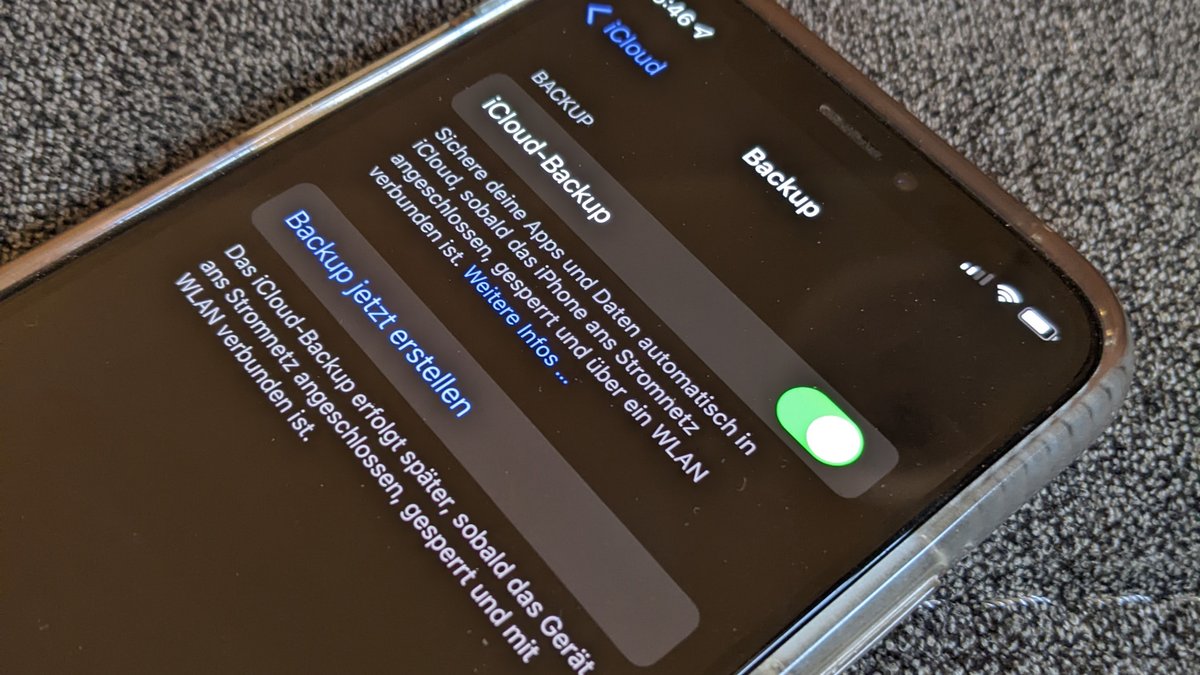 If you have an iPhone, we strongly recommend that you create an iPhone backup. So you always have the most important data at hand, even if the Apple cell phone dies unexpectedly. We show how you can best approach data backup on the iPhone and how you can overcome difficulties.
First things first: who needs an iPhone backup? Definitely anyone who has an iPhone . The thing is, ever since Apple launched the smartphone boom 15 years ago with the iPhone, we've all been doing more and more with things. So the chances are good that there are also some data treasures slumbering on your cell phones.
In the worst case, you sink the iPhone in the water or a 15-ton truck flattens it. Just ask yourself what would happen if your cell phone suddenly broke and could no longer be repaired. Anyone who gets even a slight stomach ache at the thought of this definitely needs an iPhone backup.
Many ways lead to iPhone backup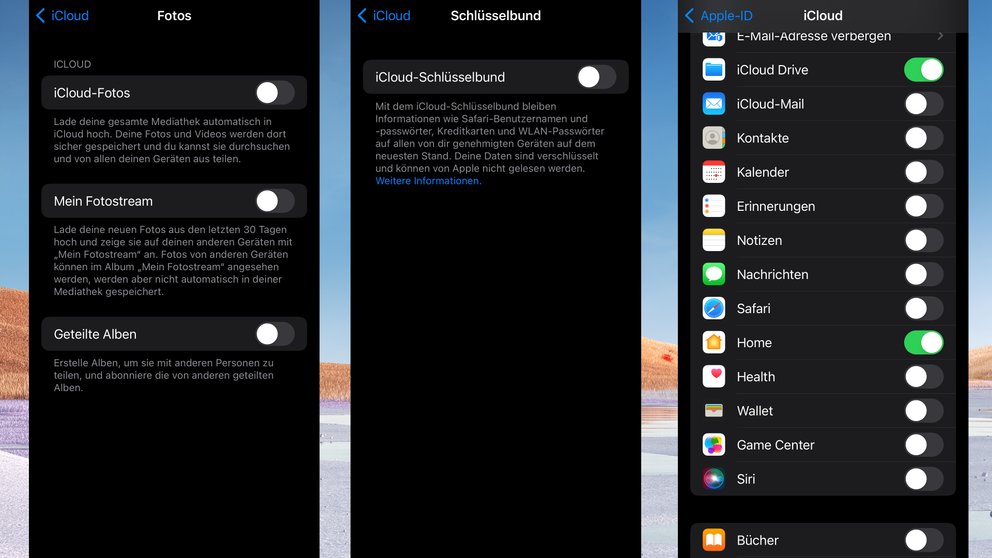 The problem with backups is: First of all, a data backup is of no use to you, on the contrary, it only causes you work. Their use only becomes clear when you have wrecked your iPhone. That's why it's sometimes difficult to pull yourself together to make a backup. But we can only advise you to become active and not just fall flat on your face. With the iPhone, there are various ways that lead to a data backup. In practice, you can bend quite a bit, but the following two options are the most common:
iPhone backup in iCloud:
If you want the simplest possible data backup, get an iCloud+ subscription and move the iPhone data to Apple's online storage. However, monthly costs arise here depending on the storage space expansion: With 50 GB it is 99 cents per month, 200 GB costs 2.99 euros and for 2 TB you have to pay 9.99 euros.
iPhone backup on PC or Mac:
For this variant you need a PC or Mac with enough free storage space for a backup. There are no costs for backup software, because you can use iTunes under Windows or the built-in backup function in the Finder under macOS. You can connect to a PC or Mac either via a USB cable or using a WLAN connection.
iPhone backup with iCloud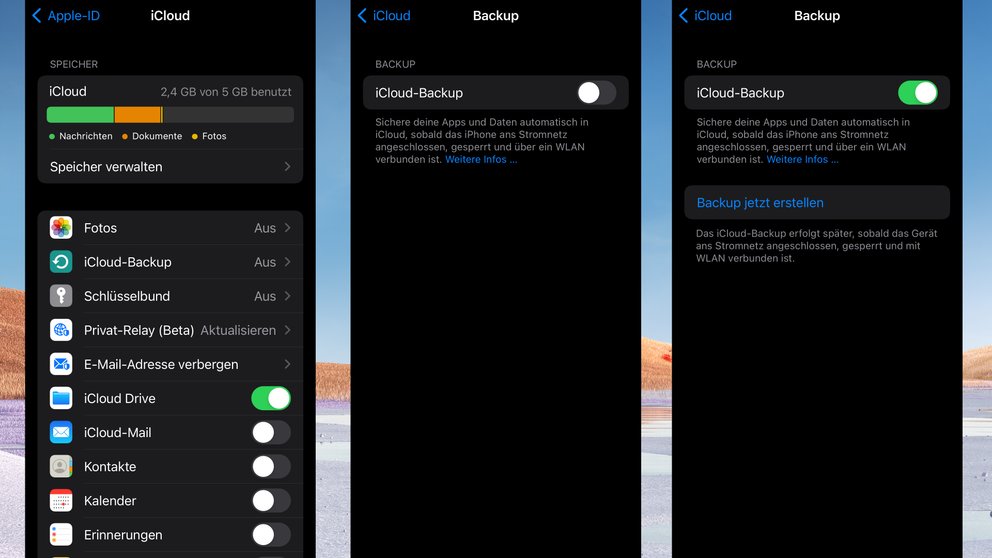 Apple gives you 5 GB of free storage space in iCloud. This is quite little and is therefore not used for backups. Current iPhones are sold from 128 GB capacity and if you start taking a few photos or making videos, you will quickly see how the storage space fills up quickly. You must therefore use iCloud+, Apple's paid subscription, if you want to make backups in the cloud, as this gives you enough storage space. The big advantage is that there is nothing easier. All you have to do is tap your name at the top of the settings and turn on iCloud backup under iCloud .
It's in the iCloud backup
With a switch you secure the following elements:
App data Backups of Apple Watch Device settings Home screen and arrangement of apps iMessage, SMS and MMS messages Photos and videos Ringtones
Turn on backup for iPhone photos
What's also useful is that you can turn on iCloud Photos and back up iPhone pictures and videos to iCloud separately as well. If you use Keychain to store passwords, iCloud Keychain is another good thing for sharing passwords across devices.
iPhone backup without iCloud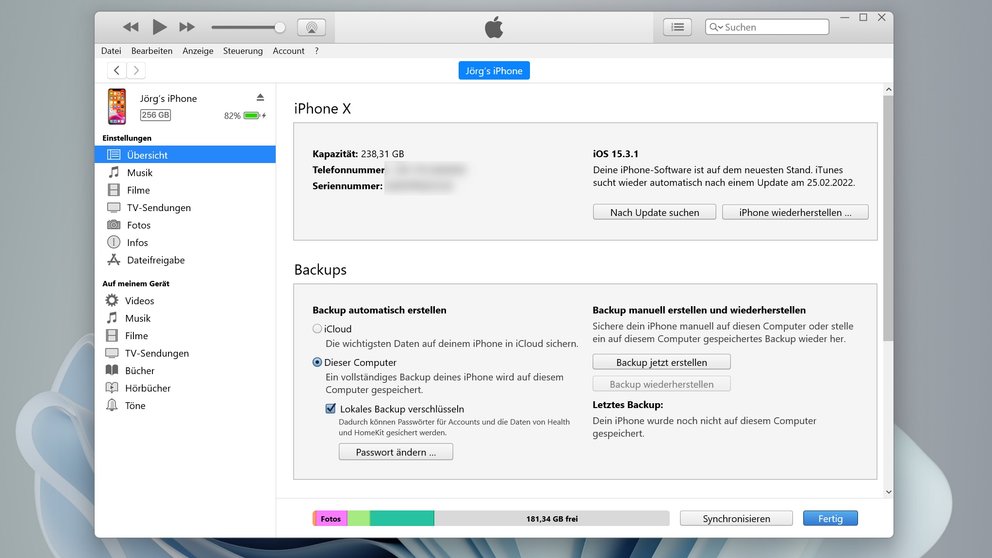 Not everyone wants to spend money on iCloud+ or move their private data to Apple. The alternative to this is a local backup on a PC or Mac. Most users are on the road with Windows, but iTunes is the silver bullet for data backups. Click on an iPhone connected to the PC in iTunes and select "Encrypt local backup". Then all you have to do is click on "Create backup now" and a data backup will be created on the PC. If you select the "Sync with this device over WiFi" option, the backups will also run without a cable connection.
iPhone data backup without iTunes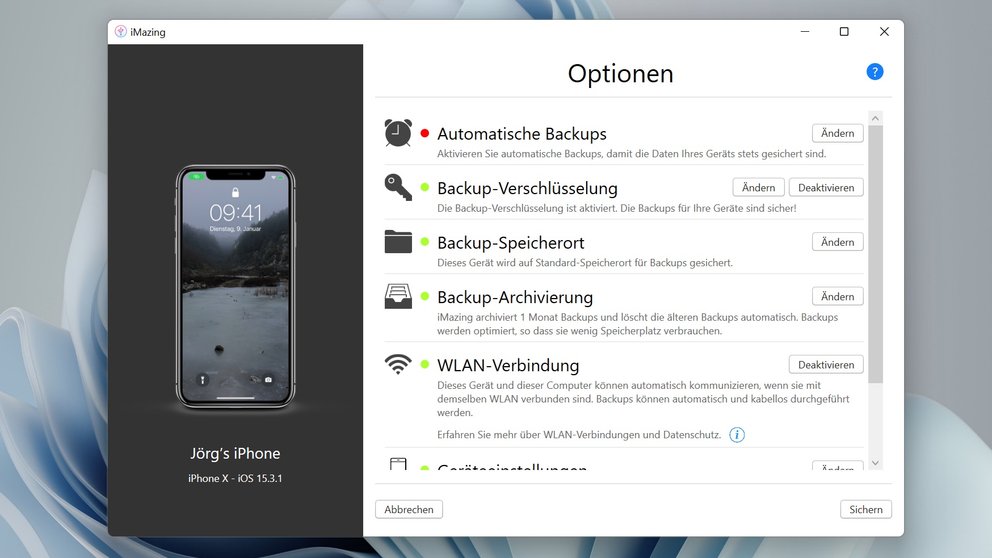 iTunes is quite a software behemoth, and it's no wonder that Apple has now buried the program for macOS. But on Windows it is still necessary. But there are alternatives if you absolutely don't want iTunes on your Windows system. With iMazing Mini you can also create backups from the iPhone. Note, however, that the full range of functions is only available for a fee, but simple backups are also possible with the free version.
iPhone backup on Mac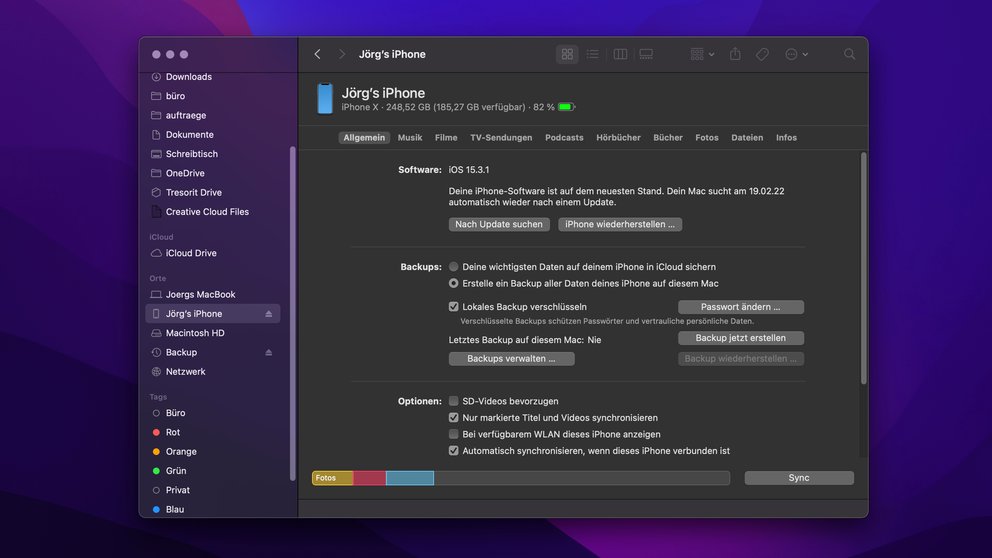 Backing up your iPhone to a Mac is even easier. The smartphone will appear there in the finder if you connect it to the Mac with a USB cable. Then simply click on "Back up all of your iPhone data to this Mac".
Troubleshooting iPhone backups
Backups don't always run smoothly, this also applies to iPhone data backups. We show a few examples of frequently asked problems and how to solve them.
iPhone backup without display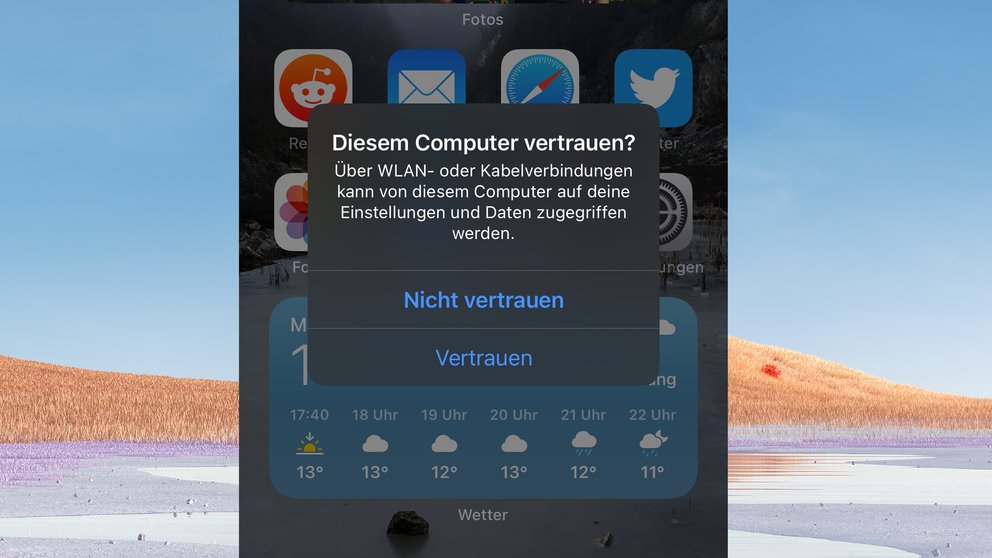 Difficulties may arise in iPhone backup when the screen is broken. The connection between the screen and data backup seems strange at first glance, but the problems often come from the fact that there is no backup, but users throw down their cell phones and the iPhone is then supposed to be repaired with a broken screen. Service providers then require users to create a data backup in case the iPhone needs to be factory reset. However, the iCloud backup cannot be activated with a broken display, and a backup on a PC or Mac also requires approval on the iPhone. A broken screen prevents that.
In this case, it is only possible to prevent this through clever settings. Either you activate the iPhone backup in iCloud in advance, then you are also safe in the event of display damage, or you save the iPhone data on a PC or Mac and select the option that it is a trustworthy device. Then you don't have to explicitly allow the iPhone every time you connect.
iPhone data backup does not work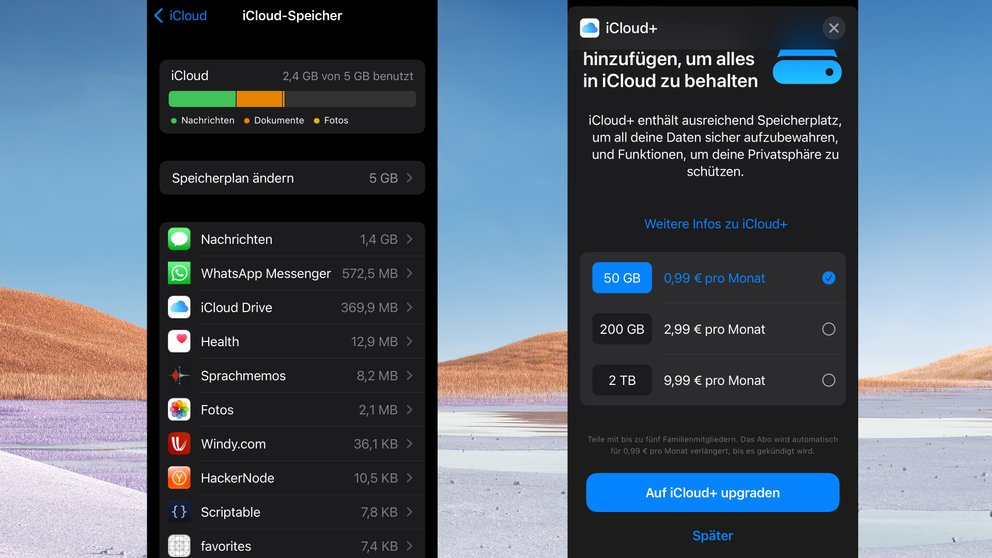 Failed backups can cause problems. If you back up in iCloud, two points are usually crucial:
Storage space:
If you do not have enough storage space in the iCloud, the backup will be canceled. You can check this in the iCloud settings under "Manage storage". One option is to switch to a higher plan or delete data on the iPhone that you no longer need.
Network Connection:
Sometimes it is also due to WiFi issues that backups to iCloud fail. Connects the iPhone to the charger and connects it to a power source, at the same time it should have good WiFi reception. Let this setup hang around overnight, the backup should be up the next morning.
Space issues can also occur with local backups on PC and Mac. Here, too, you may be able to free up storage space. If you can't manage a backup with the WLAN method, you should try the variant via USB cable. Changing to another WLAN, many routers can handle 2.4 and 5 GHz, can also lead to success.
iPhone backup takes forever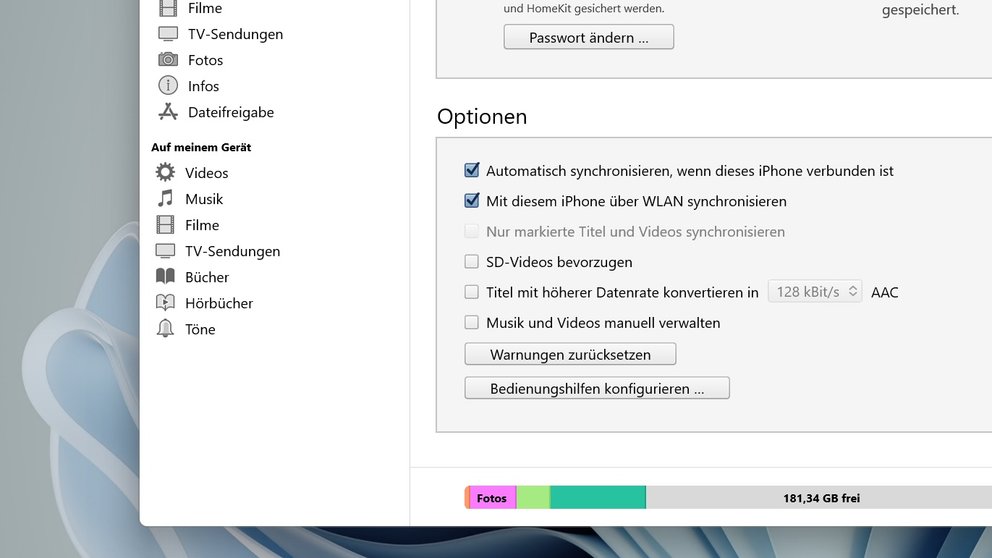 Before we talk about accelerators for slow backups, it should be said that large amounts of data naturally take a certain amount of time to be backed up. This applies in particular to cloud backups, because classic DSL connections are much slower upstream than in the download direction. For example, if you push 200 GB of photos via a 10 MBit/s upload, you should plan around 2 days for this. However, the iPhone is clever enough to only make backups when there is a WLAN connection and there is nothing else to do.
However, since only the changes are always backed up, backups should become faster and faster over time. If it takes too long, you can move closer to the wireless router and connect the iPhone to a power source. If nothing is happening anyway, Apple Support is also a possible contact point.
Video: What is cloud storage?
iCloud backup greyed out
When the iPhone backup won't activate, it's often because a restore is still in progress. Installed profiles can also restrict backups. You can check whether this is the case for you in the settings under "General" and "VPN and device management".
In an emergency: restore iPhone from backup
You can restore a repaired iPhone that has been factory reset from a backup during the initial setup. All you have to do is select the appropriate data source. Again, iCloud is the easier way, but you can also feed backups that are slumbering on Mac or PC.