There are one or the other iPhone cheaper in stores, but Apple itself remains adamant – no discount possible. Or is it? For example, you can currently save 120 euros when buying an iPhone 12. What is behind the attractive offer?
Normally, such an iPhone 12 (64 GB) in green in the Apple Store costs 799 euros, but if you are looking, you can currently find the device directly from Apple for only 679 euros, saving you 120 euros. How can this be?
Refurbished iPhones directly from Apple: now in Germany
It is a so-called "Refurbished iPhone". For the first time, Apple is now selling such refurbished iPhones in Germany. So far, the cheap offers were only available in the USA, in this country they were previously limited to Macs, iPads ... (Source: Apple). In contrast to "normal" used devices, the items are checked and refurbished accordingly. Apple writes about this on its own website:
"Refurbished iOS devices come with a new battery and case. Each device comes with all accessories, all cables and the operating system."
Ergo: According to Apple, a "refurbished iPhone" is almost "like new". So there is no need to fear any disadvantages due to exhausted batteries, nor any scratches or the like. All guarantee and warranty claims therefore apply as for new goods. Customers can even purchase AppleCare+ for additional coverage.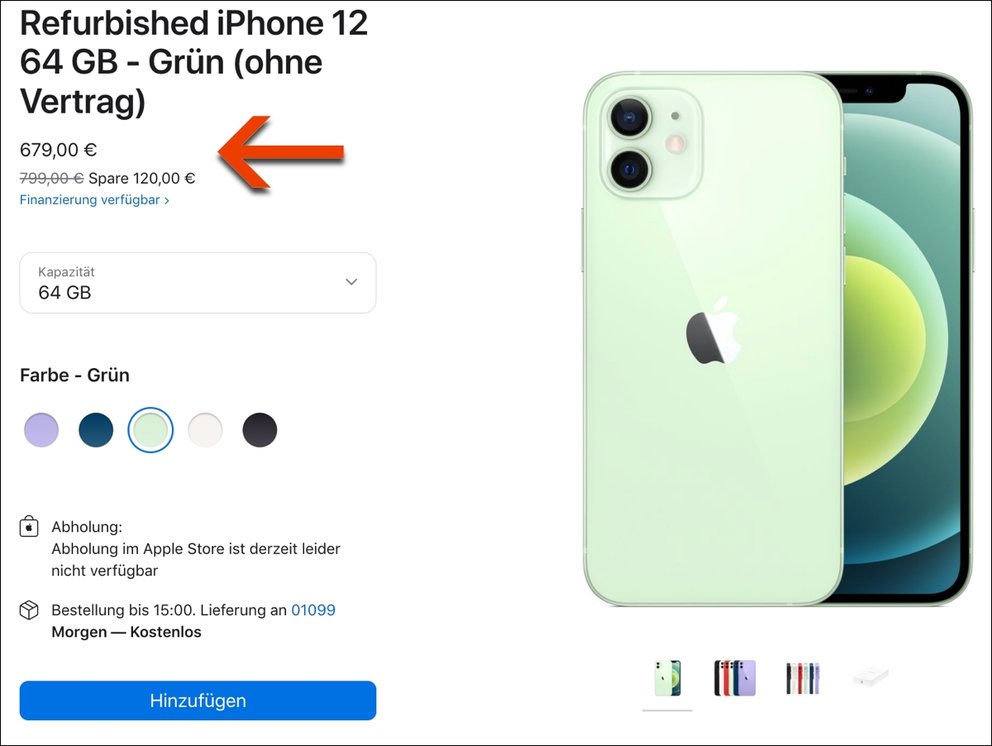 New packaging for the devices
Is there then no difference to the new product in the Apple Store? There is one little thing after all – the packaging. For this Apple:
"All Apple certified refurbished products are packaged in a new white box and shipped to you free of charge. The return is also free."
So you get a neutral, white outer packaging . In view of the possible price savings, this is certainly a viable compromise. But how cheap is such a refurbished iPhone really? The iPhone 12 we mentioned is currently available in retail from around 700 euros (view price comparison at Idealo) - Apple is therefore still below that, although not as clearly as compared to the official Apple price. But if you prefer to buy directly from Apple, you can buy it without hesitation in our opinion.
When the iPhone arrives, it's time to set it up:
It is important to know that we are currently only receiving older devices in this way, such as the iPhone 11 Pro, iPhone 12 (mini) and iPhone 12 Pro. So if you are looking for a refurbished iPhone 13, you will not find it - it will take a while. In the course of the year, by autumn at the latest, the new models will also be available in Apple's Refurbished Store.