Samsung Galaxy S21 Models - Battery, Wireless & Fast Charging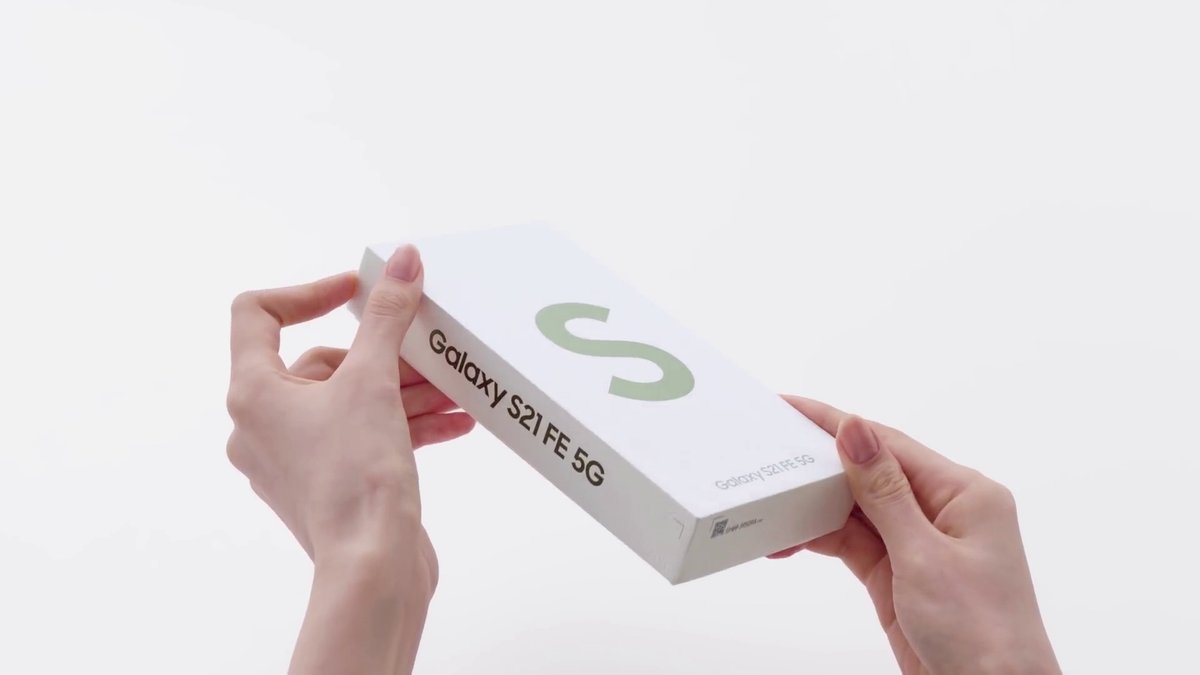 A current cell phone is expected to have a large battery as well as the option of wireless charging and fast charging. xiaomist presents the models of the Galaxy S21 and compares the batteries, talks about Qi charging and tells you whether you can also charge the S21 quickly.
In the past there were also cell phones made of thin metal, whereas today they usually have a back made of glass or plastic. What many do not know: These materials are usually chosen so that you can charge your smartphone inductively. Metal would block that. For this reason, the Galaxy S21, S21 FE, S21 + and S21 Ultra have a plastic back - so that you can charge them wirelessly. You can find out what else you need to know about charging and the battery of your device here.
In the video you can see what the Galaxy S21 can do:
Battery power of the S21 variants
In addition to the battery capacity, there is usually how long you can use your smartphone with it. However, these are usually theoretical values ​​that depend on the type of use, the settings and even the outside temperature. The comparison of the battery capacities of Samsung's Galaxy S21 models tells you which device will probably last the longest.
Model Battery capacity S21 4,000 mAh S21 FE 4,500 mAh S21 + 4,800 mAh S21 Ultra 5,000 mAh
The various displays of the S21 models can dynamically change the display frequencies, whereby the S21 FE can only switch between 60 and 120 Hz, while the three other variants cover frequencies from 48 to 120 Hz. This also has an impact on how long the devices can hold out on one battery charge.
Fast charging and wireless charging with the S21
All devices of the S21 series are delivered without a charger! Even so, the company recommends using only the Samsung chargers. With the right charger you can not only " fast charge " a Galaxy S21, but even " super fast charge ". You have to activate this beforehand in the settings (under "Device maintenance").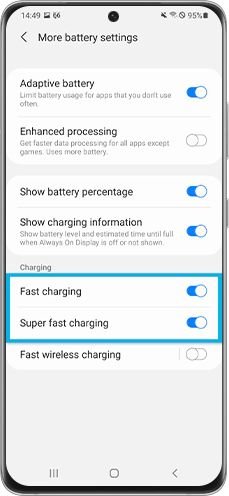 Requirements for fast charging and super fast charging on the S21:
For
fast charging
, the charger must support at least
QC (Quick Charge) 2.0
. It is also possible with
AFC (Adaptive Fast Charging)
or
USB PD (Power Delivery) 2.0
devices. The corresponding
chargers from Samsung
are labeled "
Adaptive Fast Charging
" and have an
output power of 15 watts
.
Super fast charging
: "Super Fast Charging" must be written on the appropriate Samsung chargers and they must offer a charging capacity of 25 or 45 watts. Otherwise you can also use other chargers, but they have to support
USB PD (Power Delivery) 3.0
.
The Galaxy S21, the S21 FE and S21 + as well as the S21 Ultra support inductive, wireless charging. In addition, they offer you "PowerShare", which means that you can use your cell phone to wirelessly charge other devices - such as your headphones or smartwatch.
To do this, however, you have to buy a suitable combination of charger and Qi charging station, both of which are not included in the scope of delivery. Samsung recommends the inductive charging station EP-N5100T, which has an inductive fast charging function and a charger. It also contains a built-in fan, which is highly recommended to protect the batteries when charging.
If you prefer to use a NoName provider, you should definitely choose a charging station with a fan, because the batteries get pretty hot with wireless charging and can then "swell", which has already broken more than one cell phone for me.