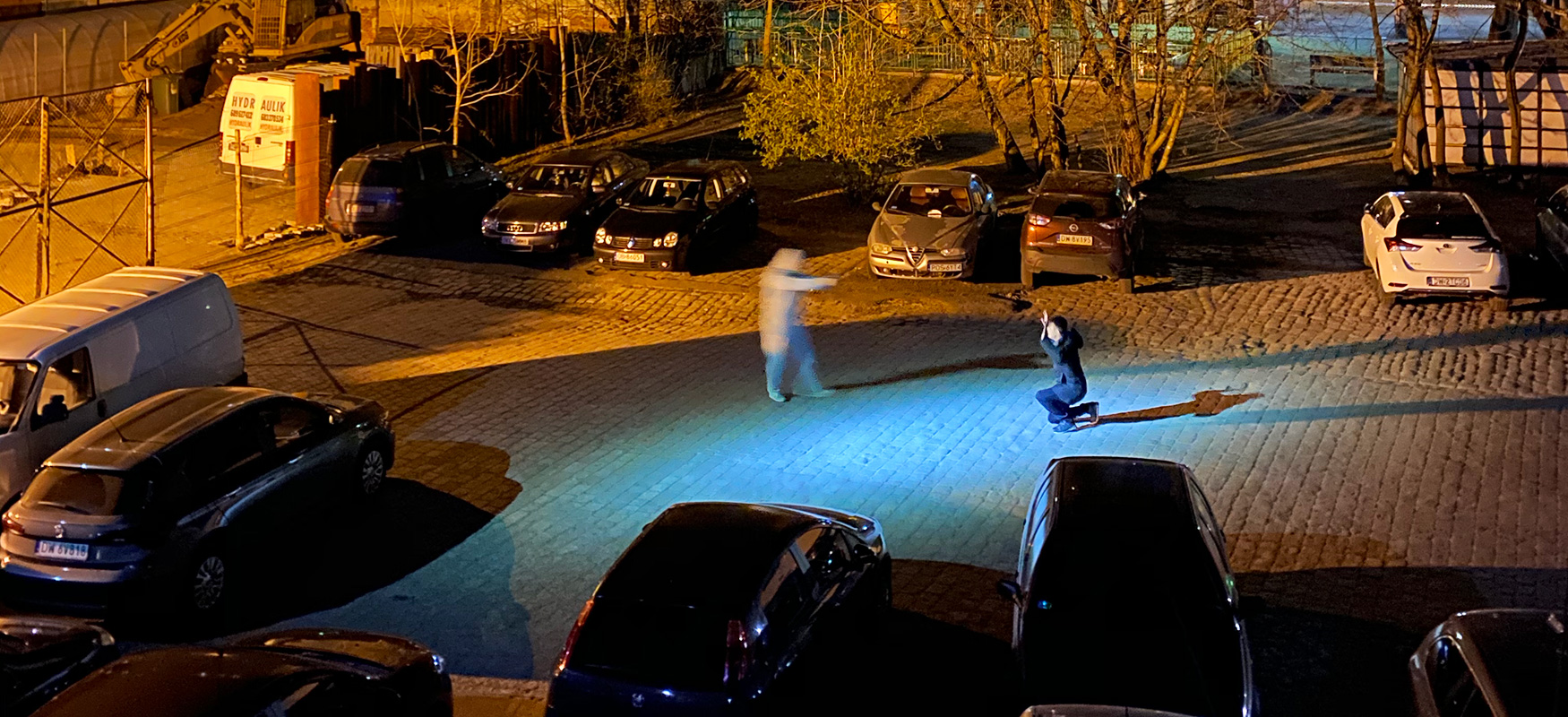 I went out onto the balcony at night and saw a scene that later turned out to be seen by hundreds of thousands of people.
Monday, March 18, around 10pm. I sit quietly in the flat in my bathrobe, drink beer and process the overdue photos. My desk is standing by the window, so I can see what is happening outside the corner of my eye. Milk Stout is slowly coming to an end, my wife is calling from the other room to make me finish, and then the drone and strong light draw my attention outside the window. I look and see it: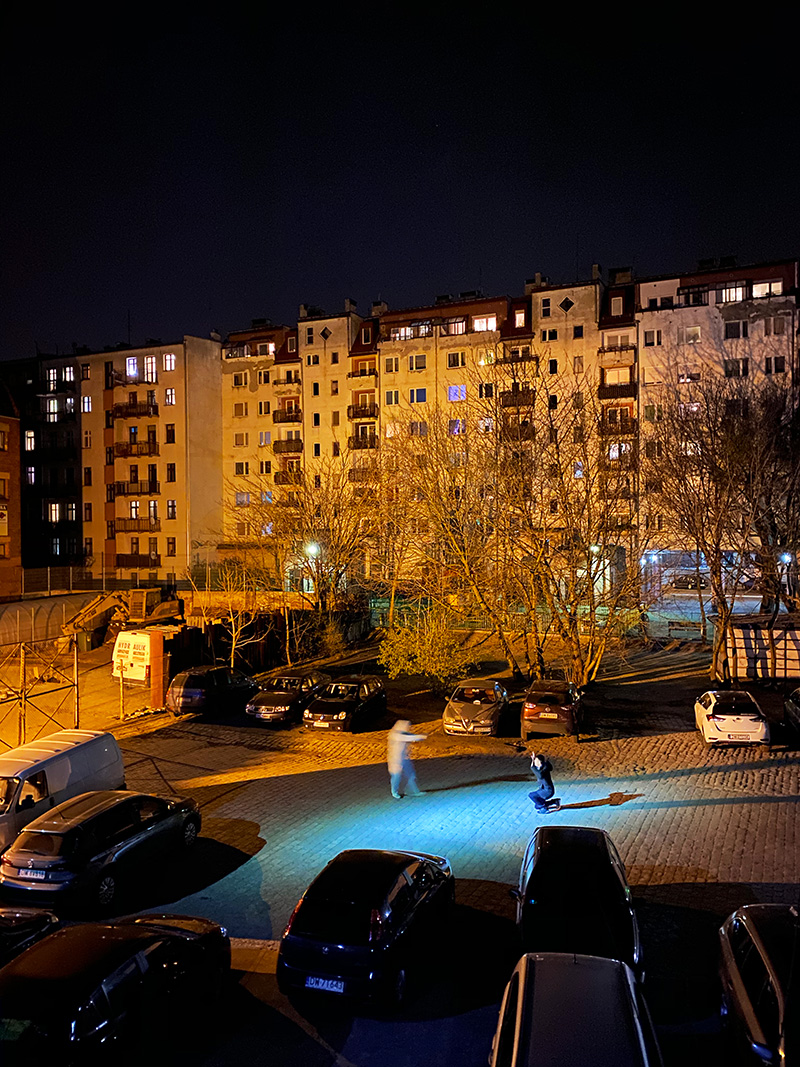 Two guests in overalls standing between blocks on the night, on an old, German ankle
One kneels down, the other measures it with a pistol with a laser sight. Strong spotlight, drone flying above their heads. It wasn't an everyday view. Before I saw the person with the camera who was recording all this, I even started to worry about what was going on here. There was no heat, but I went out curiously to the balcony in the dressing gown. The gentlemen kept on recording for a while, the drone returned to the ground, and I to the computer with the open Lightroom. Nothing happened to anyone. Life in quarantine continued its course.
Not a week passed, and the editorial inbox received an email titled "Video promoting #zostanwdomu." And in its content a link to the material "COVID-19 is coming - Official Trailer (2020)." After watching, it turned out that I was a witness to one of scenes. What a small world this is!
"COVID-19 is coming - Official Trailer (2020)" is a short film with the
#zostanwdom

theme

The three brothers from Wrocław - Łukasz, Adrian and Mateusz Kasprzak, who run a software house on a daily basis, treated a serious topic in a funny but very supportive way. Subject of exit restrictions during a pandemic. They definitely succeeded. In three days the film recorded over 112,000 views, and this number will probably increase significantly.
It is obvious that the leitmotif of the film is #domain. We wanted to add something to this message in our own style, with light humor and pastiche from other films. On the other hand, we've been wanting to make some post-apocalyptic shots in Wroclaw for years, for which we were inspired by the film "I'm Legend." We planned to record the so-called short (20-30 min) this year, but unfortunately life changed our plans a bit and wrote the script for us - the Kasprzak brothers comment their production.
Writing the script took 2 days, photos 4 days, editing 1 day
This amateur movie stylized as a Hollywood trailer was recorded and edited in Wroclaw. As the creators emphasize, there were no more than 5 people on the set, and some played 3 roles, while being responsible for the light, sound or director.
The film was shot in many locations. We used our office in the city center, a friend's apartment, or just a car park at ul. At Szańce. One of the places worth mentioning is also Koton Kocia Café , which, like all other cafés, was forced to close by the presence of a virus. Thanks to the kindness of Maciek's owner, we were able to use the premises and thus support its collection that would help us survive the crisis.
The brothers recorded the movie with a Blackmagic Pocket 4K camera with Canon 50 mm f / 1.8 and 28 mm f / 1.8 lenses and a DJI Spark drone. For recording sound they used the Tascam DR 60D digital recorder and the AUDIO TECHNICA AT4053b microphone.
The script was made in two evenings, video call brothers, two sessions of 3 hours, one shared document and ready. The photos lasted from Thursday to Saturday, we tried to do a lot of things in one place, such as the conference room in our office was used to capture the Message and the laboratory (changing lighting and other staff). Color grading editing was created on an ongoing basis. Łukasz quickly prepared a story board with music for which we cut fragments after each shooting day. And on Sunday we only have the last shot, render and upload.
Remember. The most important thing in this is that #zostacwdom!
The Poles made an amateur movie stylized as a Hollywood trailer. Here is "COVID-19 is coming"