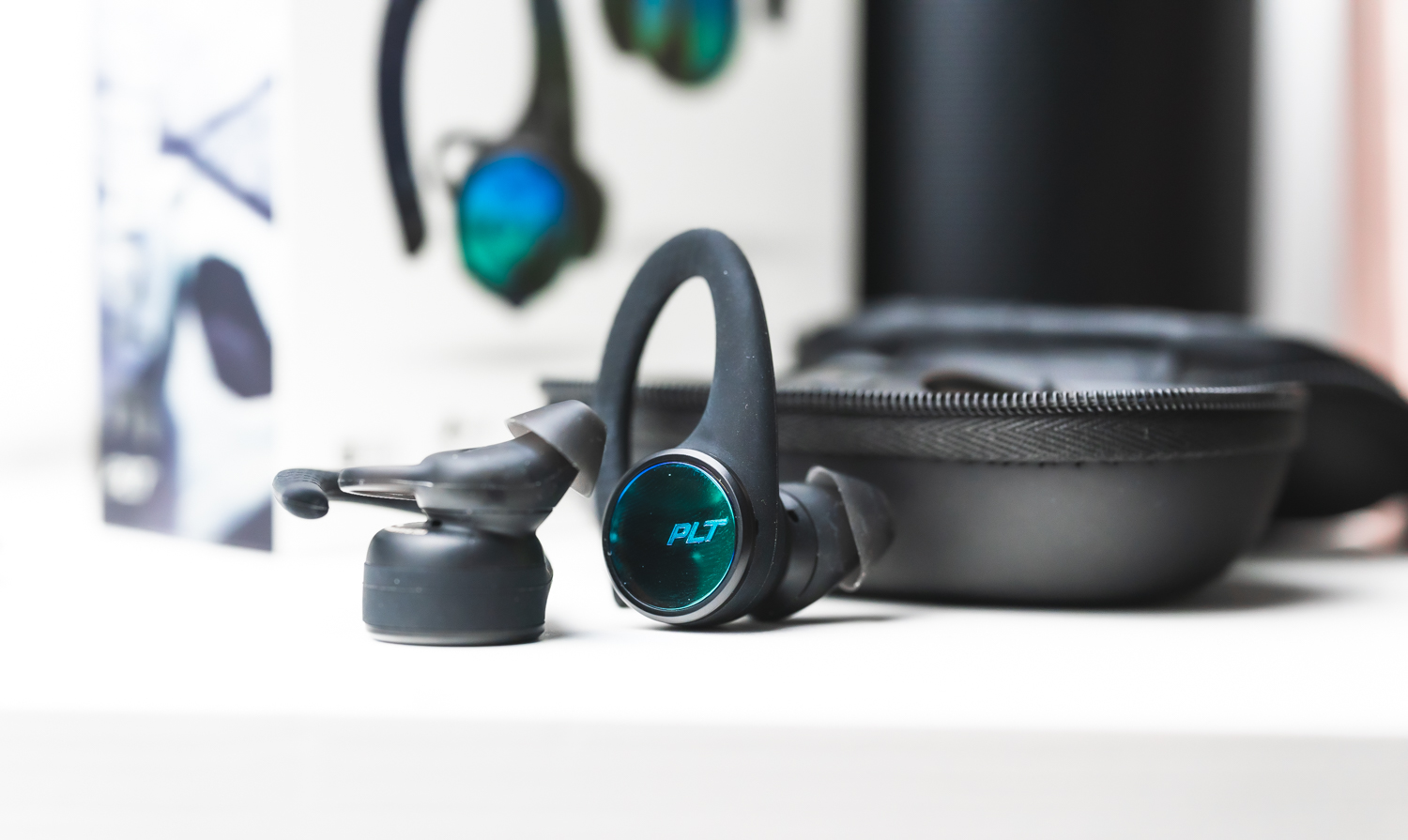 Ok, technically speaking the successors of the set I tested 3100 last year are two. I'm already explaining what's going on.
As a reminder, you don't have to read the whole old review again. In March last year I tested Plantronics BackBeat Fit 3100 - fully wireless headphones, the distinguishing feature of which was ... allowed the user's ears a lot of sounds from the environment, which increased safety during training. They had quite a pleasant sound (although the bass could be a little juicier), lay well in the ears, had a sensible (though dirty) charging case and - so as not to drag - I really liked them. To the extent that I have used them for most of the last months, even though, unfortunately, they had to be recharged quite often - with my usage profile, they lasted usually about 4 hours.
At the end of last year Plantronics showed two new models in this series - 3150 and 3200. In many respects they were twin, with the difference that the 3150 retained sound transmission , while the 3200 already offers mechanical isolation from the environment. In addition, the working time on a single charge has been improved, fast charging has been optimized and the musical properties have been refined. The 3200 also has a programmatic mode of transmitting sounds to the user's ears.
And so I've been running, exercising and walking with BackBeat Fit 3200 for several good months. What has changed and are all the changes for the better?
From the outside - differences must be sought with a magnifying glass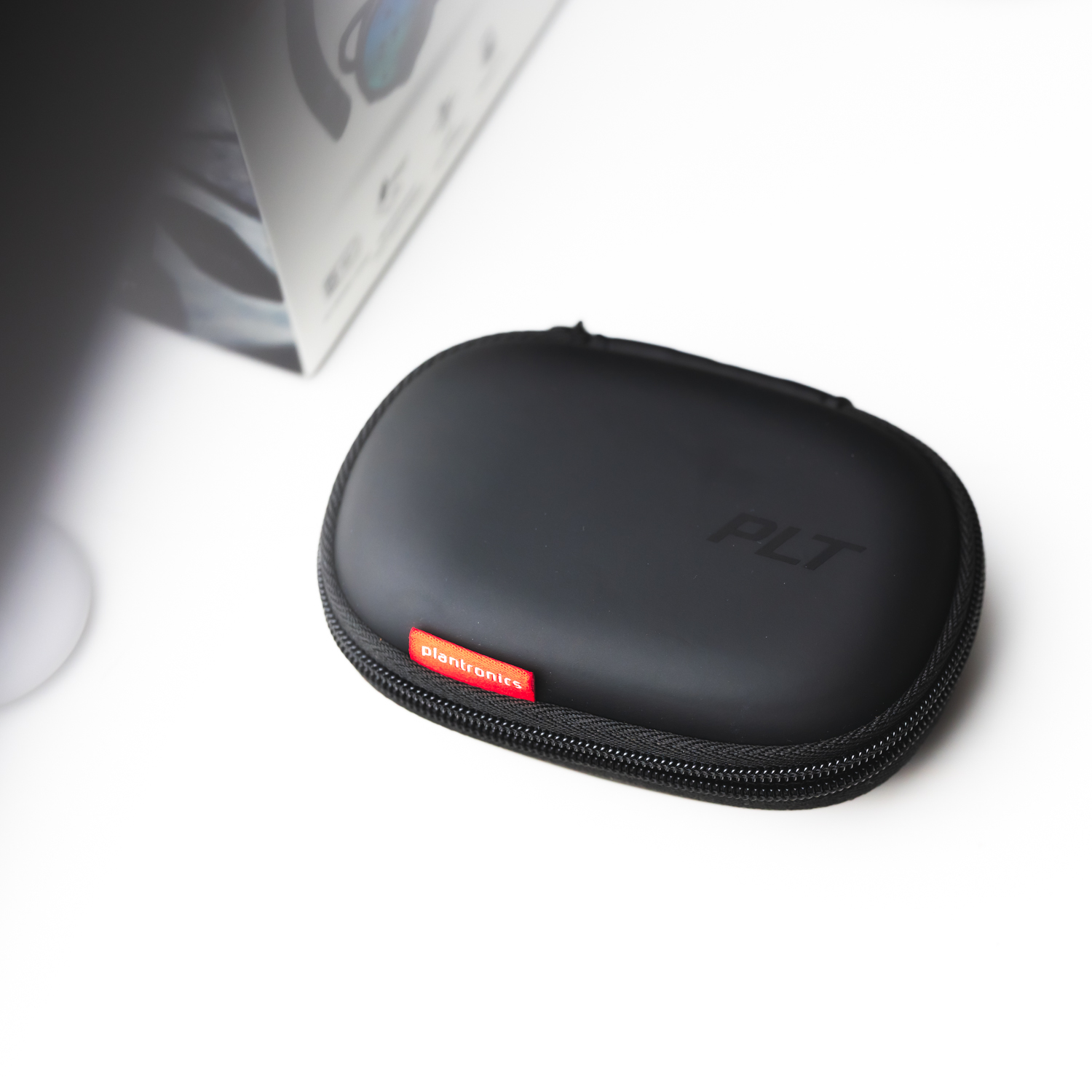 At the time of writing, I have both generations of headphones in front of me - 3100 and 3200. And if it wasn't for the fact that they are offered in different color versions, I could confuse them with myself. This has its good and bad sides.
Let's start with the bad ones, because there are relatively few of them. First of all, the design of the charging case has not changed, which means two things. First of all - it is quite big, although it must be admitted that it is solid. You can easily give your headphones checked-in baggage in a larger bag and they'll be fine.
Secondly - the case finished with rubber material, unfortunately, collects all fingerprints, all pollen and a lot of other, not very nice looking starch.
Thirdly - unfortunately the microUSB connector for charging has been preserved. This is not a problem, but during my last 3-4 trips, 3200 were the only device that required this type of cable to charge. It's so good that the headphones do not require too frequent charging, so I usually don't take this cable for short and even longer trips. On the plus side, you can also include Plantronics that the set comes with a short cable, which, moreover, cleverly hides in the case. But still - USB-C in the next generation, please. Because.
The design of the headphones has not changed. And that's a huge plus.
Ok, the tip itself has changed (3 sizes to choose from), which is now responsible for muffling the surroundings. Everything else has remained the same, for which I am extremely grateful.
Why? Because 3100 were one of the more comfortable sports headphones that I had to deal with. For this fantastic hold in the ears during running training or in the gym.
And this is also true for 3200. Although they are - according to the specifications - slightly heavier than the predecessor, but I am not able to detect this difference during use. They do not disturb in the same way during longer runs, they lie in the ears confidently, and I like to reach for them before every sportive exit.
However, the only drawback regarding the usable side of these headphones has not changed. Due to their design, which allows them to remain stable in our ears, they are quite large. It is difficult to compare them to AirPods or even BackBeat Pro 5100 . So going for a run - I reach for 3200. When going shopping - I tend to be more like 5100, unless I assume I'm going on a tram.
And how is all the mute?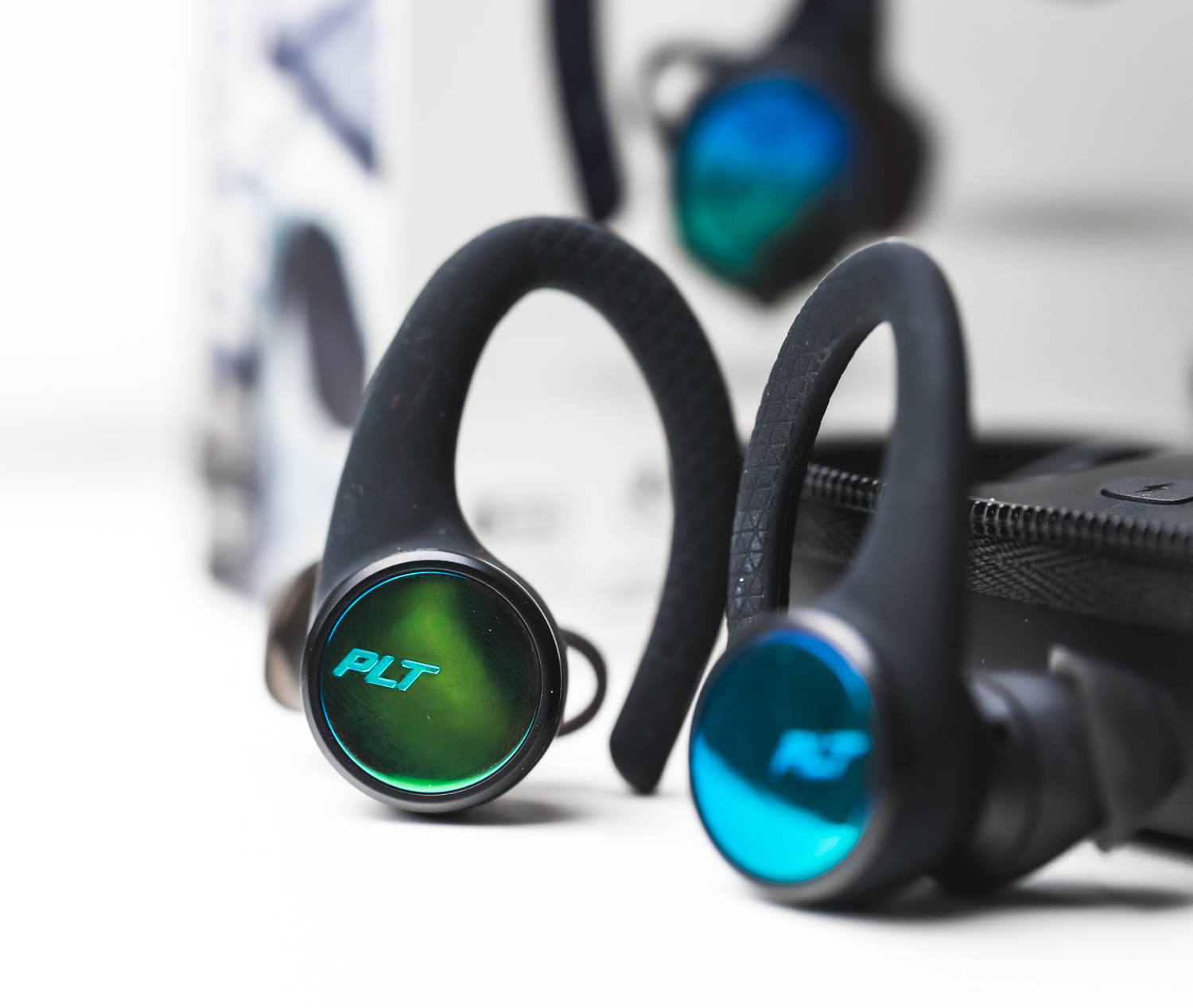 Okay, maybe even very good. With the right choice of tips, we can largely cut off from outside noise. It is not a level of comfort and programmatic liquidation of background noise, but effortlessly handles eg. Home treadmill noise (if talking about music - for podcasts or videos is a little worse), a public gym or simply running the city.
It is worth mentioning one key difference from 3100. In the older model we had only one tip and it was quite universal. In 3200, we need to spend some time on selection, so that the selected tip fits our ear perfectly. And this is not just about muting the background - it is rather about the fact that the mismatched tip during intense running can move, which slightly reduces the comfort of training and listening to music. Fortunately, after 2-3 test runs I managed to choose one that I could not have any reservations about.
And since the FIT 3200 mute the background really well, a special mode of operation has been added.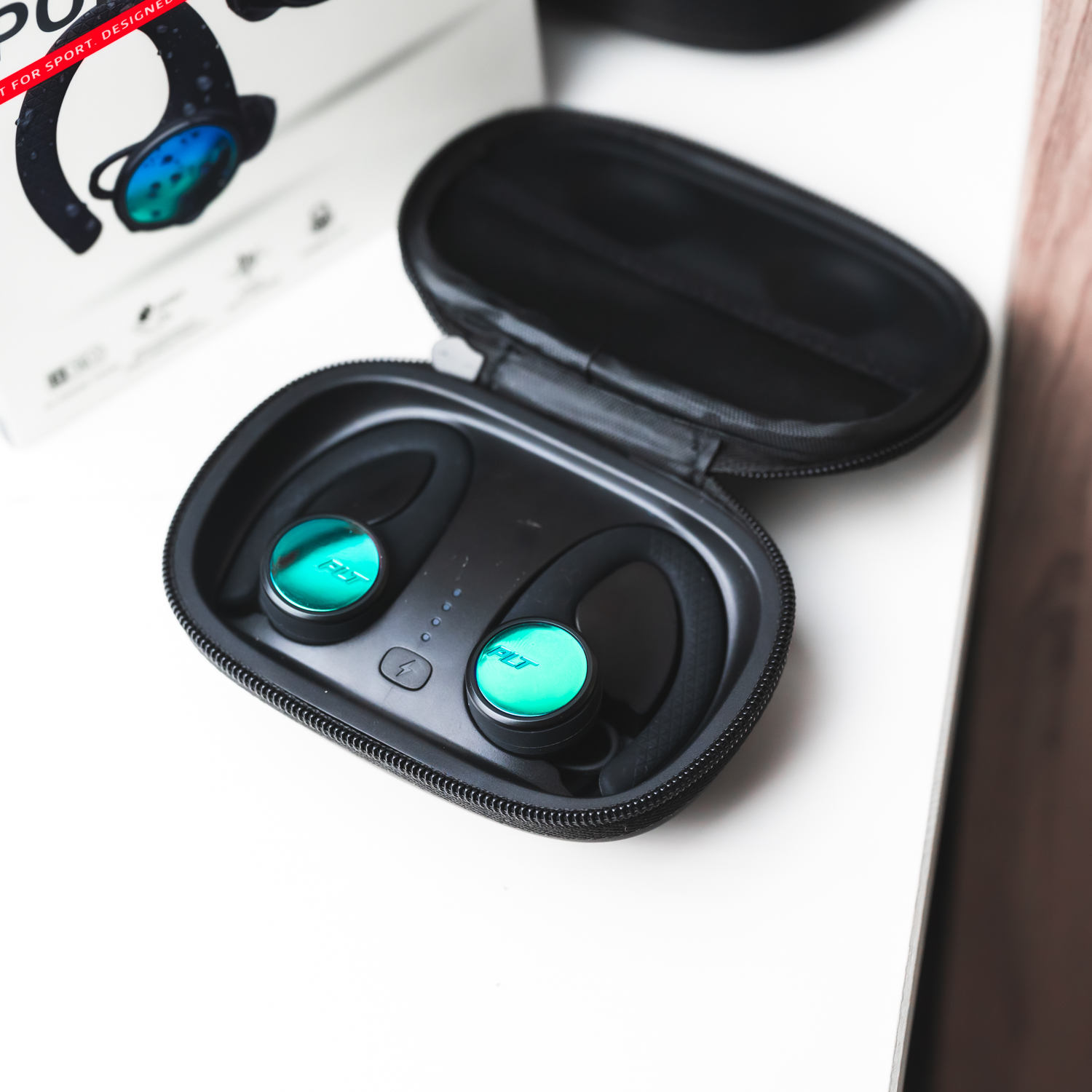 It's called Awareness Mode and it can work in two modes - stopping the music or playing it quieter and with changed settings.
How is this solution done? I mainly used the latter option, activating it manually with a single touch of the touch field on the left handset and I have no reason to complain. In fact, enough background sounds were reaching my ears at the time, or rather - much less masked music that could still be heard somewhere in the background. I don't know if I would use this function in the same way as the producer advertises it (conversations with another person during exercises, with music on at the same time), but where I did not want to be completely cut off from the world, one click solved the whole problem. And after running into the park, for example, I could only enjoy music again.
I have only two problems with this function. First of all - it has a very overclocked, robotic reverb, which can sometimes strongly conquer normally acceptable sounds. I was very surprised when the sound of the slightly creaking door handle turned out to be really difficult to digest. Just in case, I turn this feature off before entering the house. Lubricating the door handle may be a solution, but what will I do.
The second disadvantage is that at maximum volume this mode does not quite work as one would imagine. Ie. we are able to drown out almost everything that reaches us, and the ambient noise is distorted and it is difficult to determine where it comes from, which can be quite dangerous, e.g. when running along the edge of the road.
Unfortunately, switching between modes generates one problem.
We support the 3200 model just like its predecessor. So we turn on by long pressing the button on the right earphone, clicks on this button to handle song switching, pause, incoming calls and voice assistants, while the left earphone has a touch field that ...
That's right - by default it is used for volume. One touch - louder. Touch and hold - quieter. However, if we want to have Awareness Mode at hand, we must use the My Tap function (configuration from the application on the smartphone), which allows you to assign one of several available actions (including Awareness Mode) to single and double tap on the field on the handset. So ... yes, we lose the ability to smoothly change the volume without removing the phone.
I mention this, but I cannot at the same time consider it as a great disadvantage. Usually, if I already lower the volume, it's just to hear the surroundings. Here I have it by activating the Awareness Mode, which is the same, except that there are a lot less of these clicks.
However, if someone would like to have access to the volume control and Awareness Mode from the headphones, then they should remember that.
To this I would add two other minor flaws. First of all - the touch surface after a few hours of running in a cap can react to touches of the touch field and in an incredibly irritating way. Secondly, it is a pity that the option of pausing music after removing the headphones from the ear was not added. Only putting them in the docking station causes their complete deactivation.
Luckily, these 3200 small deficiencies make up for the sound quality.
Although this is a purely subjective opinion, I have already written about it many times - I require one from the training headphones. They have to have satisfying sound quality, while offering the most juicy bass. The 3100 model met the first part of these expectations, but the bass was a bit worse. 3200 eliminates this problem.
If I were to point out one thing that in terms of music changed the most between 3100 and 3200, this is the bass. It is more, it is juicier, and much better suited to power us during intense exercise. It may be a matter of better insulation from the surroundings, or maybe delicate structural changes. In any case - it is clearly better.
The rest remains very similar to how the 3100 sounded, which is surprisingly good for relatively small sports headphones. Good isolation from the environment allows us to effectively fill our ears with sound that is - for this product category - satisfyingly detailed, almost regardless of the genre of music being listened to. Almost, because the 3200 bass characteristics do not work everywhere - I doubt, however, that someone could be motivated by classical guitar during training.
The FIT 3200 is versatile by the fact that we do not have a full-fledged equalizer. Only three modes are available - PLT Signature Balanced, Bass and Bright. The first one is quite universal and is supposed to provide the right balance between low, medium and high tones, but it is still oriented towards the first ones. Bass, in turn, could be described as Mega Bass , focusing on it to such an extent that I sometimes have the impression that low tones sometimes appear even where they are not. I especially do not recommend listening to podcasts in this mode, because their artificial fading sounds at times comical. I admit without beating - if I was taking these headphones for a harder workout, I first made sure in the application that this mode was turned on.
In turn, I activated Bright when I wanted to listen to podcasts. In this type of materials you can feel a fairly clear difference between him and Signature Balanced.
The battery has also been improved.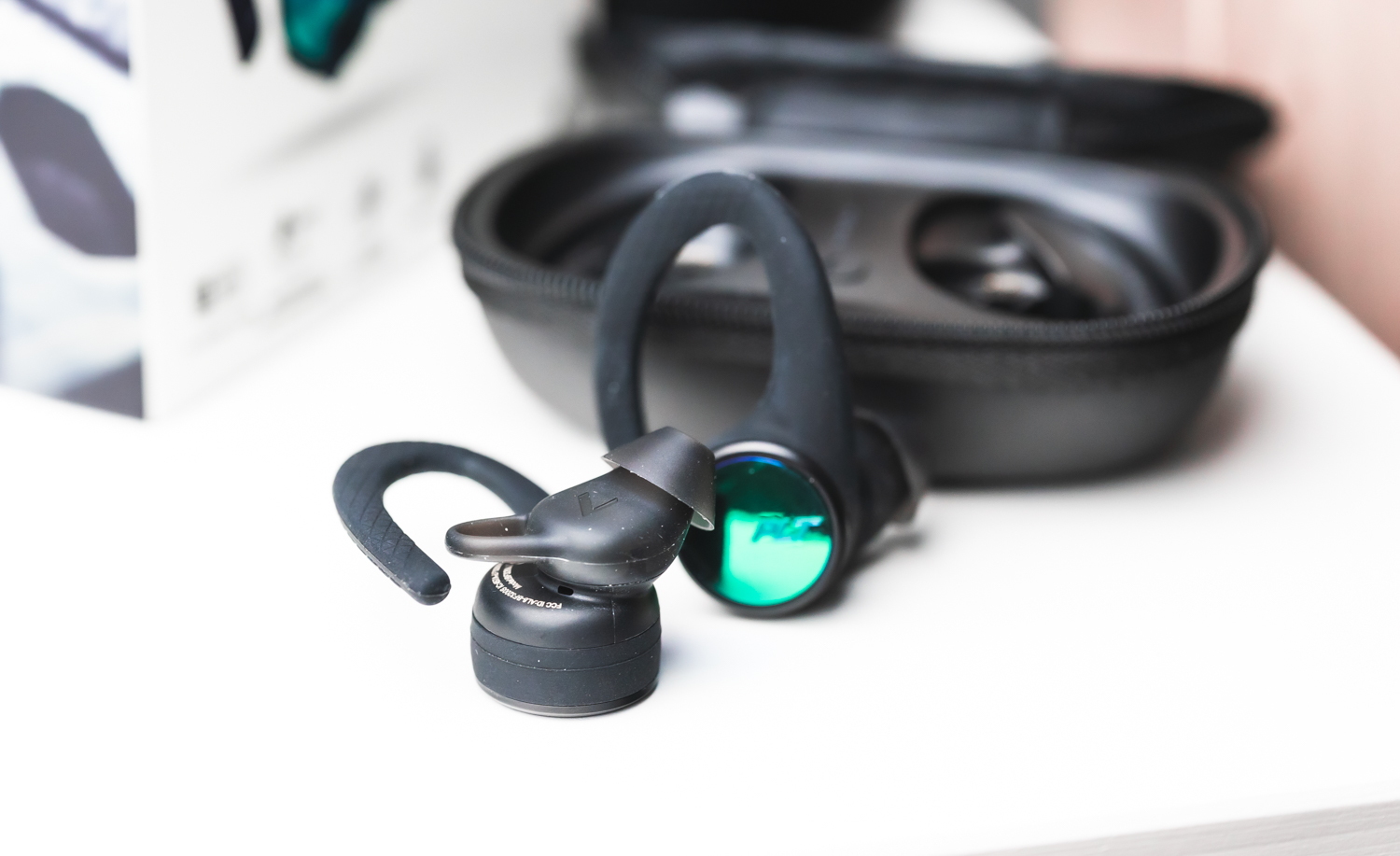 The previous generation lasted without charging theoretically up to 5 hours (in practice about 4) and with the case we could refill it twice. In addition, 15 minutes of charging gave an hour of listening.
And it was not a bad result, but I was aware that, for example, for longer mountain runs I have to take other headphones with me.
Luckily 3200 solve this problem. Despite the similar size and weight, they theoretically last for 8 hours without charging (in real terms at a maximum volume of less than 7 hours), while the case will provide charging for an additional 16 hours of listening. If that wasn't enough, the quick charge has also been improved, giving us 1.5 hours of charging after 15 minutes
Which definitely solves my problem regarding which headphones to take with me in the mountains.
And also waterproof and similar.
Like the 3100, the 3200 also meet the IP57 standard, which in practice means that we can take them without hesitation for rainy or sweaty training.
Note - the case is not waterproof. I didn't have any problems after packing the minimally wet headphones into it. But don't do it better at home.
Worth it?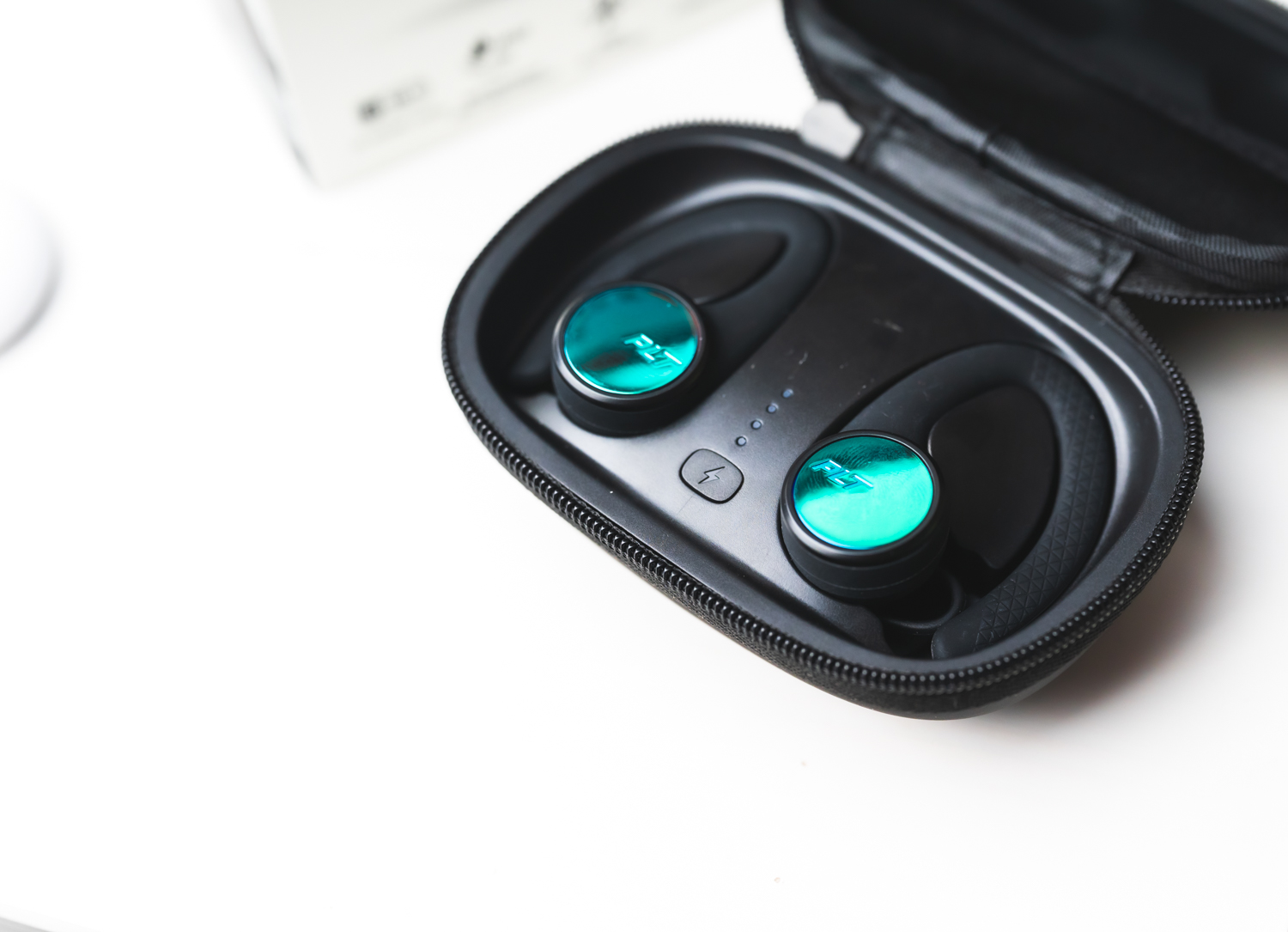 Plantronics BackBeat Fit 3100 were one of my favorite headphones - both because of the comfort of use and the passage of noise from the environment to the ears, which increased the level of safety. However, I missed a little time on one charge and bass.
Fit 3200 solve all these problems, except maybe the USB-C mentioned at the beginning, whose absence can only be explained by the need to use previously ordered microUSB connectors. In addition, they are still fantastic in the ears, do not tire during longer workouts and guarantee pleasant - in training conditions - sound quality.
It is debatable whether the introduction of insulation from the environment - at a very high level - can be counted as a plus or minus. Buying them and using them forever in Awareness Mode is a bit pointless - that's the 3150 model. However, if you prefer to cut off from the environment and only sometimes switch to external mode - it's worth the most. Even despite the fact that the price in Polish stores is less than 700 PLN.
On the plus side:
very effective isolation from the environment
strong and stronger bass than in the previous one
very satisfactory sound quality
very good work time on one charge and a large supply in a case
they stick well to the ears even during demanding workouts
stable communication with the phone and between headphones
sweat and water resistance
On the downside:
for some this bass may be too much
control does not have to appeal to everyone
the same design, so they are rather large and not very output
the case gets dirty quickly and in every possible place
the case itself is also quite large
microUSB
Plantronics BackBeat FIT 3200 - review