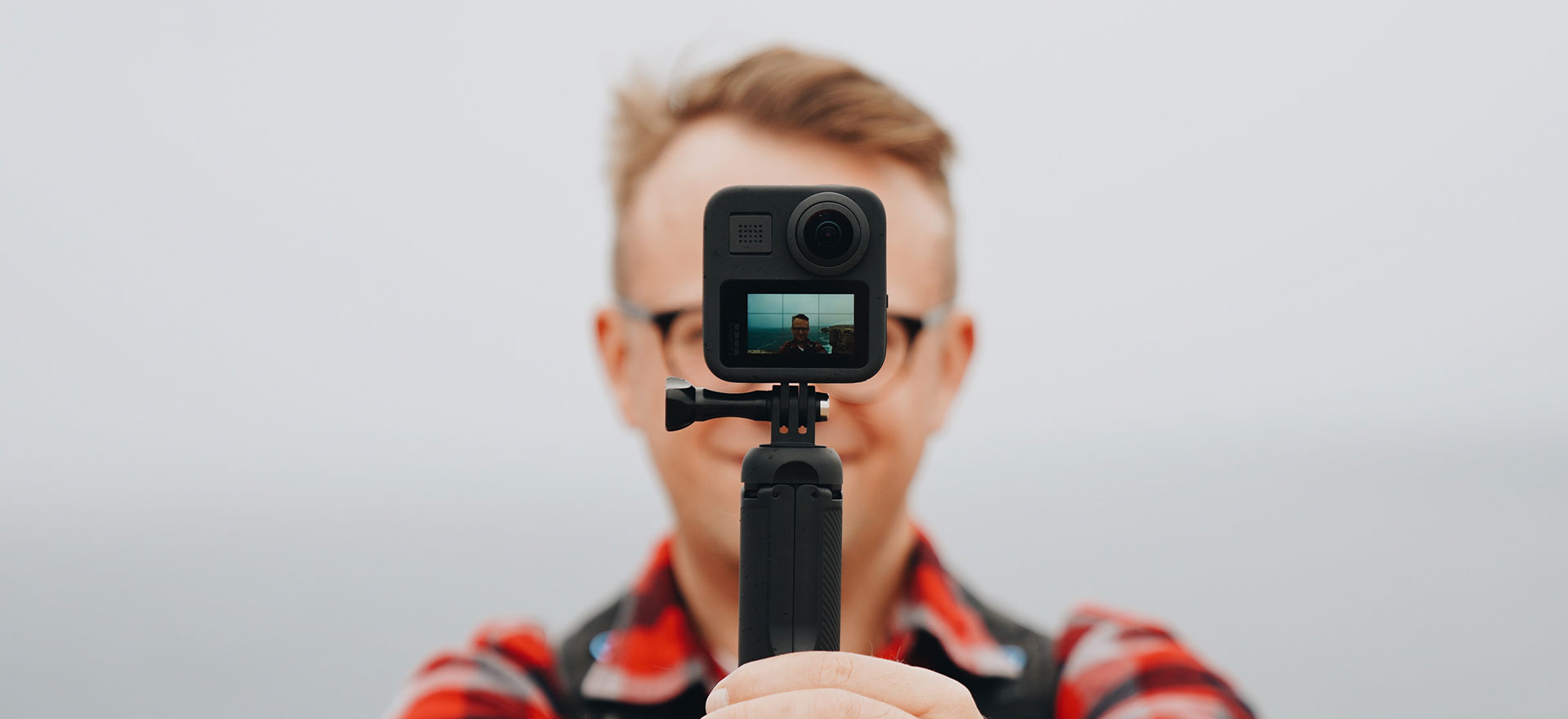 GoPro Max is a new sports camera recording in 360 degrees, which is really sexy. I spent a weekend with her in Portugal and checked if she was as good as the producer says.
On one hand, spherical films aroused general curiosity and admiration, on the other they were repelled by the lack of simple post-production possibilities. I tested several consumer spherical cameras and each was similar. Big wow during recording and a big disappointment when you had to do something with these movies.
GoPro tried to solve this problem in 2017, but the GoPro Fusion camera, although offering good image quality, still suffered from all diseases of this type of device. As a result, spherical cameras slowly began to become a melody of the past, not the future. By the time. A lot has changed with the Insta360 ONE X camera. GoPro Max a year later follows a similar path, but acting in its own way.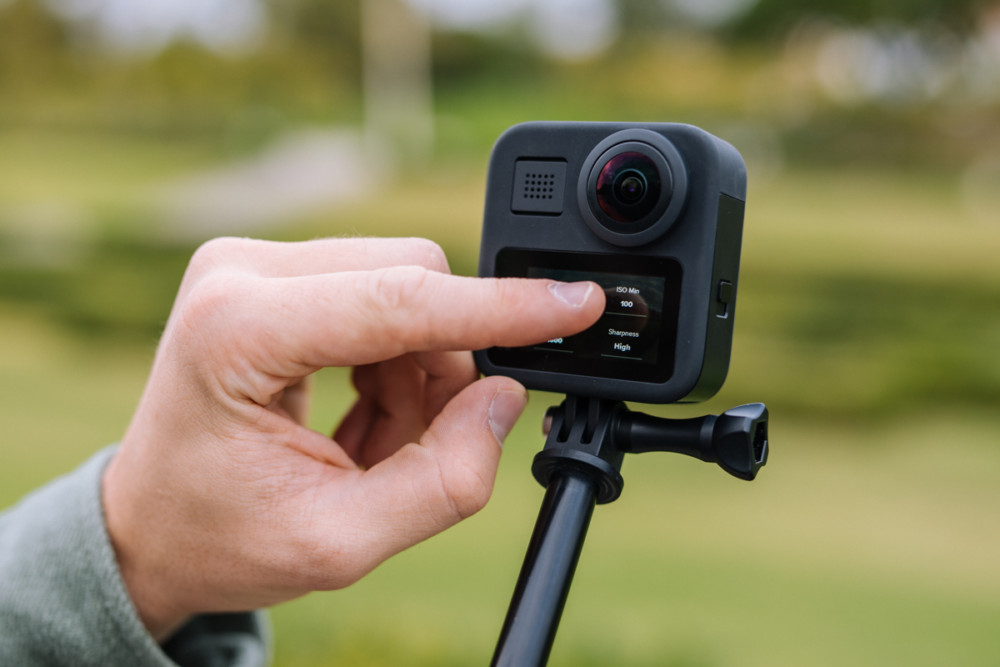 Sealed body under the GoPro sign
One of the great advantages of GoPro Max is its size and weight. GoPro Max is a small, almost square black box with two protruding lenses and a small, colorful screen used for live view and viewing of made materials. The device is only slightly larger than the classic GoPro Hero 8 Black camera. And this means that we can use both cameras in identical situations.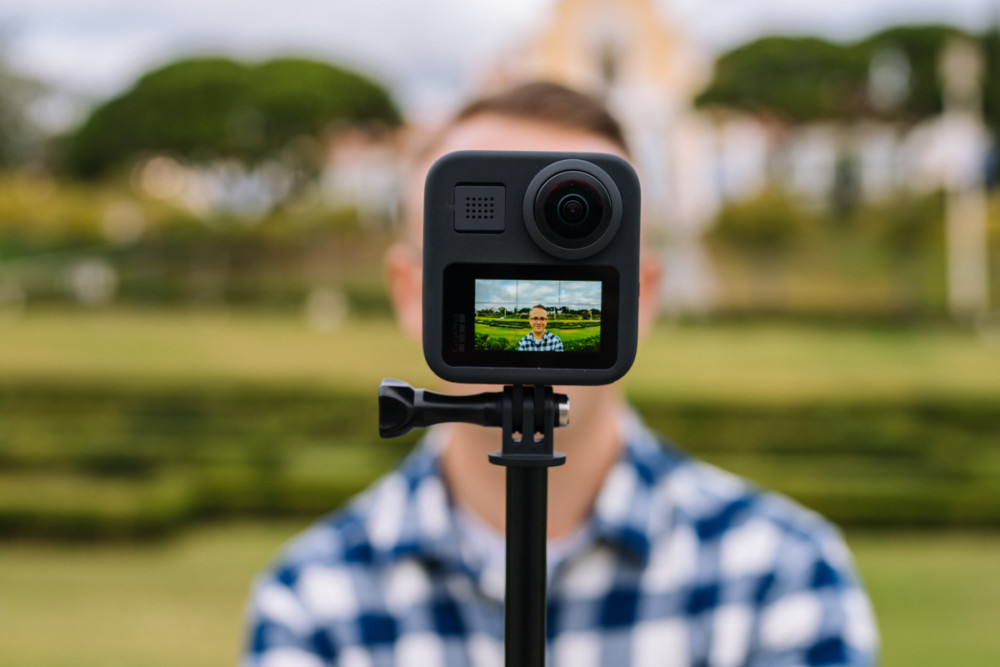 The body is made of magnesium alloys and covered with a pleasant, matte rubber material. For this we have a trigger, an ON / OFF button, a battery compartment, a USB-C socket and a microSD memory card.
As befits a sports cam, GoPro Max is sealed and shockproof. The manufacturer ensures that he can work under water up to 5 m, but unfortunately after being submerged and removed on rounded lenses there are drops of water that interfere with the film.
The company does not recommend using the device underwater because the camcorder is not good at combining images in such conditions. Currently, GoPro does not offer any underwater protective covers, but these are to appear in the future. The lens should generally be careful and protected with special rubber caps added as standard in the set. Lenses on the lenses are supposed to get dirty and draw quite easily, although I did not notice that this clearly affected the quality of the image.
GoPro Max, like GoPro Hero 8 Black , has a different way of fixing. Two protruding elements for connecting with a stick or other accessories are hinged and can be pulled out or hidden.
You can also replace both components yourself if they break. Max is compatible with all current GoPro accessories, just like Hero 8. Well done for the ingenuity.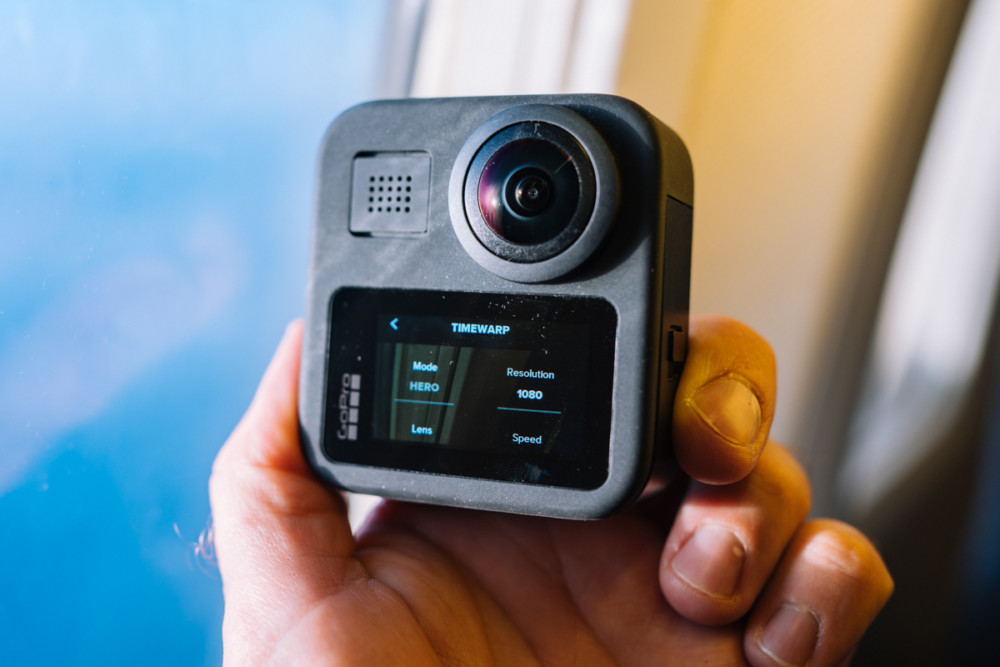 The camcorder has two 180-degree lenses that work with 1.2.3-inch matrices. Max offers 5.6K spherical films with two lenses or regular 1080p (16: 9) / 1440p (4: 3) video at 60, 50 with one. In addition, we also have the function of classic photos with a low resolution of 5.5 Mpix in 4: 3 format, 270-degree 6.2-megapixel panoramic photos called PowerPanos and 16.6-megapixel 360-degree photos, of which more in a moment.
The color screen used is bright and contrasting, although it does not sin in resolution. Touch functions work quite well, but sometimes you have to repeat certain gestures.
360 movies finally make sense and are well stabilized
Spherical movies are interesting, but the problem arises when you need to process them, export them and show them to others on smartphones or computers. Even the most wonderful images recorded in 360 degrees will be useless if they are not played on devices or websites that can display them properly.
They can also be processed and adapted to classic forms of display. However, this is not so simple and usually takes a long time in post-production. And this is where GoPro Max comes in with its application - all in black.
The GoPro Max sports camcorder records 5.6K spherical films, which can then be freely viewed and, most importantly, modified in the GoPro mobile application. The device not only combines images from two cameras, but also stabilizes them. It also allows cutting flat films from spherical recordings.
GoPro saves its 360 images in formats that are not read by popular video post-production programs, Facebook or YouTube. This means that, unfortunately, we cannot manually edit the spherical movies recorded with GoPro Max or see and publish the original, unconnected movies. The idea of ​​this camera is different: it is about maximum simplicity of processing. And in this GoPro Max is doing extremely well.
The GoPro application is a subject for a separate text. The program is excellent: not only easy to use and extremely aesthetic, but also powerful and efficient at the same time. GoPro Max camera only needs to be paired with the smartphone once to then connect from the app level, without having to enter the smartphone settings.
After connecting, we can do what we want with the camera: from viewing movies and photos and their transfer, through control to instant post-production. I'm not a fan of mobile video processing applications, but this one is really affordable and encouraging.
For 360 movies, the most important is the Reframe function, which allows very fast editing of the spherical film. It consists in the fact that we rotate the image and set a point there for which the frame should focus. After setting a few points, the application automatically moves smoothly from one frame to another.
We can also choose the types of transitions, we can modify a whole bunch of other parameters. It works incredibly fast, smooth and simple. In this way, GoPro managed to solve the main problem of the GoPro Fusion camera, i.e. support for recorded movies. What takes a few minutes on Max on a smartphone, in Fusion would take 1-2 hours on a computer in Adobe Premier Pro. The method of editing spherical GoPro Max movies has been completely redesigned.
In addition, we also have a Hero mode, in which the camera records classic, flat movies using a single lens. There are two resolutions to choose from: 1080p at 16: 9 or 1440p at 4: 3. In both cases, speeds 60, 50, 30 and 24 fps are available. Unfortunately, 4K is missing like in GoPro Hero 8 Black.
The lens used gives a 180-degree field of view, but in Hero mode it has been limited by software. And so from one lens we have four different focal lengths: from Max SuperWide 13 mm, through Wide 16 mm, Linear 19 mm and Narrow 27 mm. It gives us great creative possibilities: from very wide frames to more classic ones.
The image stabilization system called Max HyperSmooth is also a strong point of GoPro Max. The company's representatives ensure that the Max model has the most advanced and effective image stabilization system in the history of their products, and the device performs even better in this respect than GoPro Hero 8 Black.
Either way, the stabilization of the Max model is excellent, especially in Hero mode, when recording images from only one camera. This can be seen, for example, on the shot below, where I was riding my bike down the mountain trails, and the camera was attached to a backpack on my chest. The image looks like it is flying.
Another, even magical function is leveling the horizon. It means that the camera will always keep a straight horizon on a flat recording, even if the camera shakes mercilessly or even years . An extreme demonstration of the possibilities of this function is when we rotate the camera on a pole 360 ​​degrees and the image is still stable and horizontally. As I showed this effect to my friends, nobody wanted to believe me that it works like that. And this is just the magic of algorithms.
Max TimeWarp, or spherical time-lapse movies
The feature that probably liked the most in the new GoPro Max is Max TimeWarp. It is nothing but spherical time-lapse movies, perfectly stabilized with smooth transitions. Editing them is as simple and quick as it is with spherical films. Just scroll to the right places, set points on the time line and the application will take care of the smooth transition.
In the application you can choose the acceleration rate in the range of 2-30x or leave the automatic selection adapted to the speed of movement. Speed ​​can also be changed at the post-production stage in the application.
Below are two films: one from Lisbon, the other that I made while already on the plane. I processed both in 10 minutes on the app and exported. With one click I changed the frame format from horizontal to vertical to have a version to be published as an account.
I did it for the first time, without any special training, based only on experience. Appka is intuitive, simple and beautiful, giving you plenty of possibilities. If we think about recording and processing spherical films in an accessible way, this is how it should look like.
As many as 6 microphones have been used in GoPro Max, which makes the sound on recordings surprisingly good: clean, clear, high quality. Under normal conditions, no wind is heard. The characteristic crackles are heard only at very strong gusts. One of the microphones is located above the screen of the device, so it collects voice well, e.g. during vlogging.
Panoramas better than on a smartphone
Panorama, like panorama: every smartphone has such a function today - I thought at the beginning. GoPro Max does it much better though. The smartphone does not record one frame, but many shots, then combining them into one. To get a wide panorama, you need to move slowly and steadily with your smartphone. Everything is great to try to do it e.g. on a square full of people. All these moving people are turning into ghosts. Their silhouettes are blurred.
GoPro Max has a wide enough lens that it can make 270-degree panoramas in one photo. If we don't do a photo at night and the camera can set a relatively short exposure time, it will freeze all the moving people in the photo. Taking a photo takes the same as taking a regular photo.



As befits a spherical camera, GoPro Max also allows 360-degree photos. All you have to do is place the webcam on the table around which we are sitting with friends, launch the webcam and release the shutter. Tick ​​and we have a photo of everyone sitting at the table.
Minuses? No 4K, visible connections, small matrix
I am delighted with the possibilities of GoPro Max, but I am aware that this camera is not perfect. First of all, the device records in Hero mode only in 1080p instead of 4K like Go Pro Hero 8 Black. Representatives of the American company told me directly that both cameras have a similar interior, but Max does not have enough power to support a total of two 4K cameras.
The second minus is the visible connections in some spherical films between images from two cameras, especially when straight lines run from one image to another. In other cases, especially in good lighting conditions, the joints are not visible. Perhaps it is also a matter of refining the algorithms and increasing the computing power. The image quality itself is also not outstanding, especially when the camcorder enters higher sensitivities. Let's remember that inside there is a tiny 1.2 / 3-inch matrix, i.e. a sensor like in many smartphones.
The greatest strength of GoPro Max are ... flat images
Despite these few weaknesses, GoPro Max is a great tool. The American company managed to do something really special. In the corpus of a size similar to classic sports cameras, they managed to fit a spherical camera with the function of automatic image merging, brilliant stabilization and a mass of intelligent algorithms.
For this we have an efficient application that completely changes the rules of the game. It enables instant editing and post-production of spherical films on your smartphone in a very simple way. Something that in GoPro Fusion took an hour or two, here it takes a few minutes. With all this, GoPro Max is compatible with a whole bunch of accessories that are already available on the market, such as various tripods, poles or various mounts.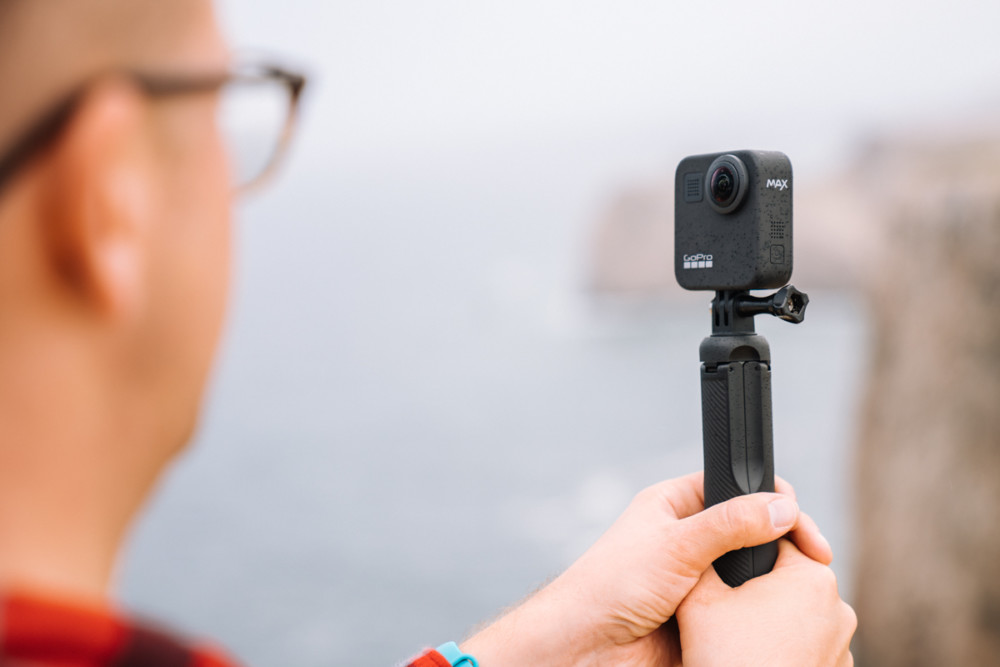 GoPro Max is definitely the first spherical camera of this company, and I have the impression that the first one that makes sense. And paradoxically, this sense lies not in the spherical films themselves, but in flat images that can be easily processed and adapted on a smartphone to display on any device and any video site.
GoPro Max with its simplicity of use and unusual effects, is able to attract attention for longer. I am myself inspired and encouraged to play with completely new visual forms, especially when traveling. GoPro Max will go on sale on October 24 and will be sold at a price of approx. PLN 2,400. If this fairly high price does not discourage you, it is worth reaching for it.
GoPro Max makes 360 movies finally make sense