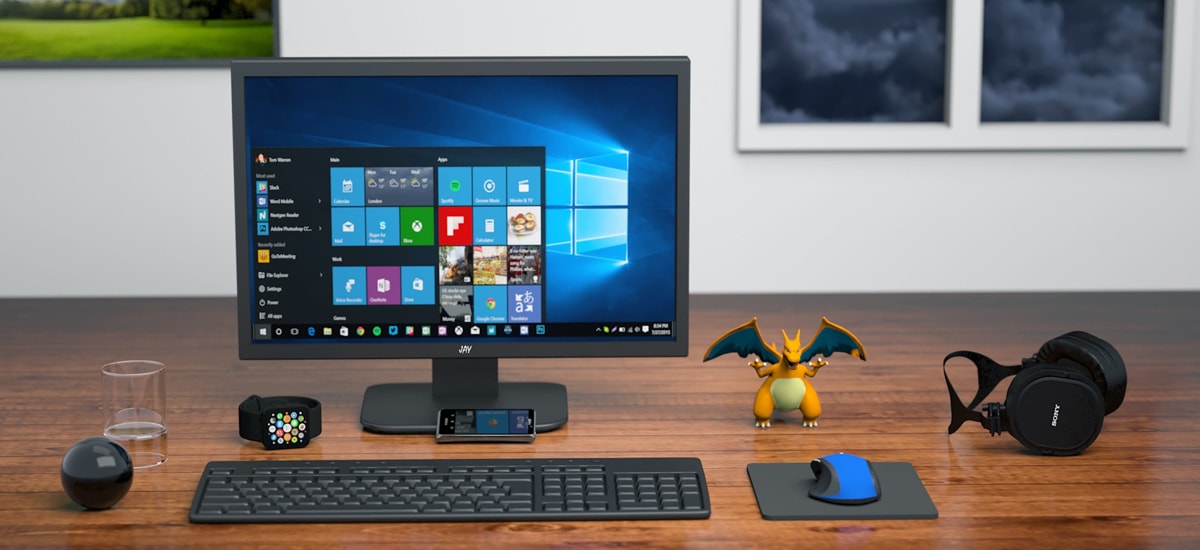 The Dutch data protection agency expresses further doubts about Windows 10 and protecting the privacy of its users. Even if her suspicions are wrong, it's Microsoft's fault.
Windows 10 has made significant changes to the way Microsoft software is built and tested today. The creators of Windows have long used various telemetry mechanisms to test their software - anyone remember the times of Dr. Watson application? - but they have never been so ... accurate.
Windows 10 currently has four development channels. The first three - Fast Ring, Slow Ring and Release Preview - are for members of the Windows Insider program. These are future, experimental versions of Windows, and Insiders are tasked to test them. These editions report to Microsoft about almost everything we do on the computer. The last, fourth, is the production version of the system, and therefore the one intended for ordinary users. Also this one is equipped with a rich set of telemetric sensors.
These, however, do not collect data about the user, but only about the work of the system itself. So every time something goes wrong, Windows 10 collects information about it in the background and sends it to Microsoft technicians. This is a useful mechanism for the company. Thanks to this, he quickly finds out that the system used by customers has a specific defect that needs to be fixed immediately. There is only one problem: this mechanism cannot be easily turned off. For a typical user this is simply impossible.
No wonder doubts arise.
The Dutch Data Protection Agency has asked the Irish Data Protection Commission to investigate the collection of data by Windows 10. Why exactly? Microsoft with its main office in Dublin falls under the jurisdiction of this commission. This is not the first time a Dutch agency has expressed these doubts. Under the influence of a similar application from 2017, it was from the Dutch that Microsoft partially changed the wizard of the first launch of the system. The company's representative in a statement sent to TechCrunch once again expressed the will to cooperate.
The agency has no problem with telemetry itself. However, he has doubts about the amount of data collected. And it intends to check if Windows 10 does not collect more data than is required for its servicing. If they actually find something, Microsoft will face a penalty of up to 4 percent for violating European privacy laws. its global annual influence.
I bet they won't find anything. But that's Microsoft's fault.
I don't remember the occasion, but I remember defending telemetry in Windows 10 in the past. It's kind of a good idea. This, however, clearly does not work, because it will never free the company from suspicions or even accusations - right or wrong.
The argument "everyone will turn it off anyway" could have some value at the beginning. Today, however, I think that the choice should always belong to the user. And Microsoft can still count on a solid tester base, not only within the Windows Insider program. It is extremely doubtful that almost all of the 700 million active Windows users will immediately turn off telemetry. Especially since, at least in theory, it is harmless, so it could be enabled by default.
How is telemetry different from private data?
Exactly. Why does one form of data collection hurt us, and another we care less? Unlike private data, telemetry data is not related to us. We will not find information from our documents or personal data in them, but rather information such as "after connecting the Kindle Paperwhite to the USB port, a PC with such and such a configuration hangs". How do we know about this? Although Microsoft does not allow us to easily disable the telemetry mechanisms of Windows 10, but at least allows us to see what information is passed on.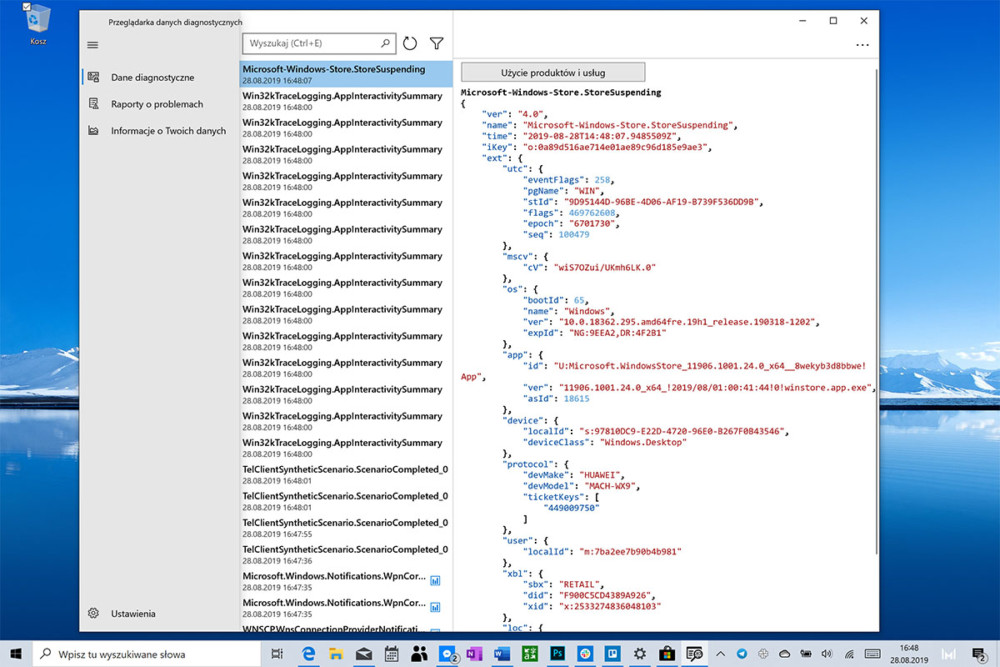 To check it, go to Settings , there in Privacy , then to the Diagnostics and reviews section and there we can click Open Diagnostic Data Viewer . The file that will appear to us is formed in XML structure, so we will need some IT knowledge to understand what it contains. We can also use this tool to remove telemetry data from our computer from Microsoft's servers.
Windows 10 also collects personal data.
Fortunately, this can be turned off, and most controversial settings are turned off by default. In this matter, Microsoft is doing really well. The first time you start your computer or a freshly installed system, the wizard will welcome you with a series of boards clearly explaining what the setting is, what data is collected and whether we agree to it. The board cannot be omitted, intentionally or accidentally.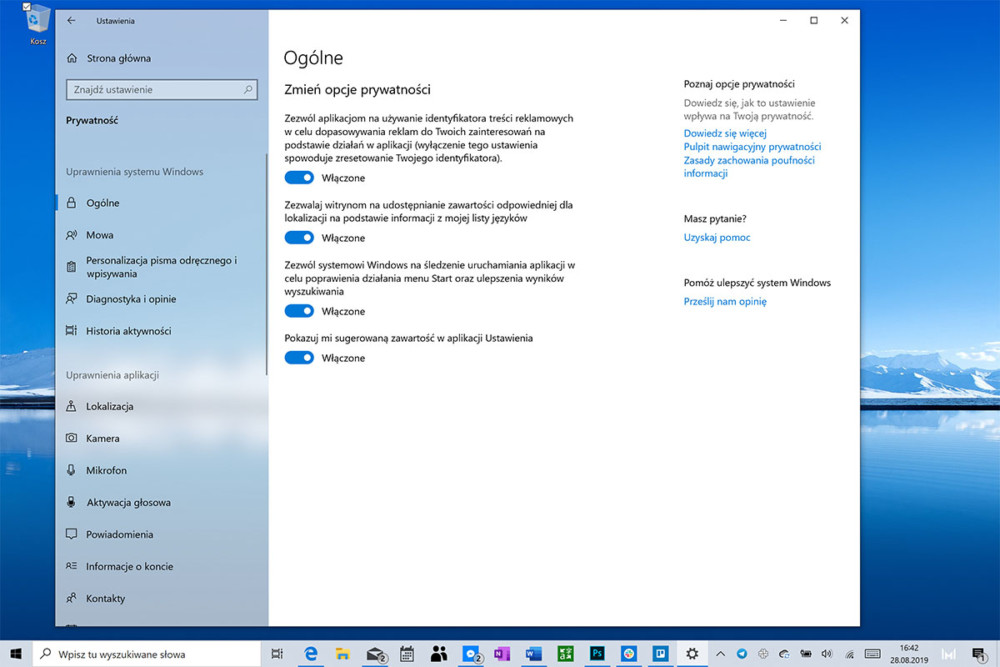 The system also has a very extensive (maybe too much) set of privacy settings. We can decide both what the system can collect about us and what individual applications can do. Each of the settings is described in detail. It's hard to fault the company here.
Choice is key.
And the argument I raised about the usefulness of telemetry loses its sense and meaning. Microsoft already has a gigantic Windows 10 user base, it doesn't have to force us on anything. The business model of this company assumes the protection of my digital security, there were no mishaps, so I trust that the telemetry data sent from my PC does not harm my interests.
Nevertheless, each user should decide about this trust himself. After all, all these controversies, FUDs, justified suspicions and everything else could be avoided with one simple button, even turned on by default: Enable / disable telemetry data collection . And so the affair is chasing the affair. In addition, who knows, it may turn out that our trust was misplaced. And the commission investigation will end with a painful financial penalty for Microsoft and a lesson for all of us.
The Dutch want to check that Windows 10 is not collecting more data than needed