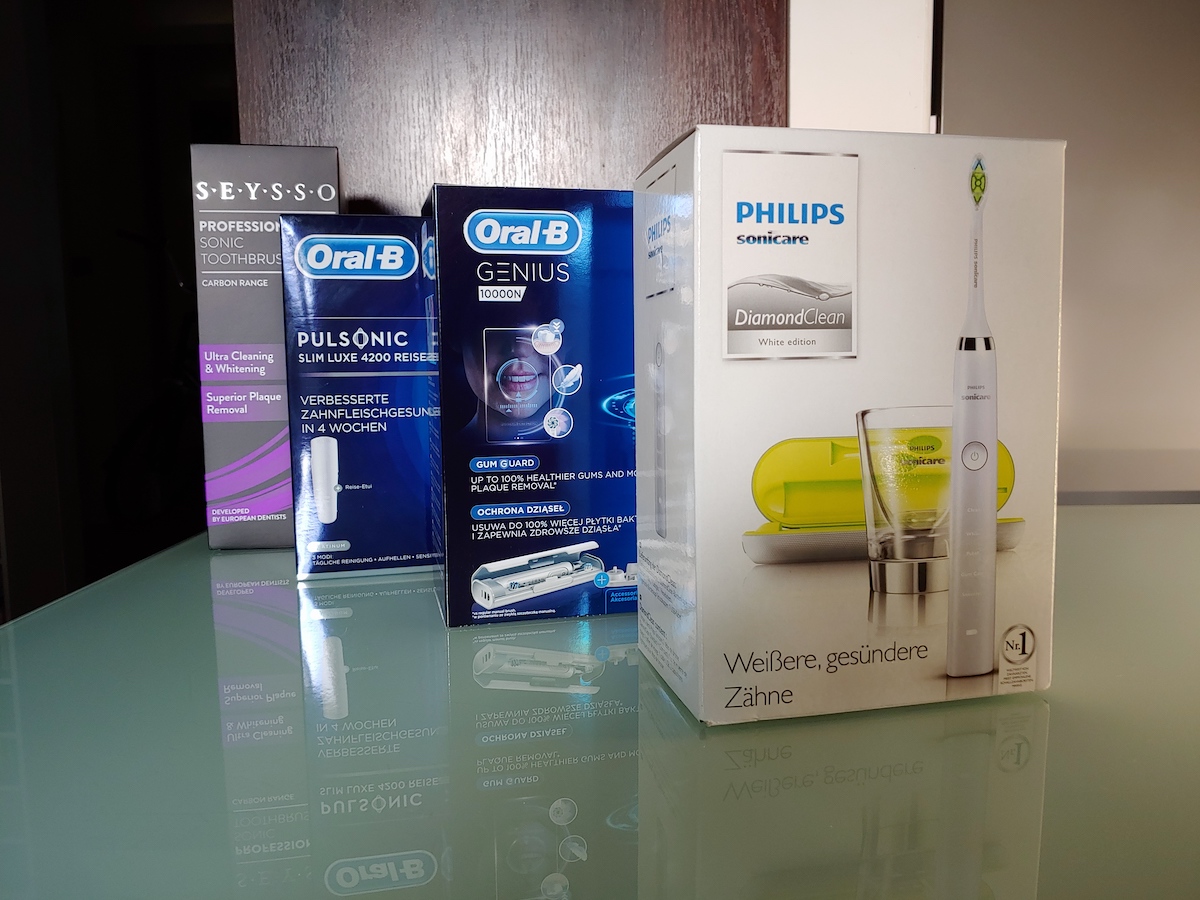 The time has come to choose a new toothbrush. Nothing bad will happen with the old one, but sometimes you need to change, refresh, bring something new and better.
I did solid research, after which it turned out that one of the most popular models of electric brushes are sonic brushes. So I decided to check some of the most popular models. That was the only way I could answer the question: which brush should I choose?
Admission word
For my test I decided to choose three sonic brushes from leading manufacturers and ... one brush that we would call traditional, i.e. with a round head. Of course, this is not entirely a standard brush, but more on that later. Why is that so? I do not know sonic technology, so I was not sure if this solution would suit me, and until now I used a brush, which we would simply call electric.
Of course, a certain inaccuracy sneaks in here, which, as a reliable technology lover, I can't help but clarify, because both the sonic brush and the one with a round head are electric brushes. They have electric motors, so they all meet the condition of "electricity".
I watched with interest the revolution taking place on the market, which apparently is not so dynamic and attractive from a technological point of view, i.e. the toothbrush market. And yet. Sonic brushes have spread marketing over the horizon of frequently mentioned passwords and associations.
It reminded me a bit of the famous action of one of the currently popular watch manufacturers, which, thanks to efficient online activities, resulted in sales of products worth at most PLN 100 for just over PLN 500 brought huge success to the brand owner. Unaware users bought themselves large, neat faces, thinking that they were buying something luxurious. I thought, "Sonic toothbrush - I'm checking." What was the effect? I invite you to this test.
Step one: choose your brushes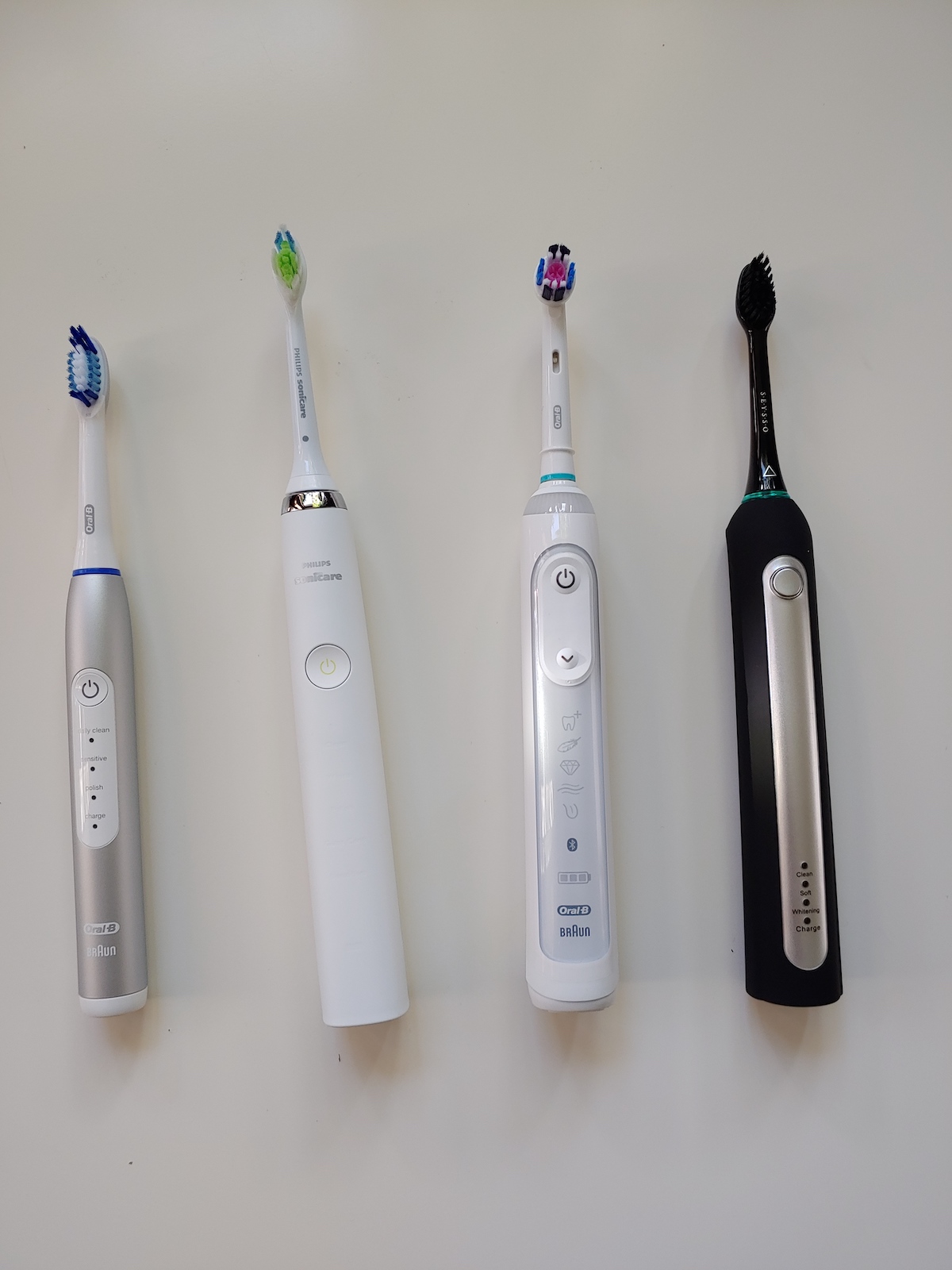 I decided to choose the flagship products of well-known producers in the same price range, i.e. from approx. 450 to 650 PLN (depending on where we buy). It fell on:
Philips Sonicare Diamondclean
Oral-B Pulsonic Slim Luxe 4200
Seysso Carbon Professional
Oral-B Genius 10000N (here brush with a round head).
I bought them all online. There, the prices were much more attractive than stationary, and let's agree, the amount for the four brushes mentioned above in total was not the lowest. Why exactly these? I took into account: the popularity of the manufacturer, the popularity of the model, the aesthetics of individual brushes (after all, one was to stay with me forever).
Philips Sonicare DiamondClean - test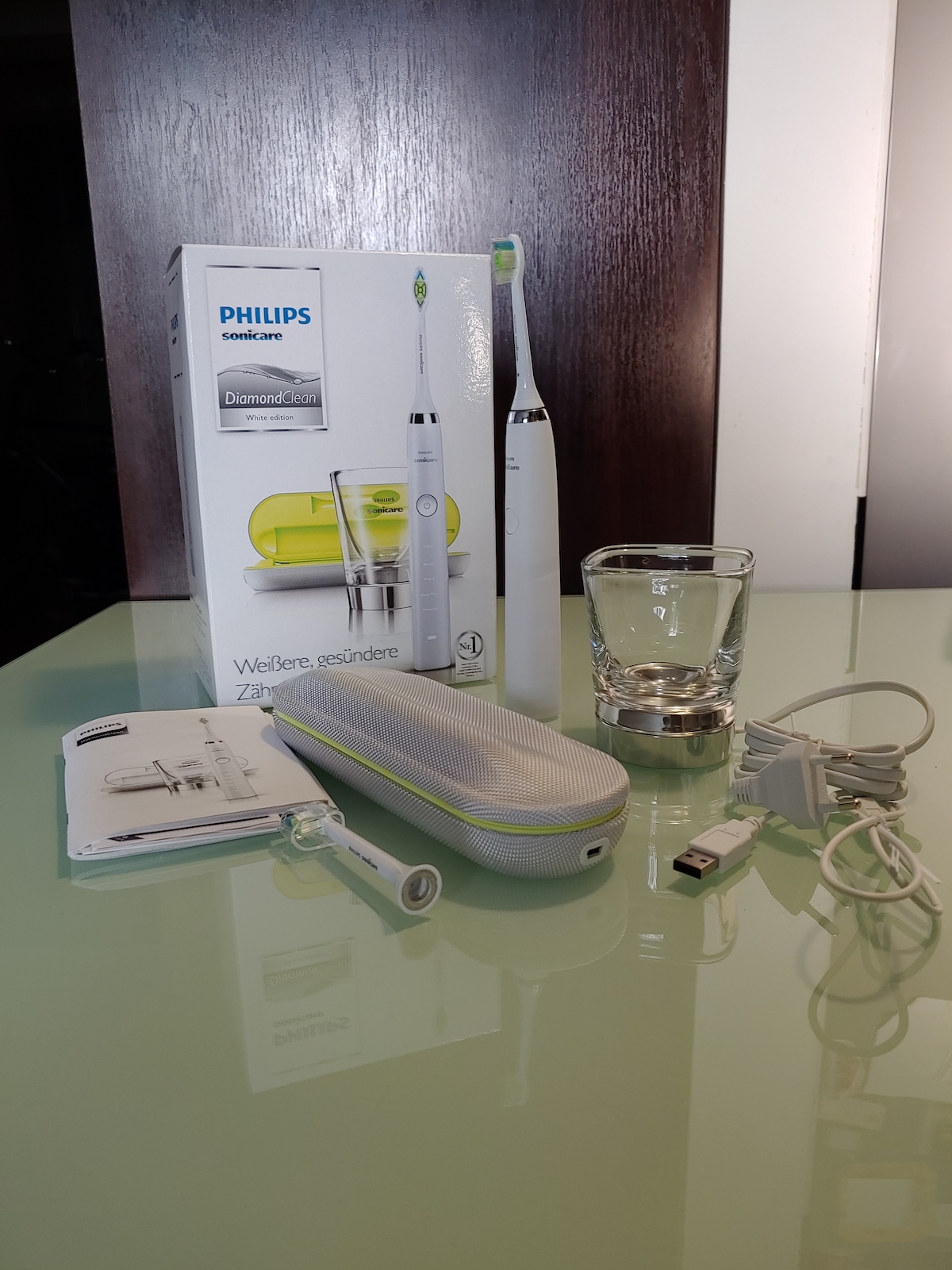 A very nice, aesthetic box contained:
Philips Sonicare Diamondclean sonic toothbrush

two Diamonclean heads (one standard, the other slightly smaller)
elegant travel case that is also a charger
a glass that is also ... an induction charger
USB cable for case
user manual, warranty
What did I think at the beginning? The brush looked solid, the case was not only practical, but very designer with pleasant aquamarine accents. I was interested in a glass with induction charging - it looks elegant and has a double role: I will be able to store the brush in an aesthetic way, knowing that it is charging at the same time. A very good idea, but aesthetically beautiful, which bought my imagination.
I'm taking the test
I used Philips Sonicare Diamondclean brushes for two weeks. This was my first experience with a sonic toothbrush, so I wanted to know exactly how I should care for my teeth.
So I read that brushing my teeth should make additional movements. So I checked. I applied my favorite toothpaste in a control amount on the brush head, applied it at a 45-degree angle to the teeth and ... turned it on.
Just fine, Philips Sonicare Diamondclean has 5 brushing modes:
Clean for everyday use
White used to whiten teeth by removing discoloration
Polish for polishing teeth
Gum Care, a mixed mode for cleaning and massaging the gums
Sensitive for sensitive teeth
I decided to choose the Clean, White and Gum Care modes. In this way, I had the impression that I would take care of the mouth comprehensively. I will clean, whiten and take care of my gums. I turned on the brush and admit that at the beginning I was a bit surprised by the type of movements made by the head. The head itself was larger than the one I used so far and more resembled the ones I knew from manual versions of toothbrushes. I tried to master the right technique, remember how to clean individual tooth surfaces with a sonic brush and ... make sure that the bathroom does not get covered with toothpaste spots.
The second time it was much simpler, in the following days I became a habit, so I could stop focusing on the right position of the hand and to make the recommended move - a kind of sweeping movement. Yes, you can get used to it quickly. The only difficulty I encountered in the whole process was to position the brush so as to be sure that it easily reaches the back of the teeth. And it somehow succeeded. Of course, I chose the standard head size - this one seemed to suit me.
I was a bit annoyed that after two minutes of brushing Sonicare turns itself off. I know this is the recommended time, but I just like to devote a little more time to my teeth without turning the device on again. As I mentioned, I used Philips two weeks twice a day. After the initial charging of the brush, after two weeks it continued to work without losing power.
A brief summary
It was a nice experience. The brush did not disappoint me. I felt that my teeth were well cared for, maybe even a little whiter, although it is known that this is a very individual reception of the results. First of all, she worked surprisingly quietly, which I really consider a plus, not a trait that could determine whether I would stay with Sonicare, but a big plus.
Philips Sonicare Diamondclean made a really good impression on me. I do not hide, I am an esthete, so I also liked the visuals, especially in combination with a glass-charger and a case-charger. However, I knew that I would not make any decision until I tried the next brushes from the test and admit that I was looking forward to it.
ORAL-B Pulsonic Slim Luxe 4200 - test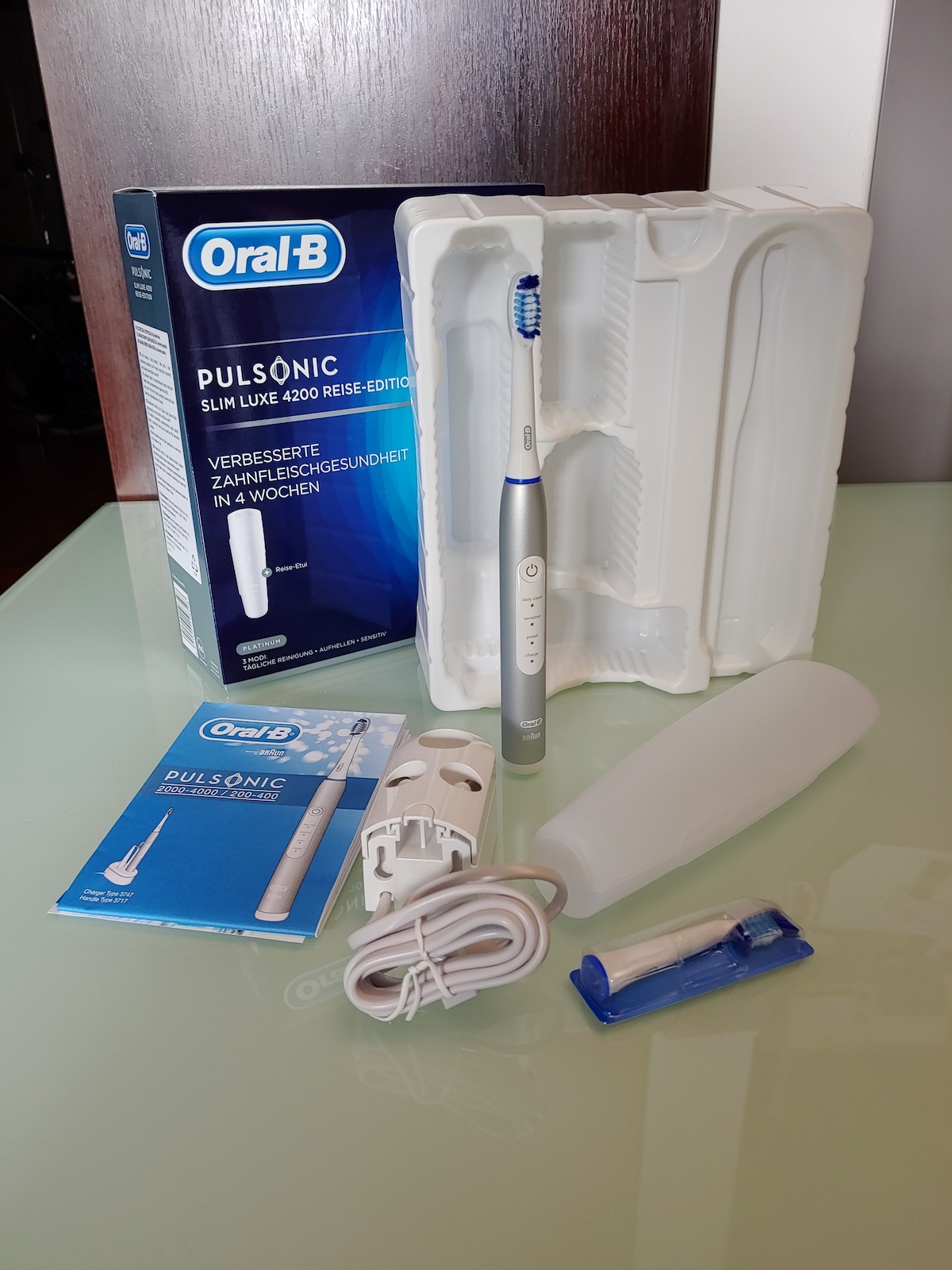 Simple box design, transparent window through which you can see the brush. And after unpacking we get:
Oral-B Pulsonic sonic toothbrush
travel case
two brush heads
charger
user manual, warranty
At first glance, the size and weight of the brush are surprising. It is definitely smaller and lighter than Sonicare. If someone cares about it, definitely should be considered an asset. After Philips experience I regret that the included case has no charging option. This would be a big advantage of the whole set. The whole, however, looks compact, aesthetic and very modern.
I'm taking the test
I also used Oral-B Pulsonic Slim Luxe 4200 brushes for two weeks. As recommended, for two minutes, twice a day. I already knew how to handle a sonic toothbrush, so I didn't have to get used to this specific head movement again.
I had three modes to choose from:
Clean, i.e. for daily dental care
Sensitive designed for those who have problems with teeth or gums and ideal for taking care of the delicate areas of the gums
Polish, i.e. a whitening mode for natural color by getting rid of discoloration
During the test I used all three: initially clean, then polish and finally sensitive. Why is that so? Exactly for the same reasons that I chose similar three modes in Sonicare. I applied the paste and started brushing. The head movement did not differ much from the one I had experienced the previous two weeks, but one difference was clearly noticeable - Pulsonic is a bit lighter, making additional movements and manipulation of the device a bit simpler and more handy.
The built-in timer did not force the device off. Thank you. Thanks to this, I was able to take care of my teeth a bit more thoroughly without having to restart the brush or just to enjoy the Sensitive mode for a moment longer, which deigned me with a pleasant movement, which could be safely called "massage".
After two weeks, the battery did not actually discharge. Also in this case the manufacturer's promise came true. However, I encountered a small inconvenience when brushing the back surface of my teeth, so I understood that the inconvenience is due to the shape of the head and this cannot be avoided with the next sonic toothbrush.
A brief summary
Could I clearly indicate which of the brushes I have checked so far? I'm not sure. Philips Sonicare delighted me with its solutions, Pulsonic handiness. After using Oral-B, I also got the impression that my teeth were clean and took on a different, lighter shade. It also worked pleasantly quietly. Proposal? This is probably the domain of sonic brushes in general. We will check for the next test.
Seysso Carbon Professional - test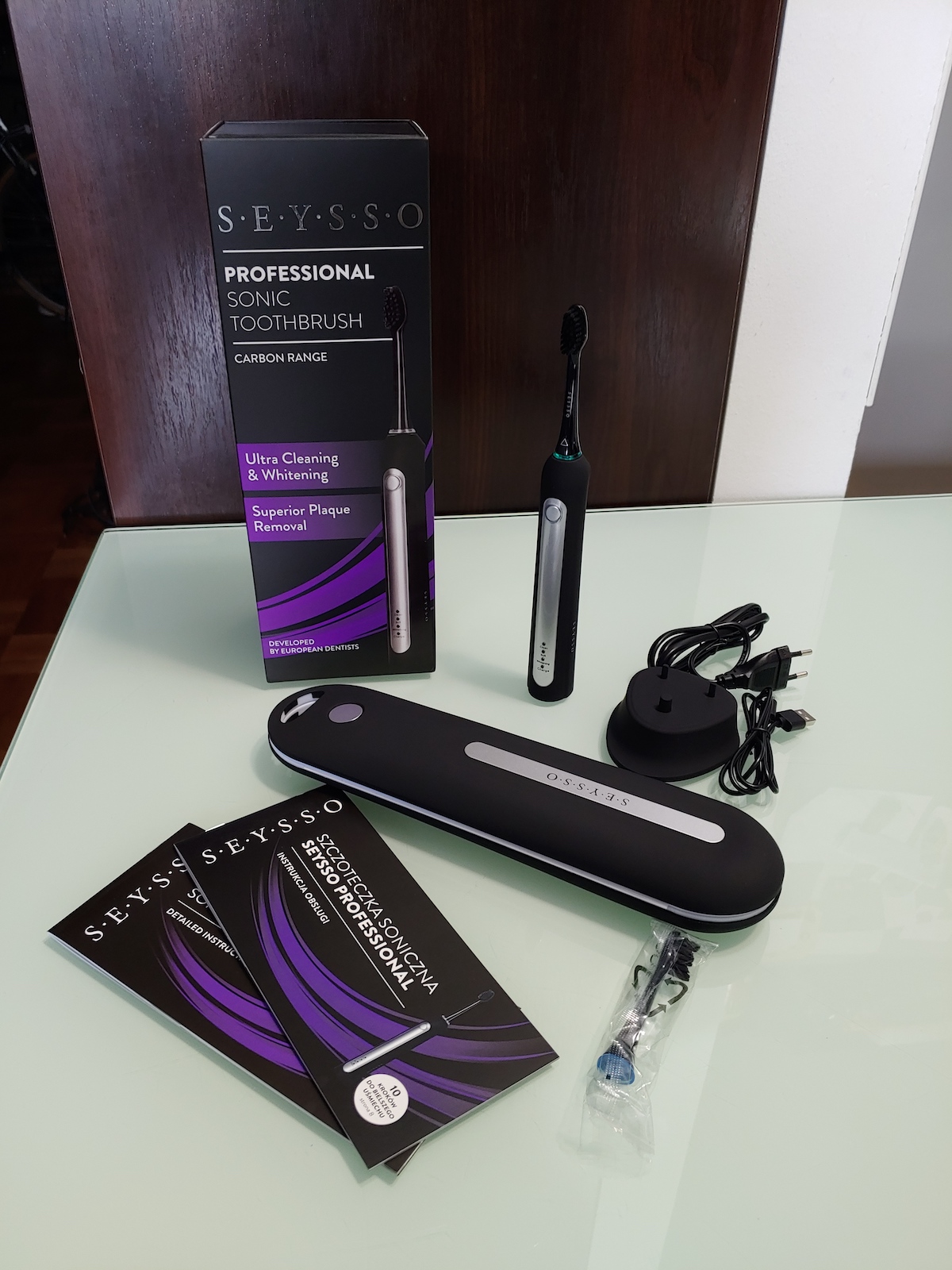 I have to admit quite honestly, that seeing the smallest box of them all, I thought: "After all, someone decided to save some space, cool." The packaging itself was smaller and had an interesting texture. I couldn't wait to check the content.
After opening I saw:
Seysso Carbon Professional black sonic brush

two brush heads
charging station with a dedicated place for said terminals
travel case that also serves as a charger
cable
instructions and warranty
I will be honest. I was delighted with the elegance of the Seysso brush and the included case. This is not even about the black, slightly matted color, but also about the texture of the brush and case. Artificial materials can also be noble. Extremely pleasant under the fingers made the whole look really special. Aesthetically: bull's-eye. However, the question quickly arose how the device would work in the context of keeping it clean. After all, black plus toothpaste is a rather strange mixture. We'll see.
I'm taking the test
I really wanted the test to be as reliable as possible, which is why I adopted the same conditions for Seysso: two weeks, twice a day for two minutes. Here also I encountered three brushing modes that were virtually the same as for Pulsonic:
Clean for daily care (the manufacturer, interestingly, informs immediately that this mode is also suitable for people with implants or orthodontic appliances)
Soft, i.e. a delicate mode for people with dental or gum problems (here Seysso indicates that it is also suitable for children over four years old)
Whitening, i.e. a whitening mode by removing discoloration
Yes, I used these three modes for each brushing: clean, whitening and finally soft. I applied the paste and turned on the device. The recommendations on how to brush your teeth with sonic brushes are universal, so this time the brush head was directed towards my teeth at an angle of approximately 45 degrees (after all, nobody will measure it exactly).
The built-in timer after 30 seconds let you know that it is worth changing the brushed part of the teeth. So I separated four areas, which I devoted after half a minute, humbly listening to the vibrations that it was time for a change.
Impressions were similar to those of Sonicare and Pulsonic. After a month I got used to the head movement, so the sink and mirror were not commonly splashed with paste and water. After washing, I thoroughly washed the brush, took off my head, washed it and rinsed it under a stream of water.
I set the device aside, but after a while I noticed that some small trickles of water mixed with paste sediment were flowing down it. Does this mean I didn't clean it thoroughly? Possible. However, I came to the conclusion that exactly the same thing must have happened with Philips and Oral-B, but those brushes were white, so it did not catch my eye. Is this a problem? Of course not. Only a signal that maintaining black Seysso will be a bit more demanding and errors more visible.
A brief summary
One thing is certain, so far the visual side of Seysso delighted me the most. The matte, noble finish looked great in my bathroom. And when it comes to action - I think that after the previous two sonic brushes, none will surprise me for a long time. Is it working? Of course. As with previous devices, I had no complaints about the effects of the care of my teeth and gums. I had the impression of clean and well-groomed, slightly whiter teeth. After two weeks of use, the device not only did not discharge, but did not even let me know that the battery power could drop. Would I recommend this brush? Of course.
ORAL-B Genius 10000N - test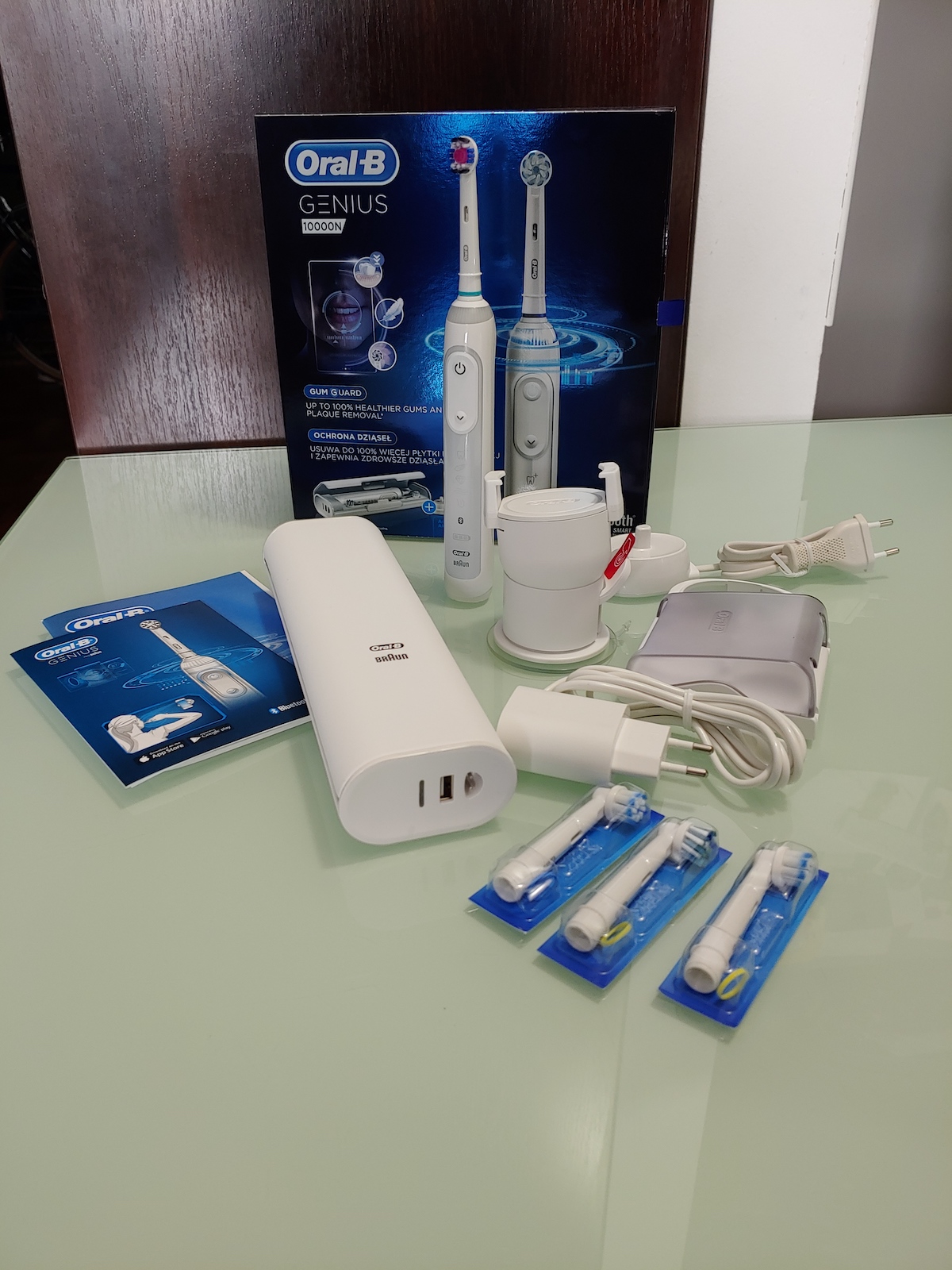 A word of explanation
I decided to attach an electric toothbrush with a round head for several reasons:
I've been used to this option for years
I wanted to see how Genius 10000N differs from my old toothbrush and why it is communicated as the best electric toothbrush on the market (at least according to Ceneo reviews and ratings)
I decided to find out if, after six weeks of using sonic brushes, I would still opt for the more traditional option. It should be noted that the crossbar was already set very high.
What does the box contain?
And here, I must admit, I was very surprised. The box was really big for a toothbrush. The greatest of all. I was wondering, "Why so big?" The content explained everything:
Oral-B Genius 10000N electric toothbrush with a very cosmic appearance

four brush heads: Crossaction, 3D White and two Sensi Ultrathin
travel case with the option of charging the brush
tip container
smartphone holder
charger
user manual and warranty
At first glance, quite a lot, like a toothbrush. I had a similar impression with Sonicare. The brush itself makes the impression massive and well-made. I do not have to mention that I really liked the option of a travel case, which is also a charger, so I was really glad that it was thought about in this case.
It's nice that the tip container is included, because it significantly facilitates storing them hygienically and adapting them to current needs. Alternatively, you can hold the brush ends of the whole family in an aesthetic and fun way. The smartphone holder turned out to be very easy to install, so I found that in this case I would test the option of cleaning teeth with the help of the application. With Philips Sonicare I also came up with this idea, but the application asked me to link my Facebook account, which I really don't like to do.
I'm taking the test
My old toothbrush has served me for over 5 years. The tips, of course, rotated at suggested intervals. I decided to change it, not because it broke (works on), but because everybody needs something new from time to time.
The introduction of a new tooth-brushing experience seemed to be a tempting idea - after all, I do it every day. So why not experience something else? I compared the mentioned brush to Genius 10000N and here came another surprise - the number of modes that it offers, because there are as many as six:
Daily Clean for daily care (it is not signaled by any icon - just turn on the device)
Pro-Clean for slightly more intensive brushing
Sensitive designed for sensitive teeth, gums
3D White, a whitening mode for removing discoloration
GumCare, i.e. massage around the gums
Tongue-Clean for cleaning the surface of the tongue
In my test I decided to use four modes: Daily Clean, 3D White and briefly GumCare and Tongue-Clean at the end of brushing. I have been using this type of brush for over a dozen years, but to be honest I did a little research to make sure that my brushing technique was right. Fortunately she was.
So I applied the paste, put the brush head to the tooth surface and turned on the device. A nice change was the fact that I don't have to make any additional moves. I'm not saying that they are particularly bothersome, but just putting the head on and waiting for about 2-3 seconds is definitely a simplification.
It quickly turned out that in my reception the great advantage of Genius 10000N over sonic was how easily I could reach the back surfaces of the teeth.
The round shape of the head definitely made it easier. I did not have to exercise particularly well - the head adjusted itself to this usually uncomfortable surface - a huge plus! A timer built into the device every 30 seconds informed me that it was time to change the side of the teeth. After two minutes, the brush vibrated longer.
Let's get back to brushing. After turning on Genius, I got the impression that after experiments with sonic brushes, I have something in my hands that lets me know about my work intensely. It's a bit louder than Sonicare, Pulsonic and Seysso, but I wouldn't exaggerate calling it loud.
However, you can feel her movements more clearly, this "meeting with the tooth" is more intense. She makes a triple movement, unlike all the Oral-B oscillating-brushes I know, she has also added a pulse movement. Yes, in this case I really feel that I brush my teeth, that there is interaction between the device and my teeth.
How are the effects of using? Honestly? From the first time I couldn't help feeling that my teeth are very, very brushing. Just like after professional cleaning at the dentist. This feeling of cleanliness accompanied me every time I used the brush.
The very process of brushing your teeth turned out to be a bit simpler than with sonic brushes. The built-in Smart Ring also quickly made me realize that some parts of the teeth I wanted to clean too much, so it lit up red. Useful information. How did cleaning with the application look like?
Personally, I am not a huge fan of performing everyday activities with the application in the background. However, I can say that the brush connected to the application instantly, the attached handle helped to hold the smartphone in the right position, and the application itself ...
Useful for learning good habits, finding out which parts of the teeth are not cleaned. I leave it, however, for lovers of such solutions, daily challenges and everyday simplicity. Sam, despite my passion for technology, I think it should serve us rather than addictive.
A brief summary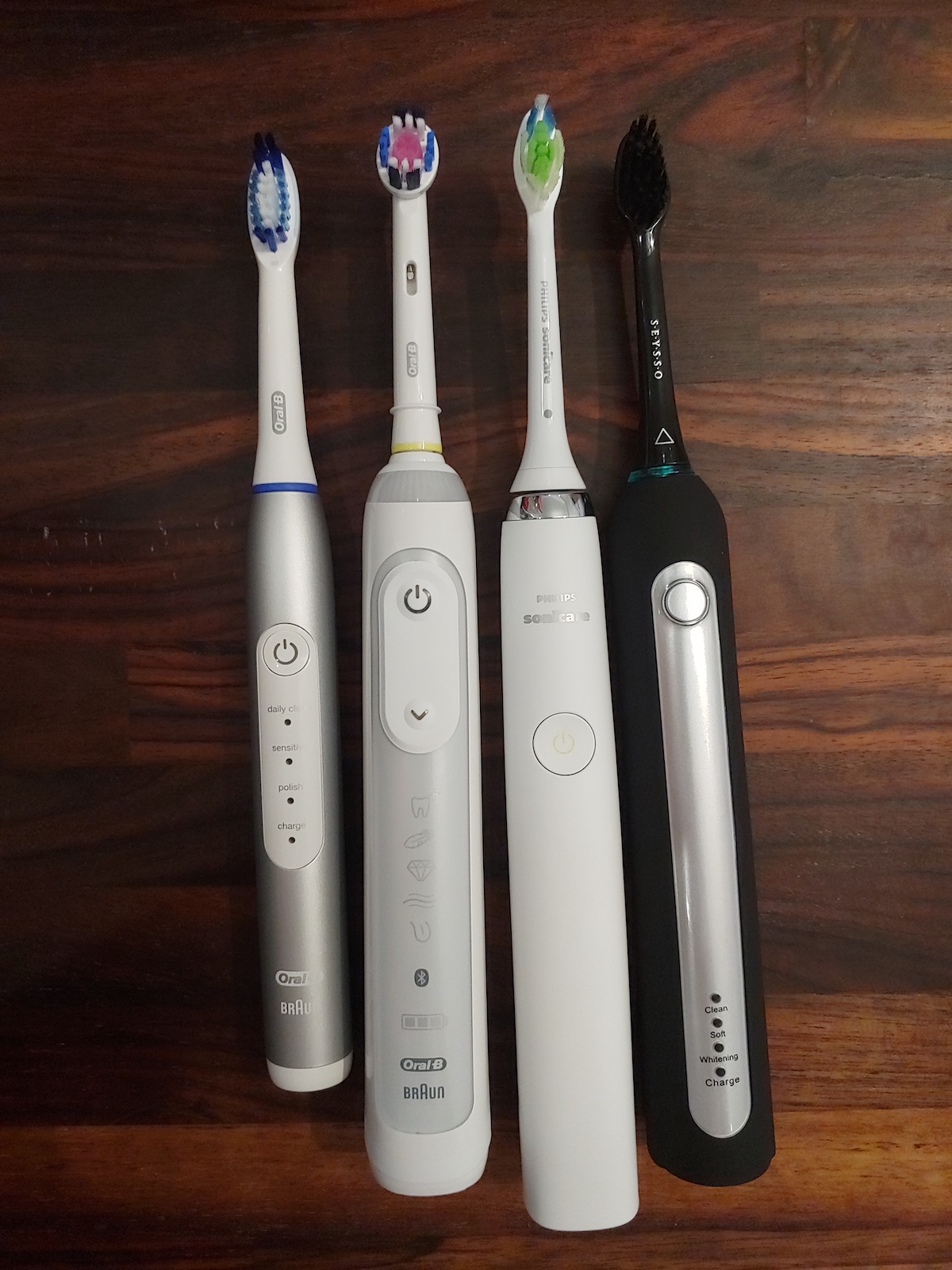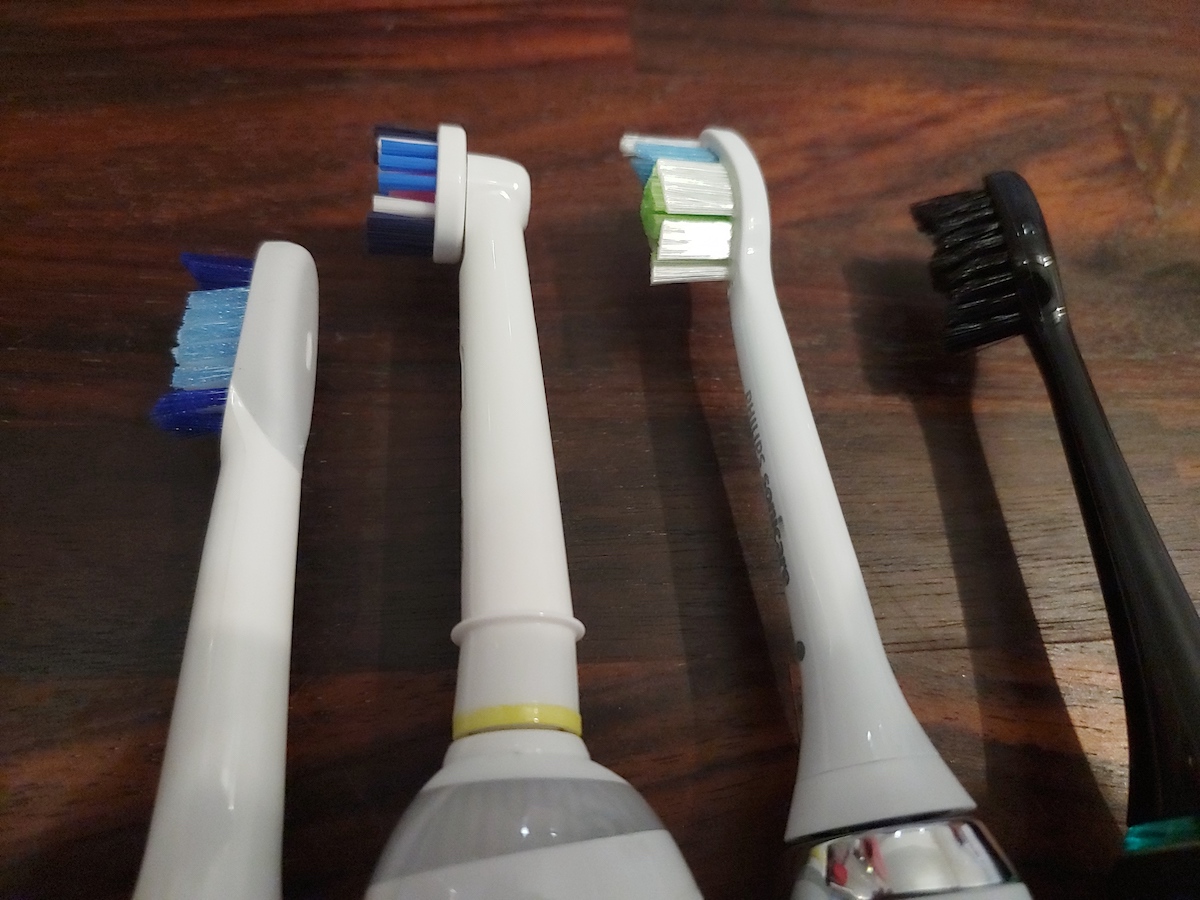 After two weeks of using Genius 10000N, I noticed that I have much whiter teeth. I also liked the feeling of freshness and thorough cleaning of every corner of my teeth. I also got used to the massage mode and the feeling that I really feel that I'm brushing my teeth and ... a bit lazy to keep my hand and hand in roughly the same place.
I experienced what I was looking for - new sensations during the most banal activity, which is brushing teeth. It became a pleasure and I have to say that I barely refrained from brushing my teeth for a long time - I wanted to be reliable in this test. And how about the battery? After two weeks, it still works fine.
Summary of the test
This is a very difficult part. Why? Because no brush disappointed me and I am convinced that everyone will find their recipient who will be truly delighted with it. They all fulfilled their tasks, they all had something that others did not possess. That is why I emphasize that the following ratings are only my subjective perception of each device.
Brush operation (effects, sensations after brushing):
Philips Sonicare Diamondclean: 4.5 / 5
Oral-B Pulsonic Slim Luxe 4200: 4.5 / 5
Seysso Carbon Professional: 4.5 / 5
Oral-B Genius 10000N: 5/5
Design (brush + attached elements of the set):
Philips Sonicare Diamondclean: 5/5 (oh, this charging crap!)
Oral-B Pulsonic Slim Luxe 4200: 4.5 / 5
Seysso Carbon Professional: 5/5 (oh, that black!)
Oral-B Genius 10000N: 5/5 (ah, this cosmic look!)
Brush operation modes (quantity, differentiation):
Philips Sonicare Diamondclean: 4.5 / 5
Oral-B Pulsonic Slim Luxe 4200: 4/5
Seysso Carbon Professional: 4/5
Oral-B Genius 10000N: 5/5
Work culture in terms of volume (for me it is not an important element, but maybe for someone like that):
Philips Sonicare Diamondclean: 5/5
Oral-B Pulsonic Slim Luxe 4200: 5/5
Seysso Carbon Professional: 5/5
Oral-B Genius 10000N: 4/5
Additional options (application, attached gadgets, additional functions):
Philips Sonicare Diamondclean: 5/5
Oral-B Pulsonic Slim Luxe 4200: 4/5
Seysso Carbon Professional: 4.5 / 5
Oral-B Genius 10000N: 5/5
Ergonomics (for me it is very important - is it easy to get to all surfaces with a brush, what movements I need or do not have to make):
Philips Sonicare Diamondclean: 4/5
Oral-B Pulsonic Slim Luxe 4200: 4/5
Seysso Carbon Professional: 4/5
Oral-B Genius 10000N: 5/5
Battery operation (two weeks of operation: twice a day for two minutes):
Philips Sonicare Diamondclean: 5/5
Oral-B Pulsonic Slim Luxe 4200: 5/5
Seysso Carbon Professional: 5/5
Oral-B Genius 10000N: 5/5
Which toothbrush did I leave?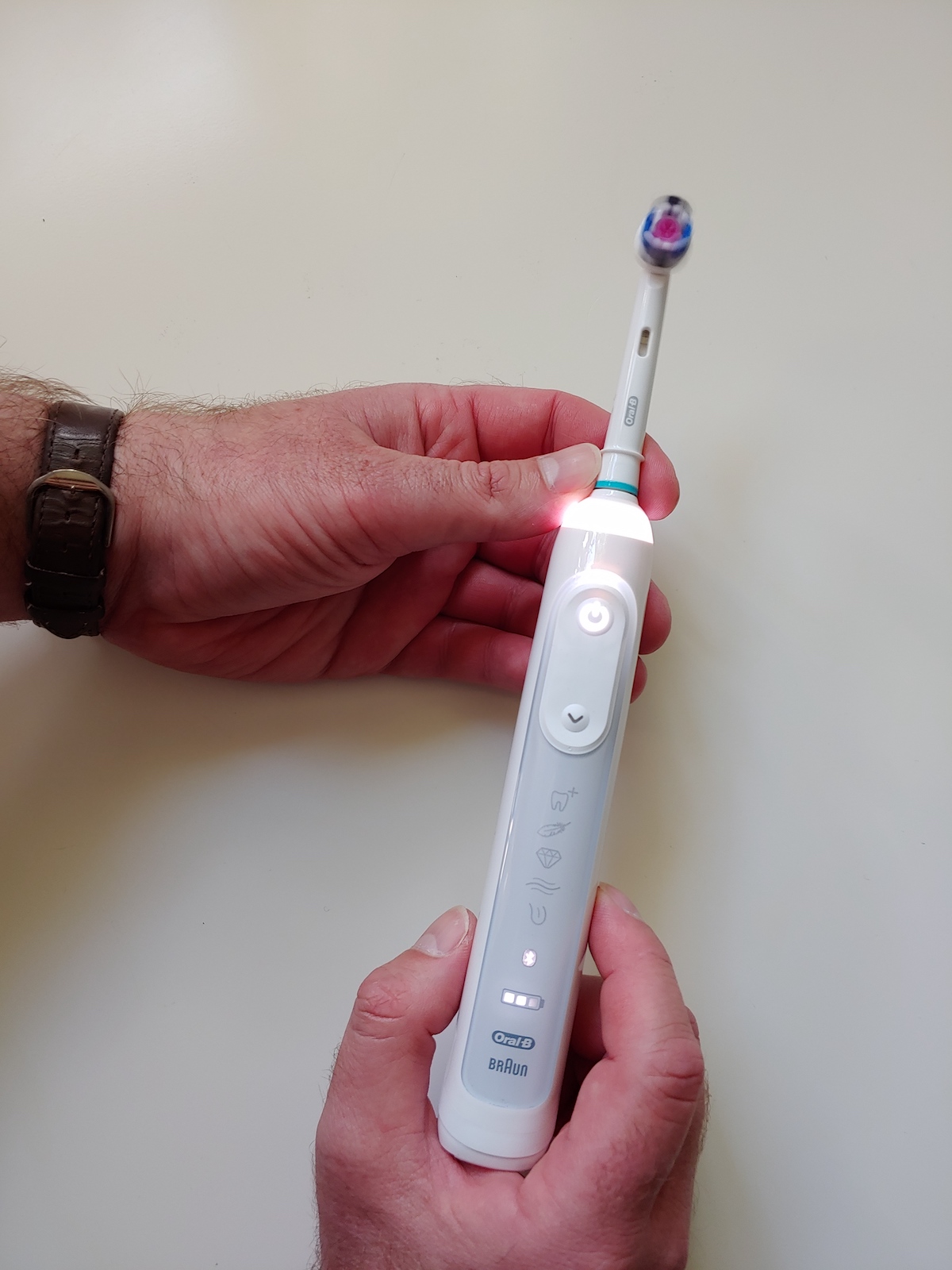 I stayed with Oral-B Genius 10000N. Does this mean the others were worse? Of course not! However, I understood that I am not a recipient of sonic brushes, that when using them, however, I was missing something.
What? I will put it this way - a specific one. Because it doesn't matter what is in our bathroom. It is important how well-groomed our teeth are. Although, of course, Seysso black is a nice element, and the Philips glass (as long as it is clean) impresses. With Genius, however, I know that I brush my teeth, I feel the effects more intensively, but I point out - this is also to a large extent my subjective feeling and maybe in part the habit of a round-headed brush.
What do I think about the other brushes? Sonicare will fall in love with someone who likes technological innovations and will be happy to load a designer brush by putting it in a glass. Quiet and light Pulsonic will stay with lovers of elegant minimalism. Seysso may be a good choice for fans of original finishes, maybe also for modern men who want to try the adventure with a sonic toothbrush (I admit that this black, matte color makes a really good impression).
Pictures taken with the LG V40 smartphone
Test of three sonic brushes ... and one "normal"