As a lover of mobile gameplay, I really love when I see the updated offer of laptop manufacturers for 2019 . Finally, I had time when FPS and Hz-e caught up with the expectations of computer players.
A dozen years ago, gaming laptops and unicorns connected exactly the same thing - both species did not exist in the real world. Of course, the companies tried to tell us something else. However, unless you had at least PLN 7,000+ to buy a laptop, playing portable games was pointless. Until now, I remember the pain when I gave a significant amount for my beloved, powerful laptop with Windows 7. However, I knew that in the category of gaming laptops there are no half measures. Either you buy a decent machine or you struggle with poorly optimized equipment for anyone. Medium shelf? What a medium shelf. There was no such thing.
However, even the top portable equipment was equal to what a twice cheaper PC with a suitable monitor could do.
https://youtu.be/Q1cmhZs1P54
Only a few years ago, gaming laptops mainly installed screens with a maximum refresh rate of 60 Hz. Reason? Manufacturers knew that portable devices would be fighting to maintain stable 30 or 60 frames in video games. 120 frames seemed like a fad and dreams of a beheaded head. Lovers of older games - mainly online shooters - suffered from this and would love to play with an increased screen refresh rate. Without it, achieving 120 frames didn't make much sense.
Assuming that our game works at 120 frames per second, the difference between the 60 Hz and 144 Hz screen is GIGANTIC. You can see it with the naked eye. Even more importantly, feel it under the mouse. The fun is smoother, more responsive and more dynamic. In addition, the player on network servers has an obvious advantage. His frames are refreshed more often, so he has a chance to notice changes faster. E.g. an opponent emerging from around the corner.
Therefore, always, but always prefer refreshment over resolution when choosing a monitor. 4K sounds cool and timely, but 144 Hz works even better. Of course, provided that such a screen is connected to sufficiently efficient equipment.
That's right - performance. It was her that made the old gaming laptops not really gaming.
https://youtu.be/pUvx81C4bgs
After all, if I wanted to play in 30 frames, I would run a console connected to the big screen in the living room. The PC for gaming is to be more efficient, stronger and more versatile than consoles. Otherwise, the meaning of its existence is questionable. Unfortunately, laptops from a dozen or so years ago were not able to beat the possibilities of desktop computers. They couldn't even match them.
The situation has dramatically improved after the premiere of systems in the Pascal architecture. The differences between stationary and portable GPUs have become so small that NVIDIA allowed itself (in my opinion a bit to exaggerate) to remove the mark (M) distinguishing both groups of products. The layouts for laptops were still slightly weaker, and susceptible to throttling and very high temperatures. There is no doubt, however, that we were dealing with a breakthrough. The first gaming laptops began to be created. But really for games. No bullshit.
Now another jump is made. The Witcher 3 in high details and 130 frames? No problem.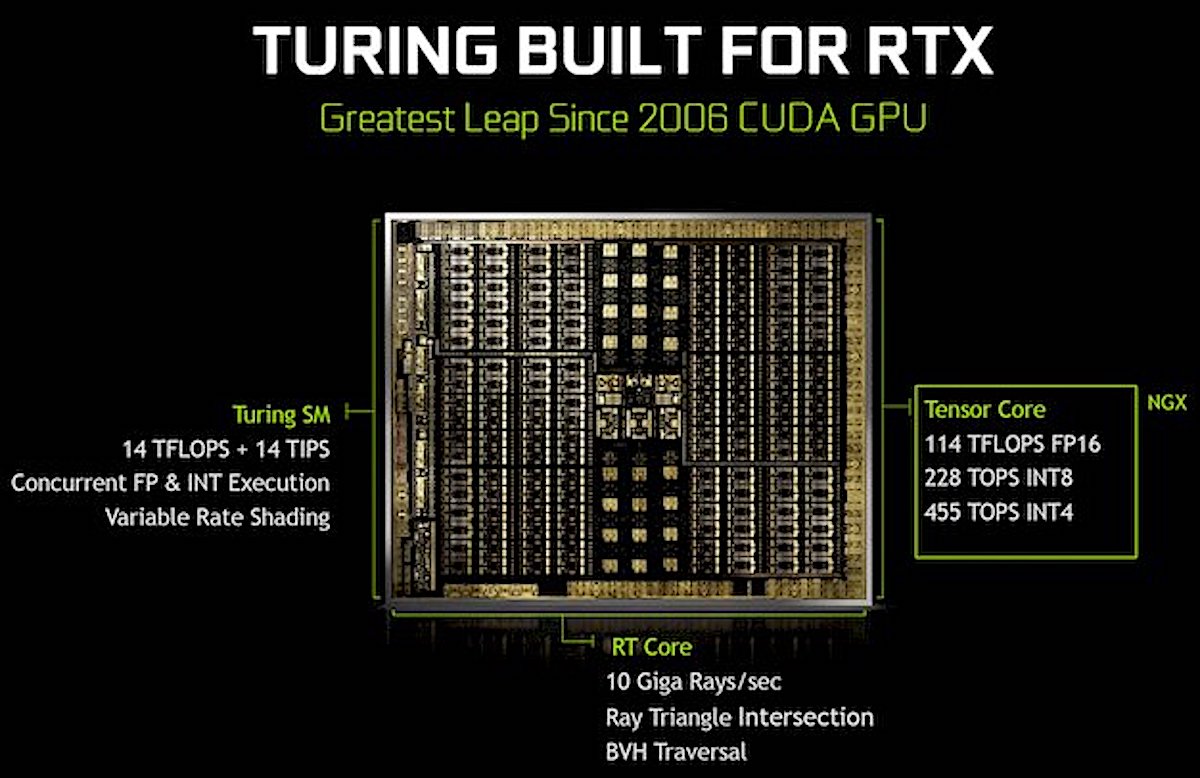 Pascal replaces RTX systems in the Turing architecture. The first of the new GPUs were presented in the second half of 2018. Since then, RTXs have become an increasingly common component of new gaming laptops, which I am extremely pleased with. The performance leap is so big that we can talk about gaming laptops without any problems. What else can you call the equipment on which you start The Witcher 3 (FHD) in high settings and receive 130 fps? Battlefield V (FHD) on Ultra also has over 135 frames per second. These excellent values ​​are achieved without spending the equivalent of a tolerable used car on a laptop.
Pascal began what Turing ends. The laptops got a boost of performance, thanks to which they finally shine in the current generation of gaming equipment. With the new GeForce, the battle for 60 frames per second is over. In turn, begins to draw full handfuls of power, which players on consoles can only dream of. As a declared player on mobile devices, I had to wait a long time for such a moment. The most important thing is that I lived to see it.
Testing gaming laptops for 2019 will be a pleasure. Look at the
new Predators .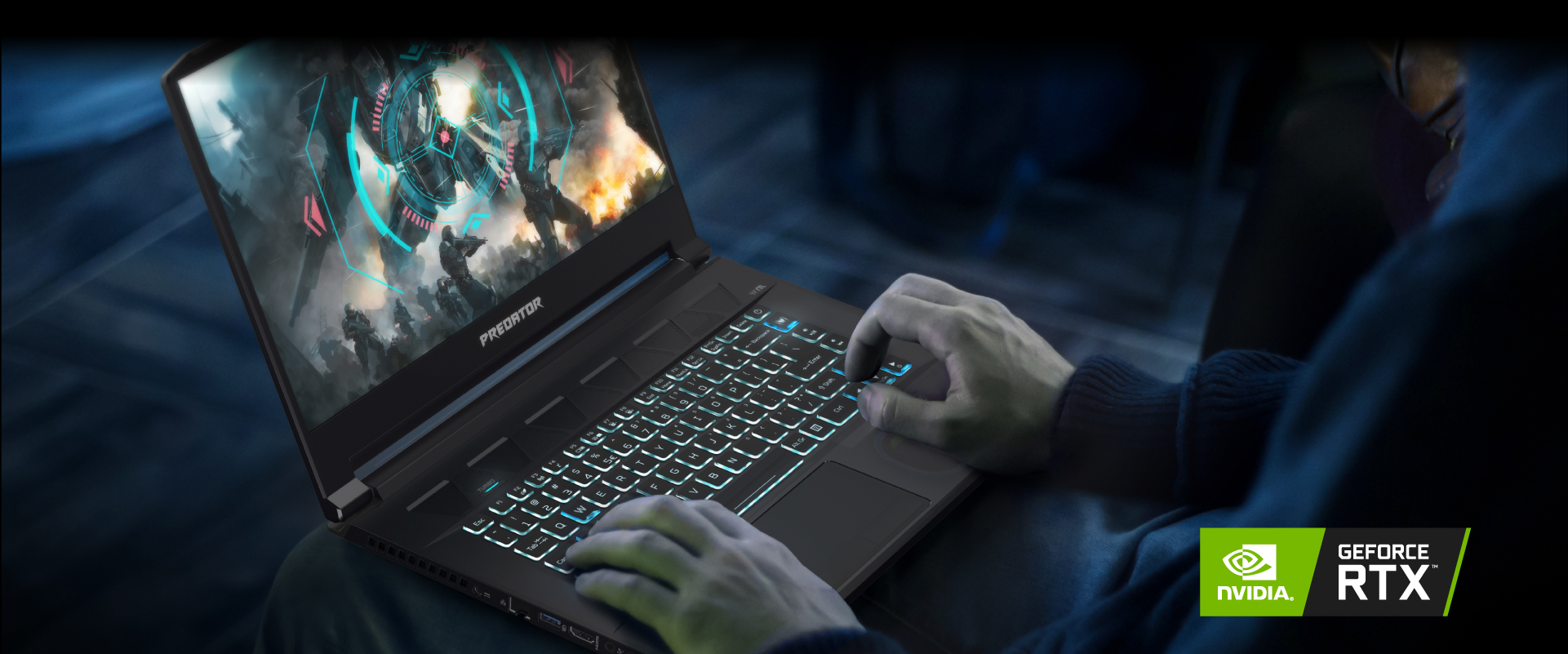 The Acer Predator Triton 500 has been designed to take advantage of the new GeForce chips. These offer players Ray Tracing technology, which in real time is responsible for the journey of light in virtual space. As every professional filmmaker and photographer knows, the right light is half the battle. That's why thanks to Ray Tracing, games look more realistic than ever before. In addition, RTX cards mean that the simulation of great particles is not overly burdensome for the entire system. Unfortunately, you can't write the same about the previous generation GPU.
The Triton 500 laptop equipped with the GeForce 2060 RTX / GeForce 2070 RTX / GeForce 2080 RTX card got a G-Sync screen with a refresh rate of up to 144 Hz. In addition, the display delay time is only 3 ms. This is the absolute market minimum that Trinton beats most gaming laptops. The new Predator is also relatively slim and compact. Its design is elegant, thanks to which we will take the equipment to work or the lecture room without shame. And most importantly - Trinton is a purchase for years that will allow you to enjoy many demanding games in over 100 frames per second. The efficient 2060 RTX version costs PLN 7999 at this time and I will be happy to watch its gradually decreasing price.
Expensive? Then the
Predator Helios 300 will be a great product to enter the new generation.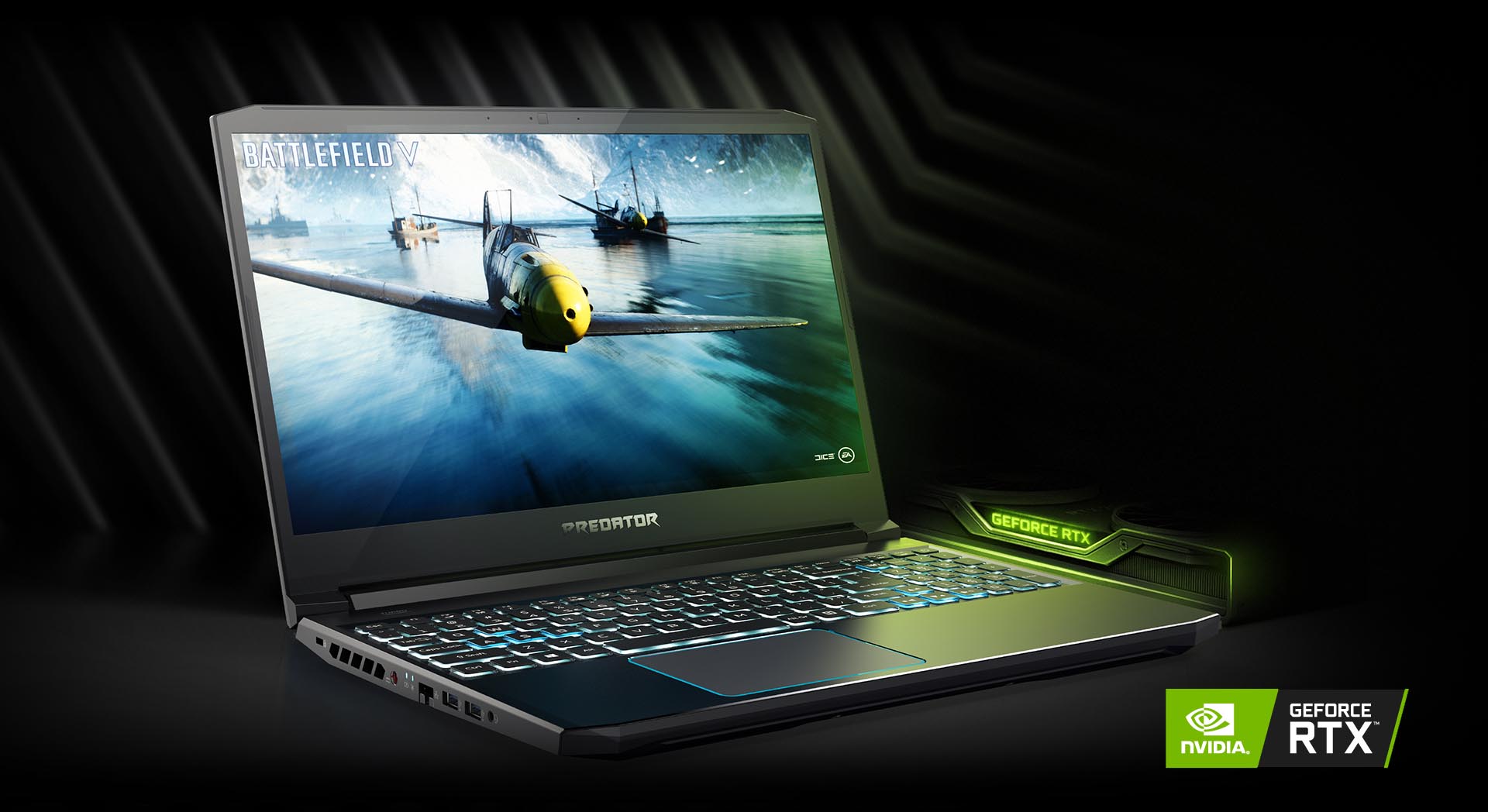 The refreshed, reduced and slimmer version of this popular model has been enriched, among others for a GeForce 2070 RTX or 2060 RTX graphics card. The brand new layout works great with a screen with a refresh rate of 144 Hz. On Helios from 2019, we'll easily get 100+ frames in video games, if we choose high graphics settings. On ultra settings, the number of frames varies between 60 and 100. Of course, I'm still talking about the cheapest configuration.
We will buy this for PLN 6199. That's a fair price for a gaming laptop that's really gaming. No bullshit. No compromise. No hours with graphic settings sliders. From the point of view of laptops equipped with RTX systems, Helios 300 is an average shelf and this is the first time we can seriously talk about the average shelf of gaming laptops. So good that it will be enough for years of fun, but not so good to fully use the potential of the 144 Hz screen.
GPU is not everything. A good gaming laptop has a number of technologies and supportive solutions.
I really like that the screen delay reduced to 3 ms is already standard on all new Acer laptops. For comparison, top TVs from 2018 and 2019 are still struggling to go below 10 ms delay in a special player mode. These 3 ms combined with a refresh rate of 144 Hz give a really dynamic picture. A qualitative change in the plus is most noticeable, which I am experiencing myself testing the first monitors in the 2019 series.
As a gaming laptop tester, I'm also curious about this year's cooling solutions. We will be dealing with the fourth generation of proprietary Aeroblade 3D technology. The patented solution is to be 25 percent. quieter and the air flow by 35% greater. Considering that volume and heat dissipation are currently the biggest (apart from the price) problems of modern gaming laptops, I am very curious about the effect of Predator engineers.
You also can't forget about PredatorSense. It is currently one of the best - if not the best - all-in-one program that allows you to modify the operation of the device. From the application level, we can deal with, for example, LEDs, but I am much more interested in the manual configuration of timing and cooling. Thanks to the normal , fast and exteme settings for the GPU system, as well as thanks to the sliders of individual fans, we have the opportunity to create unique performance configurations for specific games.
https://youtu.be/XikiwuLafaU
All this to optimize battery performance during off-road retro-playing with buddies in Heroes of Might and Magic III, as well as to minimize the effects of throttling by killing The Witcher on Ultra. The possibility of secure overclocking is one of the best things introduced by graphics chips from several generations, and PredatorSense uses this opportunity well. There will be fun min-maxing.
I rub my hands for testing this year's laptops.
Inefficient batteries will still be problems. Operation volume can be troublesome on many models. However, this is the first time in many years that I am really excited about what gaming equipment manufacturers will show. Acer's June offer looks really decent and I am convinced that the new Helios 300 from 2019 will be a shopping benchmark for the entire market and all players. Both in terms of possibilities and affordable price.
* The material was created in cooperation with the Acer brand.
Gaming laptops have dramatically accelerated with screen refresh and frame rate