Google has just announced the end of testing a new solution, which it defines as a dynamic email or AMP e-mail. Thanks to it, emails are to become much more functional and comfortable. And not just on Gmail.
Selected customers of paid versions of G Apps were able to test so-called dynamic e-mails or AMP emails from March this year. On the second of July, the production version of this feature is intended for all G Apps users and all varieties of Gmail. Support for the new standard has been announced by Booking.com, Despegar, Doodle, Ecwid, Freshworks, Mail.ru, Microsoft, Nexxt, OYO Rooms, Pinterest, redBus and Yahoo. But what exactly is it?
E-mails in the form in which we know them are quite static elements. Originally plain text with any attachments in the form of files, today more often in the form of a simple, HTML-formatted document. Today, however, this HTML and accompanying technologies go far beyond the formatting of text: in web languages, there are still whole, quite functional applications. Google decided to use it.
Dynamic emails in Gmail - what is it and how to use it?
Dynamic e-mails assume the possibility of connecting them with other web services. For example, if someone e-mail us some content from the Google Docs service, we can edit it from the e-mail level right away. And it is seeing the current version of this document on the screen, even if it has been modified after sending the correspondence.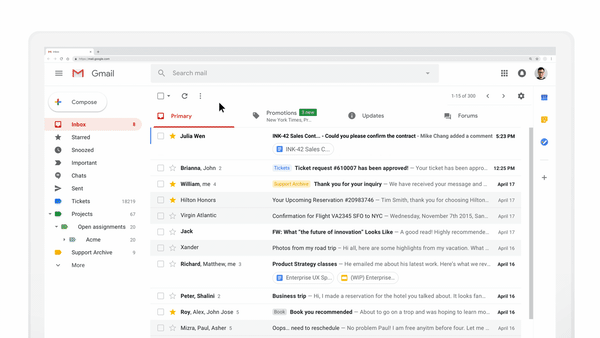 Another example is an invitation to participate in some activity in a shared Google Calendar. Instead of opening the calendar in a new tab, we can react to the invitation directly in the email. It is worth noting that the dynamic e-mail function is optional. You can disable it in Gmail settings when it appears, and then our emails will automatically be displayed in a classic form.
Dynamic emails in Gmail - where can you use it?
It seems that the only entities ready for AMP email are Google partners. Suppliers of other postal services or mail applications have not yet implemented this format, despite declarations that they will support it. But Google is not ready for their justification for full premiere.
Dynamic e-mails will work only on the desktop browser in the web version of Gmail. "Soon", although Google does not provide dates, the service has to hit the mobile application. Despite the rather troublesome delay, Google's idea is invariably good. E-mail is still a very useful, sometimes even indispensable tool. I am glad that it will be developing, especially in such a useful way.
This is how Gmail will change. Google showed a new look and features