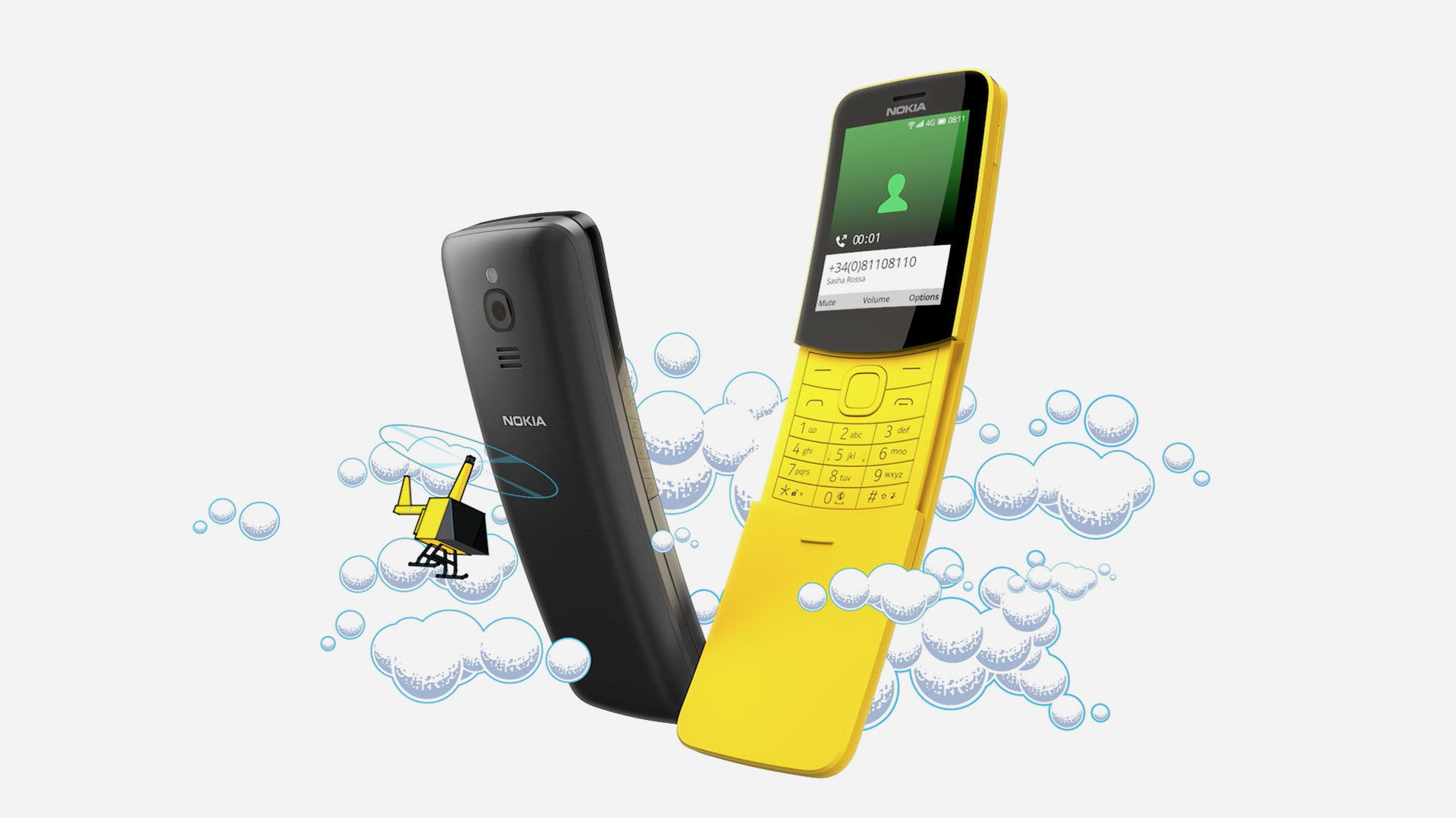 The American telecommunications company organized the so-called flip phone challenge , ie the challenge of swapping your smartphone with a slightly forgotten phone with a flip. A person who persevees this exchange for a week will have a chance to win 1000 dollars.
If at the moment you thought you could take up such a challenge, then I am in a hurry to explain: you do not want to do it. Believe me.
Some year ago, he shot such an idea to me: if instead of having two smartphones (iPhone + some Android) use the iPhone, and as a second phone to buy a small, funny device that would resemble old times of technology. I do not know how it happened exactly, but I probably bought the Nokia 8110 in the fit of a fool. That is the successor to the iconic banana. Banana color of course.
In this way, I became the owner of the new, yellow Nokia 8110 - a phone with a sliding cover.
https://www.youtube.com/watch?v=GfqSCseifcQ
But it was a fun time. Whenever I pulled the phone out of my pocket, people looked and smiled. Friends immediately wanted to talk about banana, play with the flip and test the built-in camera. Of course, it's terrible.
Even strangers commented on my phone. In the queue at the store or in a taxi, the Nokia banan was immediately the subject of conversation.
Cool, cool, but you do not buy a phone for it. Okay, you're buying it to talk. But to talk through him and not about him with strangers in the shops.
It soon turned out that the fact that the Nokia banana was funny was basically the only advantage. In all other respects it did not work.
Communication? Defeat
The main function of the phone is communication. Conversations and text messages. The Nokia 8110 knows how to do both, but neither does it well.
It rings correctly, but has a problem with handling contacts, if you have a lot of them. I have a lot. Nokia after a few attempts correctly downloaded my contacts from Google account - not every phone of this type can do it. But that was just the beginning of problems. An attempt to search for contacts works terribly - the phone opens a list of contacts a dozen or so seconds, another kiln seconds to search for the phrase entered. It has a problem if there are several words in the contact, e.g. name, surname and company name - then you can search for a specific contact after each password. You have to combine and search for the next word and count that eventually it will work.
Textual communication is already the cruelest torture. If you remember that your T9 dictionary was written quite quickly, then know that this memory is very distorted. Compared with QWERTY screen keyboards, the T9 dictionary works in a very annoying way. Writing is free. Choosing a hint is free. Correcting misspelled words is free.
After a few days, the effect was that I almost stopped replying to SMS messages. I wrote only "yes", "no", "ok". When it was time to write more, I called.
The problem with text communication is also that we send messages today not only via text messages or email, but also via iMessage, Signal, Telegram or Messenger. There are usually no such messengers on simple phones. So, choosing a cool phone with a flap, we condemn to cut off from many channels of text communication.
Internet? Defeat
Banana has Wi-Fi. He even has a Google Assistant. He also has YouTube. It also has a browser application based on Google search. So what. Each of these applications works poorly, it is very, very slow to use. Very, very slow.
Sometimes, before the page loads, I do not remember exactly why I went to it. Watching video is very uncomfortable because there is a lack of navigation known for smartphones and precise scrolling of movies. And the video on a tiny screen is displayed only on a small part of it, because it is impossible to display the movie in full screen while holding the device horizontally.
Many websites not only do not look good, they do not work well on such limited internet browsers as they are on simple mobile phones. And that makes browsing the network resources not a pleasant experience.
Navigation? Defeat
Nokia 8110 has Google Maps installed. But this application is not even a small percentage similar to the one we know from Android or iOS. Maps on the banana are very simple, and the lack of a touch screen service is very slow and uncomfortable. But if we can enter the destination, we can go on the road. Oh no. Not so fast. The presence of Google Maps does not mean that the banana has navigation. The Nokia 8110 only allows you to display tips like "Drive Tartarka north-west towards the Firewall". Press further and find out "Turn right into the Firewall". Further. "Turn right into Jaworzańska."
Sure, every tip is better than the lack of a hint, but the facts that the next hints are triggered by pressing the button continuously, and the map and descriptions are displayed on a small screen of poor quality make it impossible to use the navigation in the car. Well, unless we give a phone to a passenger who will play the role of a pilot. Then compassion for the passenger.
Photo camera? Defeat
Badziewie, defeat, trash, flap, barrel, drama, sell, catastrophe, crap, trash, lime - this is my full review of cameras in cheap phones. More professional here .
It is a waste of time for sentiments
I know that each of us loves the old Nokia and Motorola. I know that physical keyboards in BlackBerry have had their charm. I know that each of us has a phone or a smartphone that is very nice to remember.
But this will not come back. Technology goes very fast. Even when we think that she is standing still and only disguises herself with her legs.
From week to week, from month to month, and from year to year, changes and improvements are introduced that change the way we use consumer electronics. The result is that the user of the smartphone, who was sentenced to change to a phone with a flap, will have enough after a dozen or so hours.
And it does not matter that a few years ago, for such a phone with a flap he would give himself a kidney.
They pay almost PLN 4,000 if you exchange your smartphone for a phone with a flap for a week. I tried. It's a nightmare