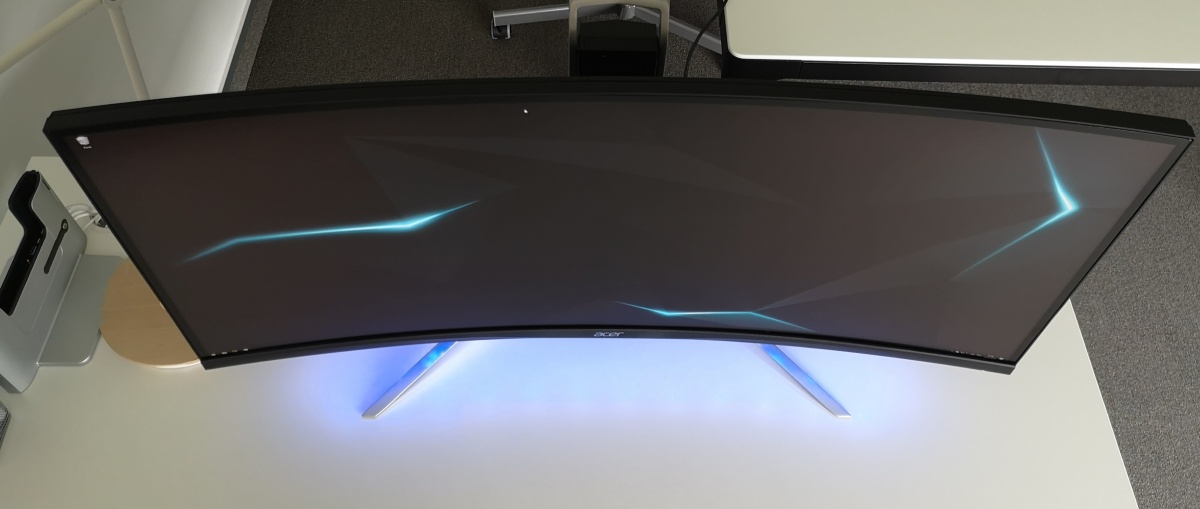 Do you remember the times when games were played on small 16: 9 monitors? Yes, I also remember them, but I'd definitely prefer that the PC entertainment always looks like it may look on the Acer Predator X34.
Who has not yet used the ultrawide type monitor, does not know what it loses. Personally, I've been working on such a panel for years and since I had to take it off the desk to replace it with a professional graphic monitor (and unfortunately these are not usually in 21: 9 format), I suffer every time I run a game with beautiful graphics or video editing.
Monitors 21: 9 are a completely different dimension of productivity in everyday work, but also a completely different level of immersion in games.
The Acer Predator X34 meets all #PCMasterRace requirements
High resolution? Is
Acer Predator X34, as its name suggests, has a 34 "diagonal and 3440 x 1440 resolution. This is enough to display much more details than on a standard Full HD monitor, but also reasonably reasonably to not require a powerful PC with a smooth PC two graphics cards in SLI.
High refresh rate? Is
60 Hz is not enough. Especially when we like to play fast network games, where reaction times are more important than graphical fireworks. The Acer Predator X34 has a 120 Hz refresh rate, but it also supports G-Sync technology. So you can smoothly adjust the refresh rate to the game frame.
If you thought that 60 Hz was enough refresh rate, try to play on the panel with a double the rate. You can not get it.
Gaming stylistics? Is
You can not confuse Acer Predator X34 with an office monitor. Well, it can not be done. Aggressive line, curved display, powerful stand - Predator design screams "play!". There were also LEDs at the base of the device, but when we are not in the mood, we can turn them off.
Fortunately, the practical aspects have not been deprived of the monitor: the adjustable stand allows you to change the height, rotation and inclination of the panel, also without any difficulty we will adjust the monitor to the workplace and entertainment.
And since we talk about work ...
Useless outside of games? Is
The main sin of many monitors for players is their relative ... uselessness beyond entertainment. Either you can not adjust them, or the colors are strictly for gaming, or do not have any functions that facilitate not only fun, but also work.
Predator X34, in addition to the aforementioned ergonomics, can boast of at least two aces in the sleeve. The first is covering the sRGB color space in 100%. So you can work on graphics and video with confidence, using the benefits of an ultra-wide display.
Those who spend long hours in front of the computer will also appreciate Predator Vision Care, that is, improvements that limit screen flickering and the emission of harmful blue light.
The monitor is also equipped with four USB ports, as well as 7W stereo speakers - it will certainly please everyone who play and work in headphones, but would also like to be able to sometimes use the speakers without cluttering the desk with additional devices.
Price? As for the "to everything" monitor, it absolutely does not deter.
The Acer Predator X34 monitor costs PLN 4799 . Against the background of average displays for work or games, this amount may seem high, but considering how much we get in return, I can not call Predator X34 "expensive".
In one, cosmically presented packaging, we get an ultra-wide monitor that provides great gaming experience, as well as an extremely practical panel for everyday work, including graphic programs and photo and video processing.
Monitors that combine these two worlds successfully are a real rarity.
* The material was created in cooperation with the Acer brand.
Such monitors are a real rarity. The Acer Predator X34 combines the best features of gaming and work equipment