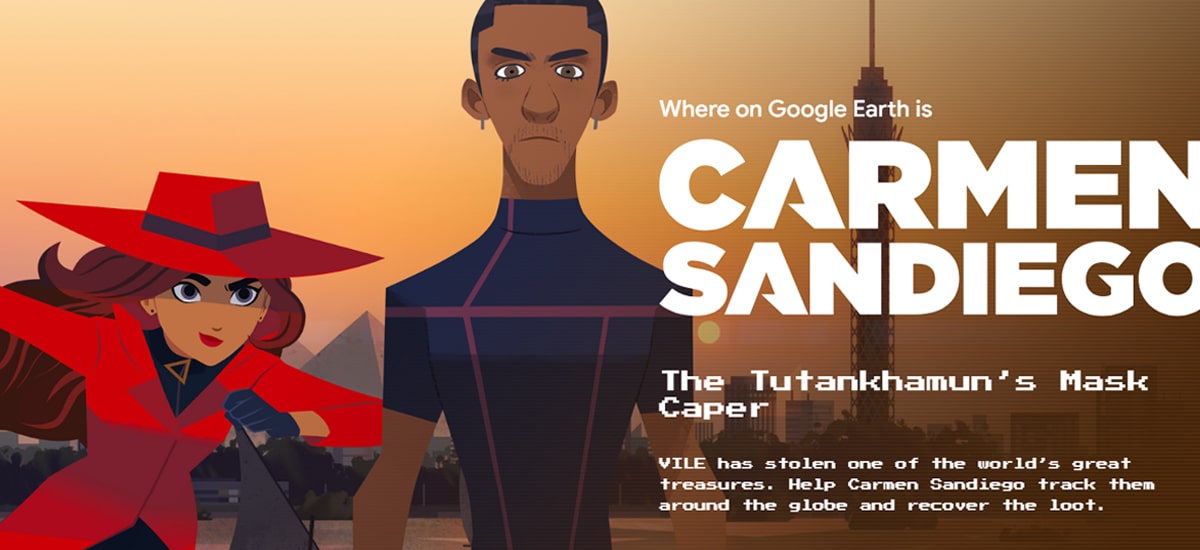 A known thief has switched to the good side of power. The new mini game in Google Earth with the main share of the heroine of our childhood will take us out of homes for a while and will allow, even if virtually, to visit places with much nicer weather.
In the version of Google Carmen Sandiego, she abandoned her life in the thieves organization VILE and became an agent of a good ACME. Now he crosses the plans of his former companions and recovers their stolen jewels. The player will help her in this. After all, every hero needs his faithful helper.
Help Carmen Sandiego , help

Google Earth .
This time, a former colleague from Carmen's school, Le Chevre, stole the death mask of Tutankhamun from the pyramids at Giza. The player begins in Cairo, where, by interviewing potential witnesses, he must determine where Le Chevre went with the stolen treasure. Each of the witnesses will say something about the next place of the evil thief's stay. Sometimes it will be something about the characteristic buildings in a given city, the flag of the country in which it is located or the customs there. Riddles are not difficult and require quite general knowledge about the world, so younger players will also manage it.
When the player already knows what place he is walking, he presses the airplane icon and selects from among several proposals the city to which he eluded Le Chevre, not so elusive. If he chooses well, the situation will be repeated, if it is wrong, the witnesses in the next city will simply say that they have not seen any suspect.
According to the educational spirit of most of Carmen Sandiego's incarnations, traveling around the map, you can learn a few interesting facts about the cities you visit or just explore them using the fantastic views and information that offers a gem among Google applications, Google Earth.
Children get bored during the rain.
This is the second game involving a crimson cloak in Google Earth. The company claims that it was the enthusiastic reaction to the first part that convinced her to write the story of the heroine's further adventures.
In Carmen Sandiego: The Tutankhamun's Mask Capermożna can be played in the browser or in the Google Earth app on your phone.
Even the aura in Poland helps Goiogle to promote the new game. The weather outside the window is conducive to trips, but also virtual, or at most a finger on the map.
Help Carmen Sandiego recover Tutankhamun's mask by visiting the world with Google Earth