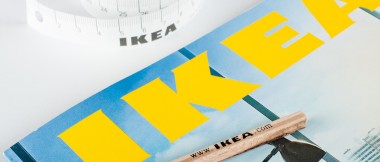 We all know this - renovation or spring cleaning is being prepared and we are suddenly discovering items in the apartment that we have long forgotten, which do not fit well, or which we simply do not need anymore. IKEA has an idea of ​​what to do with such items.
In the Krakow IKEA store, as part of the Forum Events project, from 16 to 19 May there will be "Space Full Good" - a place created from used furniture from the opportunity zone, where everyone will be able to bring unnecessary items and share them with other people, and also use yourself for the goodness of others.
According to Sabina Patryas, Co-ordinator for Sustainable Development at IKEA Kraków in conversation with the website forhandlu.pl ,
They can be decorative elements and accessories that after the rearranging do not match the decor, long-unused household items, toys or unworn clothes. Everything that is in good condition and can help others. And of course it will fit in our "space"
IKEA Kraków's actions fit perfectly into the increasingly popular, also in Poland, zero-waste philosophy , which our grandparents would simply call "unkempt things", or even simpler - common sense.
Instead of throwing away such unnecessary items (which nothing is wrong) on ​​the trash, where they join the heaps of waste produced each day by the human race, you can pass them on to someone else who will find value and application in them. A simple idea about which - at the time of galloping consumerism - we often forget.
IKEA enters

zero-waste . I hope this is not a one-off action.
The idea of ​​"The Space of a Full Good" is obviously not new. Before people bounced on constant purchases, and personal goods became so cheap that it is more profitable to buy new than cheap ones, we all tried to waste as little as possible, and items from the so-called. "Second hand" was bought on the agenda.
Even if we did not give away anything for free, there were institutions like the "flea market" to which you could come and exchange or resell unnecessary things. According to the principle, "for one garbage, for another treasure".
The same principle applies to books exchange points all over Poland - in each city there will be at least one place where you can bring in books and exchange them for other books. At the train stations, in shopping malls, in libraries ... the library in my hometown even organizes a cyclical "relay race", where anyone can come with a stock of their read (or never created) volumes, put them on the table and leave the premises with somebody else's books under the arm. Nothing is wasted.
You will ask - but what for? I answer - for convenience.
One may wonder why we need such a space, as in IKEA Kraków, if we have Allegro, OLX and other advertising sites where we can sell or give away unused items for free. It is true, we have all these services, but taking advantage of them requires a lot of commitment.
It is not enough to write "I will give away the X product for free" on OLX. It would be good to take a picture of him, describe the product well, and then answer another 15 messages like "is it possible to exchange for Gekon's food". Not everyone has the time to do it, and certainly not everyone has the will. Personally, I do not have a bit of patience and time for such games, which - I heartily admit - I usually throw away unused items instead of looking for a new home for them.
"Space Full Good" reduces the time and commitment needed to give your items to a minimum. We come, we give, and someone else is worried about exposing these products. And we absolutely do not care who they go to. Quick and comfortable.
That is why I think that we need more such "Space of Full Good". I would like a small corner of this type to function constantly in all stores of the Swedish chain, the more so because IKEA is just one of those places where we often spend money impulsively, buying items that quickly lose their importance and usability.
And the forefront of simplicity and convenience of quick shopping can only be put in the simplicity and convenience of donating unnecessary things that no longer have any value for us.
Excellent action of the Krakow IKEA store. Instead of throwing things in the trash, share them with others