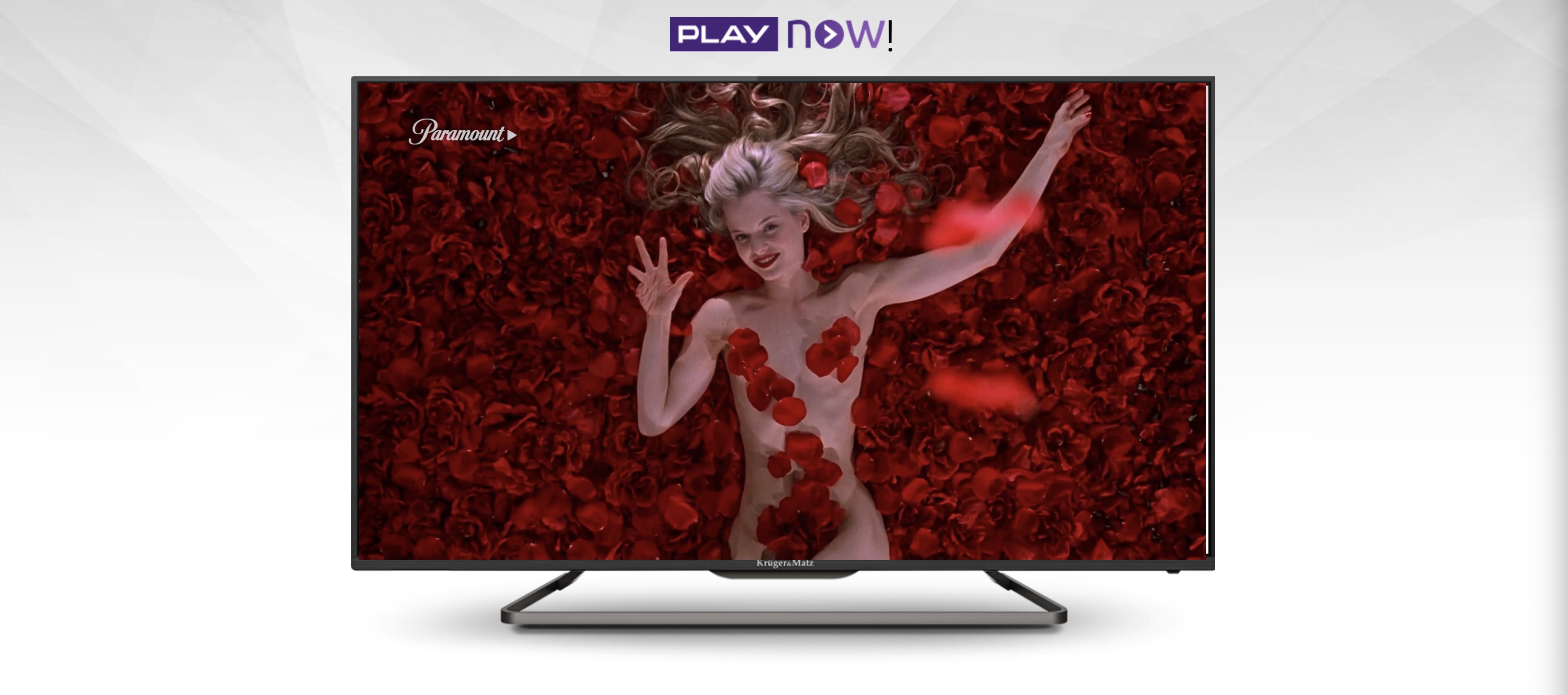 Play has already completed the first stage of testing the new version of the Play Now television. We check what the offer based on the Android TV decoder looks like.
Operators are trying to provide their subscribers with something more than just access to telecommunications services. Their offers include more and more multimedia services, including VOD. In addition to access to on-demand video content from third parties, such as, for example, Netflix, there are also proprietary platforms prepared by telecoms themselves.
Play Now , or (not only) Internet TV
One of such services is Play Now. It appeared in the network offer as early as 2016. At the beginning, access to live channels via the Internet and content in the VOD model, to which over the years joined, among others movies, series and programs from HBO, was possible through a web browser and via mobile devices.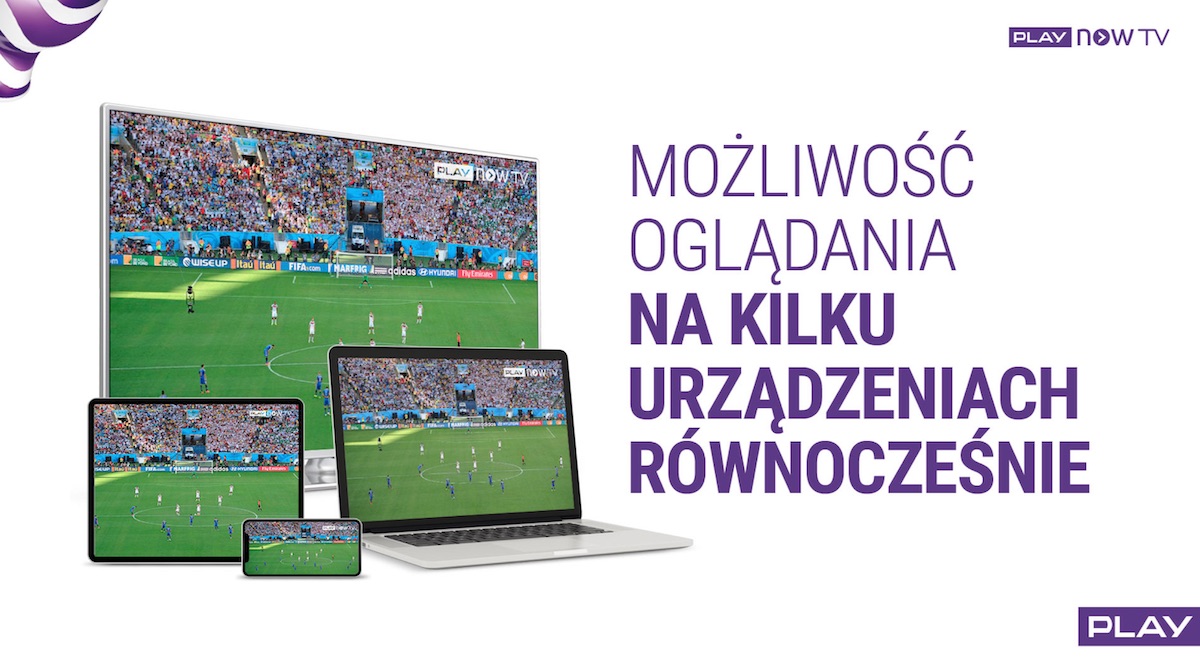 In February, the network changed its strategy. Play Now is no longer a strictly online television. The operator's offer was joined by the TV Box decoder , which allows you to use Play Now directly on the TV and change the old TV in Smart TV.
After a quarter of tests, which the operator has just finished - 8 thousand of them took part in them. people who the installation process rated 87 percent positively - the users of the service will be able to become all willing.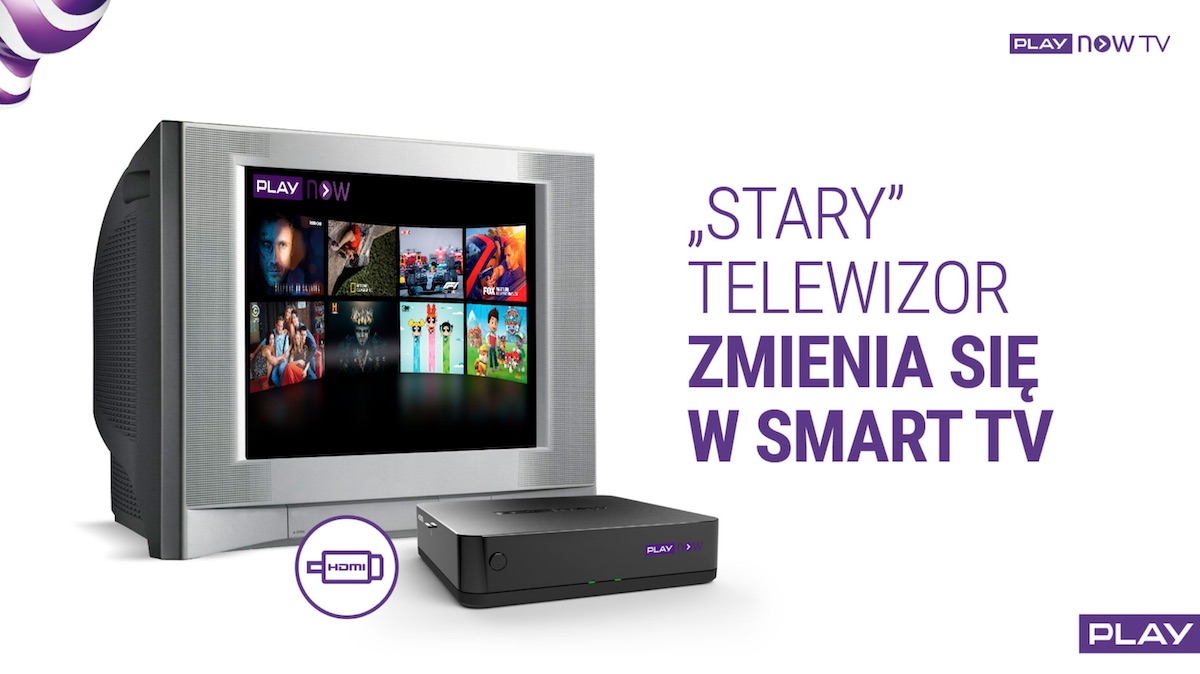 People who have tested Play Now and TV Box decoder for the last three months positively assessed such decoder functions as recording, playback of the selected material from the beginning and catchup function, which allows viewing material from linear television for 7 days from its initial emission.
How does Play Now work on the TV Box decoder?
The operator convinces that his new offer is intended for people who want to connect to the TV one equipment giving access to everything that is needed - from a linear television via the Internet or via a DVB-T / C decoder to VOD services. Subscribers who opt for Play Now do not have to entail a long-term contract for additional packages and can turn them on and off on demand.
The heart of the Play Now service is a new decoder with Android TV. The operator allows him to download additional programs and there is nothing to prevent him from using other VOD services. Telekom does not block the installation of any applications. You can use any that is available in the Google Play store.
The big advantage of the service is that it allows you to watch materials on several devices at the same time.
This is appreciated by families in which one member sits in front of the TV and another starts the service on a computer or tablet. Added to this is a remote control that allows voice search. There are icons for Netflix, HBO and YouTube on it - but this is just a section of the offer.
And Ipla and Player are also added. Thanks to this Play can boast that Play Now on the TV Box decoder provides access to channels that are responsible for the emission of almost 98 percent. television watched in our country.
Play Now and TV Box - how much does it cost?
The decoder giving access to the VOD service from the Play network has already been officially added to the offer. The service can be tested for 30 days without any obligations, and after signing the contract it can be used free of charge for 3 months.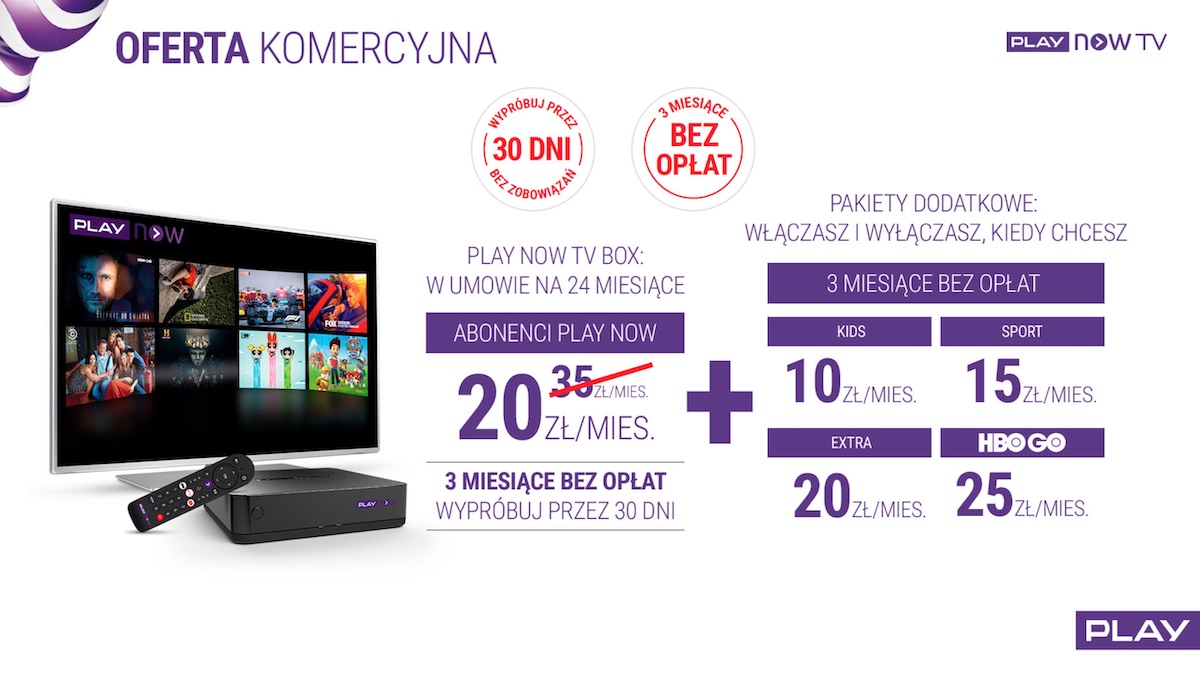 In the 24-month contract, access to the TV Box decoder costs PLN 35 per month according to the price list, but Play subscribers who already have access to Play Now will pay extra PLN 20 per month. At these prices customers will get access to such channels as:
National Geographic;
Nat Geo Wild;
Nat Geo People;
Fox;
Fox Comedy;
Disney Junior (new);
Disney XD (new);
Disney Channel (new);
Comedy Central;
TNT;
Paramount Channel;
History;
BBC Lifestyle;
MTV HD.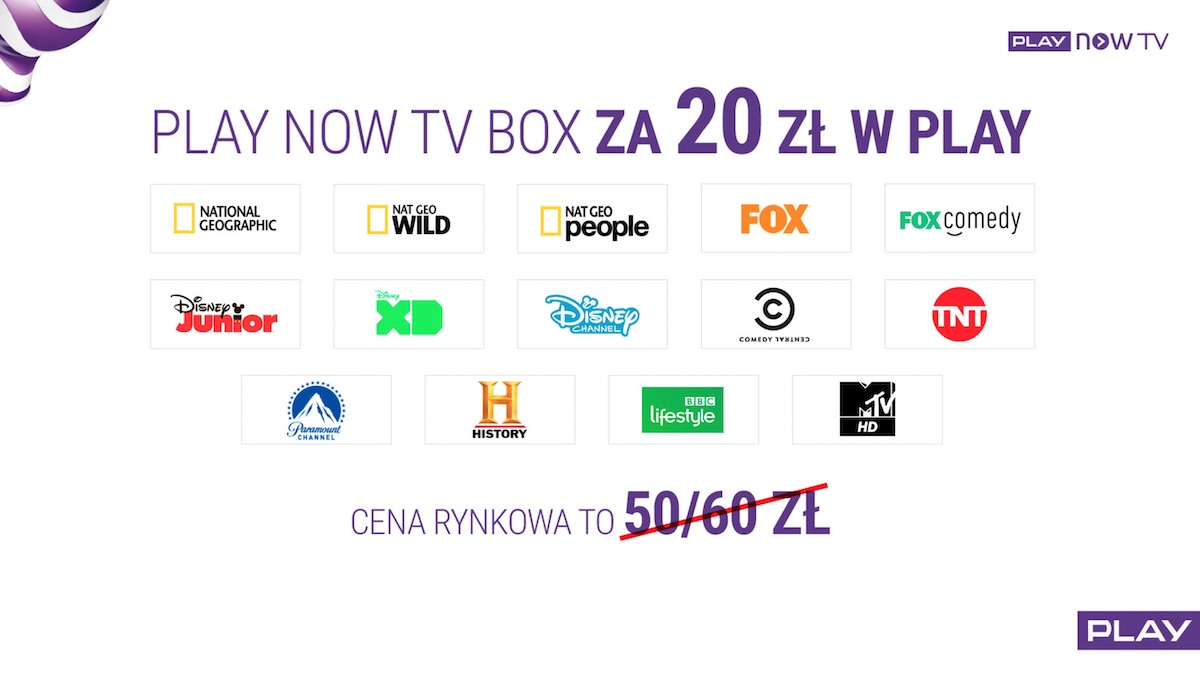 In addition, there are channels from DVB-T / C television, if someone decides to connect the antenna and optional packages that can be turned on and off at any time:
Play Now Kids - PLN 10 monthly;
Play Now Sports - PLN 15 per month;
Play Now Extra - PLN 20 per month;
HBO GO - PLN 25 per month.
The current contents of packages can be viewed on the website of the service provider .
Television Play Now officially launched