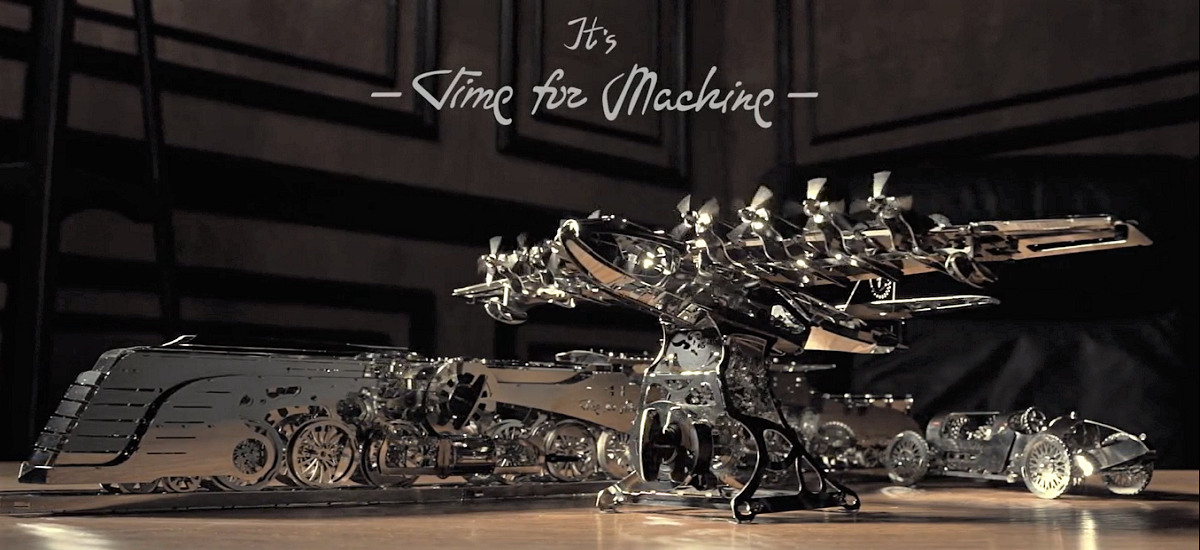 It's a story about a person who really wanted to create something unique, but at the beginning it failed. However, she never gave up. Today, Denis Ochrimenko - creator of Time 4 Machine - manufactures adult metal toys and sets off with another campaign on Kickstarter.
The birth of Ugears - a company known today for the production of wooden structures.
It was very difficult - you go to the mall, you see the toys you designed yourself. Friends keep calling and say they've seen Ugears in different places. And you listen and at the same time understand that your child is lost forever. I would not like to experience a similar feeling - says Denis Ochrimenko in an interview with vc.ru.
It all began in 2012, Denis Ochrimenko once again decided to try to create his own project and develop it. Taking into account his own designer skills, the Ukrainian came up with the idea of ​​creating Ukrainian Gears (Ugears) , an adult construction.
For two years Denis was looking for suitable materials for the project: foam board, foamed polystyrene, wood, cardboard, etc. The most suitable option turned out to be plywood cut with a laser.
The first models were designed and developed independently, and the productions were ordered at the factory. In this way, the Ukrainian sold 50 pieces of toys. Understanding that a similar pace of work will not bring the desired results, he went with the presentation of his project at Startup UA (the Ukrainian investment platform). After the performance, he received several cooperation offers, including from his future business partner, Henadia Shestaka, who at that time worked in the publishing house and had experience in sales. Denis Ochrimenko and his new partner started cooperation.
The conflict began after success.
Hennadia Shestak together with another sponsor, Olga Kravchuk, invested about 120,000 dollars. in the project. The company was growing, sales were growing, and by 2016 Ugears employed about 100 employees.
About a year later, the startup used Kickstarter and collected over 400,000. dollars. As Denis says, Hennadia did not work in the publishing house at this point, and took the position of the company's director. Misunderstandings have started.
Hennadia Shestak himself says that one day Denis came to him and asked for 50,000. dollars. for a woman from the United States who had to deal with product development in America. Hennadia, however, said that he was a scammer and he refused to allocate money for this purpose. "I was looking for a partner, not a manager," says Denis.
In the summer of 2016, the originator of Ugears left his own company.
The birth of a new project by Denis Ochrimenko - Time 4 Machine.
A Ukrainian had the idea of ​​creating a new project - a metal construction for adults - while working at Ugears, but then the initiative did not receive support from the partners.
After leaving the company, Denis began working on the Time 4 Machine project. As the Ukrainian tells, metal models are visually similar to Ugears, but "to create a new design, I had to rethink the entire assembly of the structure. Fixing the axle in the gears had to be reinvented - it did not come until the fifth time. "
The Ukrainian says that he likes metal models because they are heavy, shiny, small. You can create a functioning mechanism, for example a working clock.
New project - a new business partner
At the beginning of Time 4 Machine, the founder managed to attract investors, but the investment money was quickly over. Then Denis sold 25 percent. of its shares in Ugears and invested 100,000 dol in the development of a new project - a team, designers and a machine for cutting metal.
In Ukraine, it was not possible to find adequate production facilities, so the company moved it to China.
Time 4 Machine on Kickstarter. A second time
Currently, the company's offer includes wooden and metal constructions. Wooden products are seven models priced from 34 to 37 dollars. The most popular are car models and scorpion. Metal products include 13 different models, including a miniature hockey field with players, a timer, etc. Prices: from $ 25 to $ 160.
In 2017 Time 4 Machine launched on Kickstarter with models of metal, platform users have invested in the project over 50 thousand. dollars.
It's been two years, Denis designed new models, made really impressive promotional videos and started the Kickstarter again . He has collected over 150,000. and there are still 15 days left until the end of the campaign. What is important and symbolic, it has already managed to break the Ugears record and collect over 100,000. dollars. more. Investing from $ 32 on the platform, you can get a construction made of metal, which is called Hot Tractor.
The most interesting constructions are the train models (Dazzling Steamliner) and aircraft (Heavenly Hercules). To get them, you have to pay to Kickstarter from $ 84.
What's in the set?
By paying 84 dollars, in August 2019 we will receive parts for assembly of the aircraft structure, a video assembly guide and paper instructions.
Each model can be assembled using only small pliers. Parts easily connect to each other by one screwing. We also offer a set of professional tools that include 2 different types of pliers, 2 files and a polishing cloth, - we read in the description of the Kickstarter campaign.
Toys are intended for people from 14 years of age. Assembly time, depending on the model, can take from 2 to 14 hours. Time 4 Machine representatives emphasize that they offer not only constructions, but also a good way to spend time together with a child or partner when creating real and working machines with their own hands.
He left his own company and started building models of metal. Today he's doing great on Kickstarter