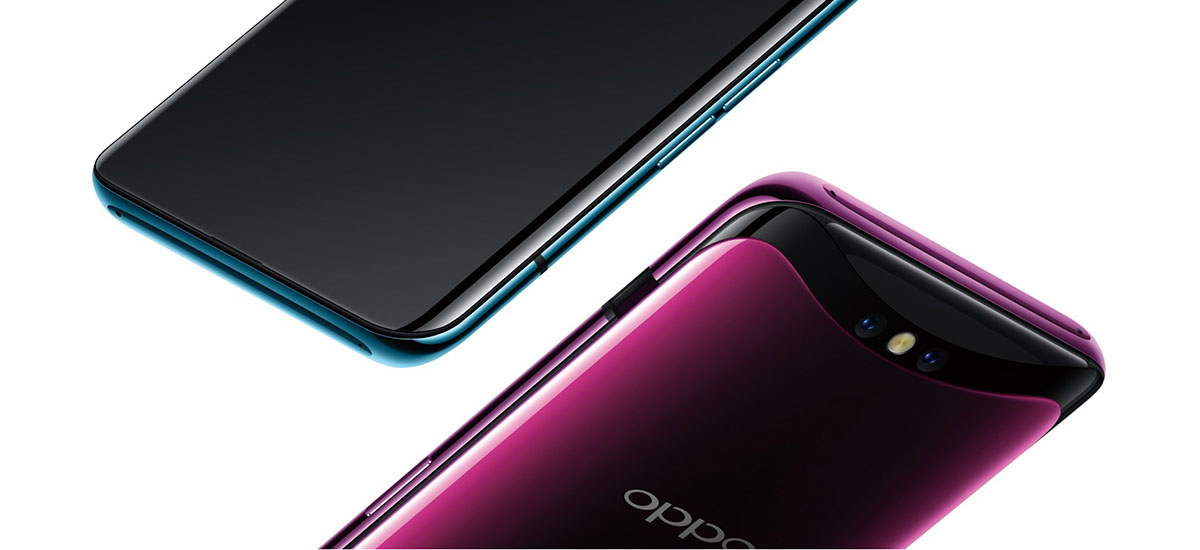 We have already got used to the fact that when a new Chinese phone manufacturer enters our country, it usually begins with its affordable offer. However, Oppo intends to introduce with us - and perhaps above all - expensive, flagship models.
The fifth largest producer of telephones in the world so far was a certain exotic in our country. Perhaps someone is using this manufacturer's product, maybe it's even a few people. The brand itself, however, is completely foreign to most consumers, and Oppo itself did not conduct any official activities in Poland.
This is changing, as previously announced . What surprises Oppo's offer on our market is entering it with expensive, flagship models. It is a bold step, taking into account the fact that in the segment of luxury brands Apple, Samsung and Huawei dominate. The Chinese producer - although he is doing phenomenally in the world - in Poland he will have to try hard to get anyone to pay attention to him.
Oppo A7 - the cheapest model on offer
The phone will cost 1000 PLN. In return, we get a device with a double camera (13 megapixels + 2 megapixels, respectively f / 2.2 and f / 2.4), a 4230 mAh battery and a 6.2-inch longitudinal HD display + protected with Gorilla Glass 3 and an interlocking 16-megapixel camera to selylów. Oppo A7 is equipped with microUSB and audio jack connectors and a fingerprint reader on the back cover.
The poor Snapdragon 450 processor with 3 GB RAM is responsible for performance, and the phone works under the control of ColorOS 5.2, which is a modified version of Android Oreo 8.1. We can expand the 32-gigabyte memory with a microSD card.
Oppo RX17 Neo - a cost-effective phone
We move from the lowest to the middle price range - Oppo RX17 Neo costs PLN 1500 and is equipped with a Snapdragon 660 processor with 4 GB RAM and 128 GB of memory. It is, however, primarily distinguished by a 6.4-inch display with a fingerprint reader embedded in it - such a solution on this price shelf is a real rarity. In the small indent of the display, a 25-megapixel selector camera is hidden, assisted by SI algorithms to beautify images.
The same algorithms are also supported by the dual main camera, which consists of a 16- and 2-megapixel unit. The whole presents itself visually attractive and is definitely a competitive offer on the market. RX17 Neo works under the control of ColorOS 5.2.
RX17 Pro, or Oppo goes for a high shelf
The demanding phone - according to Oppo - should have a Snapdragon 710 processor with 8 GB RAM and 128 GB of memory. R17 Pro will be sold at the price of PLN 2,600. It does not include a headphone jack, relying solely on the USB-C connector.
However, it differs primarily from its cheaper version with a triple front camera, consisting of a 12- and 24-megapixel unit, and something Oppo calls the ToF 3D sensor. It is used to map the environment in 3D using infrared - thanks to this the phone can more precisely determine the shape of the object in the lens, which allows for wider possibilities of editing the photo after it has been taken. The whole is complemented by a microSD card slot and a 3700 mAh battery with a fast charging system (10 minutes to charge the phone from zero to 40%). Total is managed by ColorOS 5.2.
The most interesting for dessert. Here is the flagship Oppo X Find
Oppo X Find costs PLN 3700. This phone has an almost frameless 6.42-inch folded AMOLED display with folded sides working in FullHD + resolution. The smartphone has only a USB-C connector. The display has no indentation and no lens is visible from the back of the housing. Could this phone not have a camera?
X Find has an interesting surprise. The cameras - both the rear and the front - are extended along with the upper part of the housing. The front unit contains a 25-megapixel matrix, the back consists of a dual module, 16- and 20-megapixel. Oppo assures that the ejection mechanism will work successfully at least 300,000. times. The phone does not have a fingerprint reader, relying solely on three-dimensional scanning of the face of the user. The whole is complemented by Snapdragon 845 with 8 GB RAM, 256 GB of memory and a 3730 mAh battery with fast charging system.
Oppo officially in Poland. The Chinese measure high and bring expensive, top models