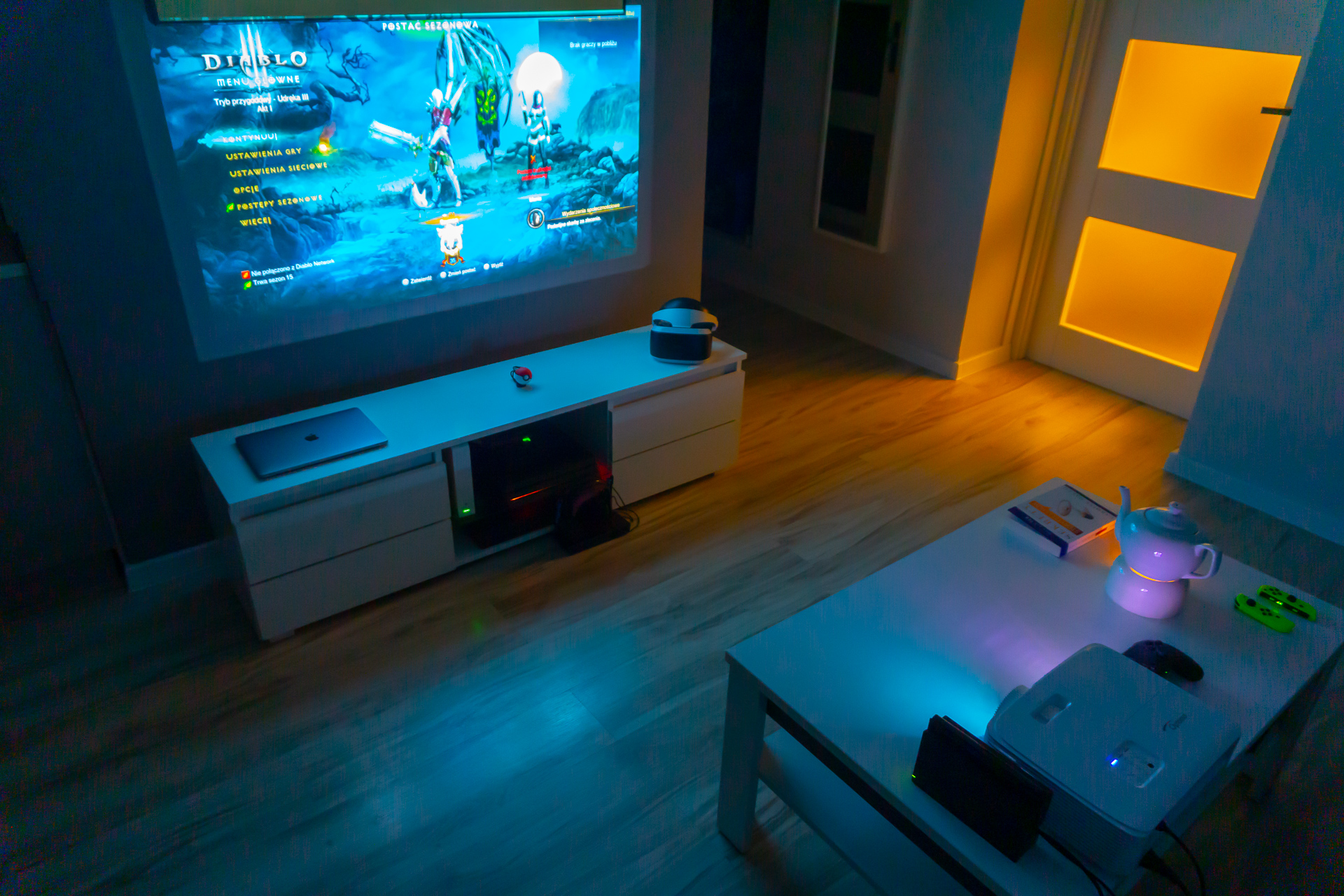 Although I am an enthusiast of the image from the lamp, I do not like the narrative that projectors are replacing TV sets. I know many lovers of the XXL image who will defend such a thesis as independence. I understand their arguments, but I am of the opinion that the projector should not be used as a TV substitute. Properly and consciously used projector allows for much, much more. You just need to approach such a purchase with your head.
Is the projector better than a TV? I hate this question. It's like asking if the plane is better than the car. Is the bread roll better than bread? Of course, modern projectors have such parameters and components that they do not have to have complexes to the living room TV sets. However, it does not make them unique. This is not the way the projector is used to replace the 56-inch Samsung during the evening viewing of the Facts. Limiting a good projector to a TV substitute is a crime. It's like using an iPad as a cutting board. You can, but you immediately feel that something is wrong.
[caption id = "attachment_842078" align = "alignleft" width = "1920"]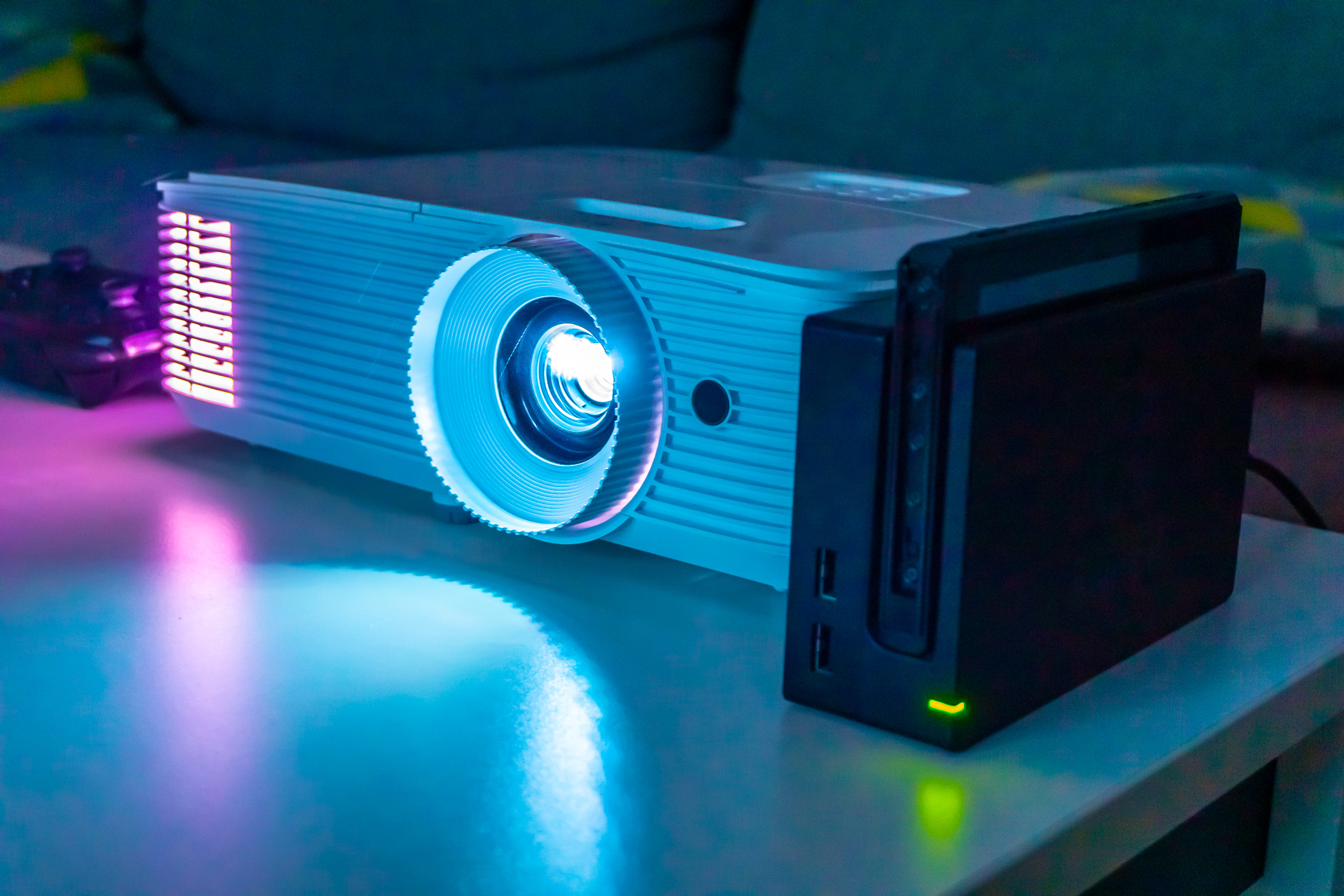 Projector Optoma HD27e [/ caption]
The projector is as good as your idea for it.
Modern projectors are characterized by a sharp, clear and colorful image supported by the latest formats. Native 4K resolution? No problem. A delay not exceeding 20 ms, so crucial for players? Here you are. Sports mode with more frames or movie mode with a classic value of 24p? Something for everyone. HDR? You say, and you have. Technology has ceased to be a bottleneck. Room lighting is also no longer a problem.
With a 3000+ ANSI brightness lamp, the beautiful, sunny south will not interfere with any plan. Friends are always shocked when they see how clear the image from the projector can be. No blinds, no special screens and no white walls. Their surprise is the best proof of a deep unconscious about modern projectors. This is no longer equipment that you can remember from classrooms and conference rooms. These are no longer lamps in which you have to sit in the semi-darkness, otherwise you can not see anything.
[caption id = "attachment_842018" align = "alignleft" width = "1920"]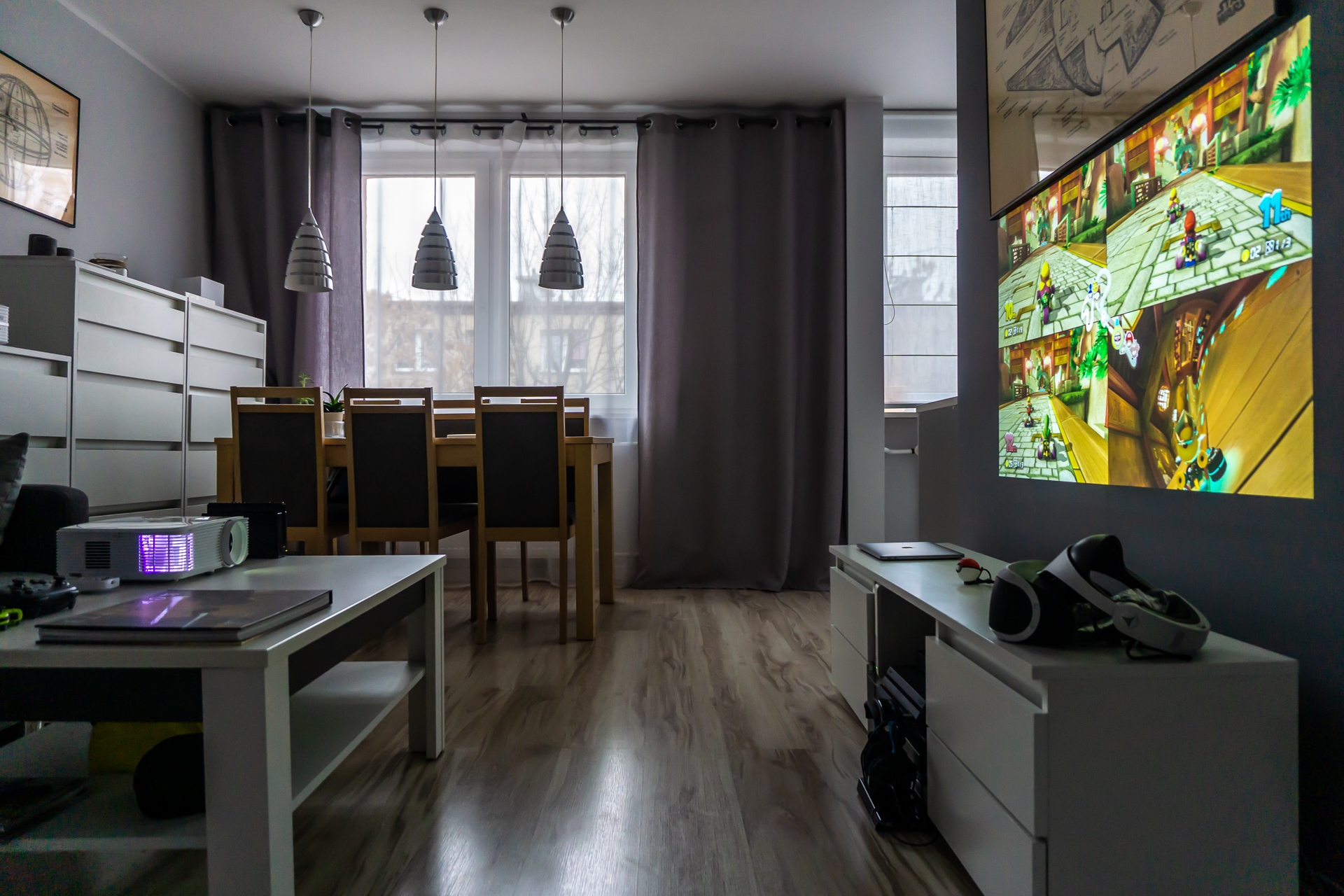 A projector in the middle of the day? No problem [/ caption]
The projector for 2500 PLN does not have to be ashamed in front of the TV for PLN 2,500. After almost 10 years with lamps, I've learned one thing : your projector is as good as your idea for it . This is a fundamental principle that distinguishes this product from TVs. Because although the TV will always have a slightly higher contrast, slightly more vivid colors and greater brightness, the projector allows much, much more.
Finding a good idea for a projector helps to know the advantages and advantages that this type of device has over televisions. Of course, there are also fields where projectors are still behind TVs. I also mention them. Also take a deep breath, fire your creativity and rest assured.
[caption id = "attachment_842030" align = "alignleft" width = "1920"]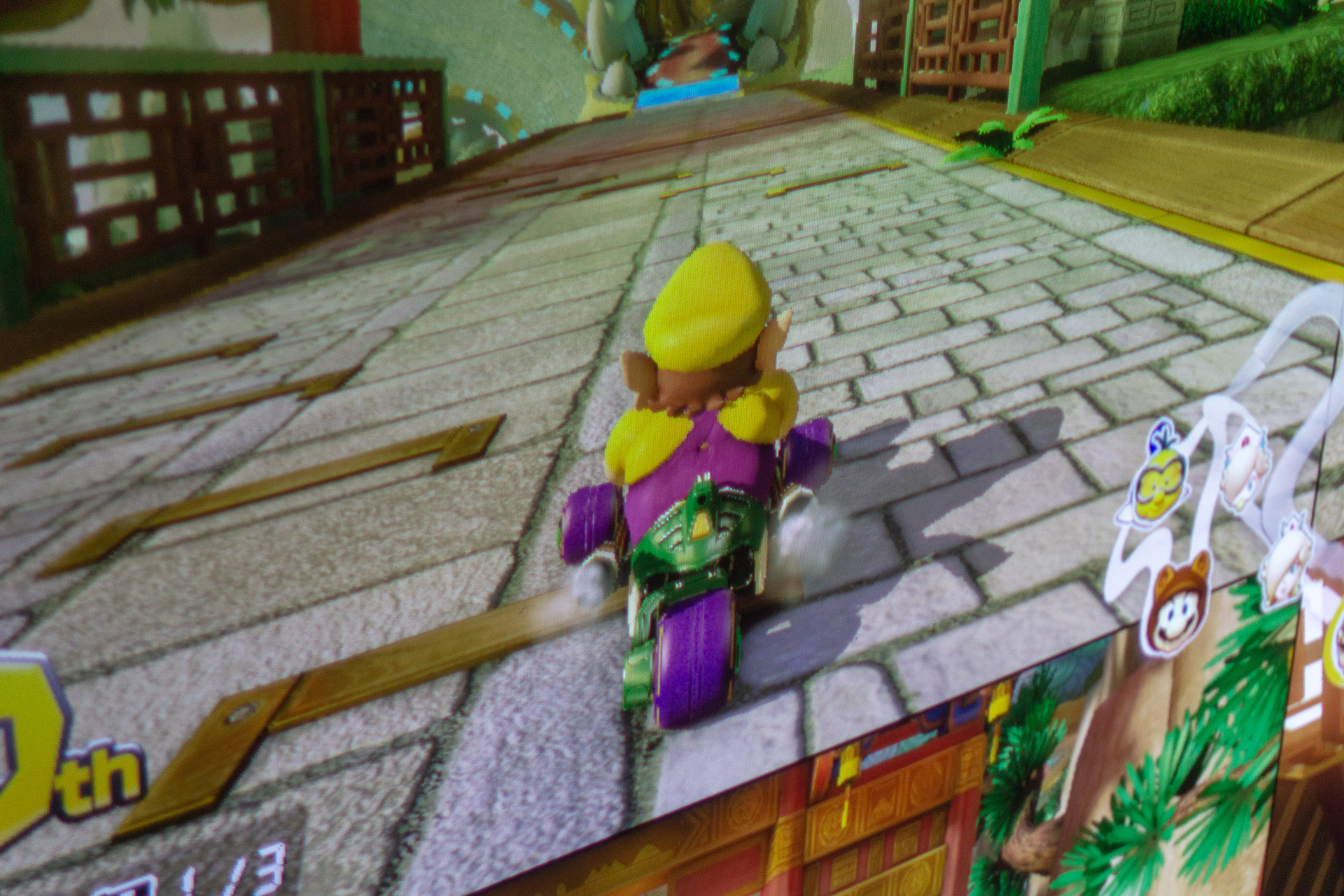 Image from the HD27e projector at 4x magnification [/ caption]
Advantage # 1: You will not make 160 inches from a 56 "TV set. From the projector yes.
One of the biggest, if not the biggest advantage of projectors is image scalability. You place the device on a coffee table, fire up and have a picture of 56 inches. You are moving the projector a bit backwards to the bookshelf, and you suddenly get 80 inches. Mount the device under the ceiling as far as possible from the opposite wall and voila - you enjoy a sharp, clear image with a diagonal of 120 inches. Everything in the price of the product, which costs a quarter of a large-size TV. This is an advantage that can not be overestimated.
Scalability of the image is a great opportunity that is often forgotten. Currently, I am playing with two home Optoma projectors: a powerful model Optoma UHD300X (4500 PLN) with native support of 4K format and a cheaper, more affordable variant of Optoma HD27e (2500 PLN) operating in FHD. Both devices allow you to throw a picture with a size of 40 inches (diagonal) up to 300 inches. 300 inches! It is about 6 meters horizontally and 3.5 meters vertically. A truly overwhelming cinematic experience.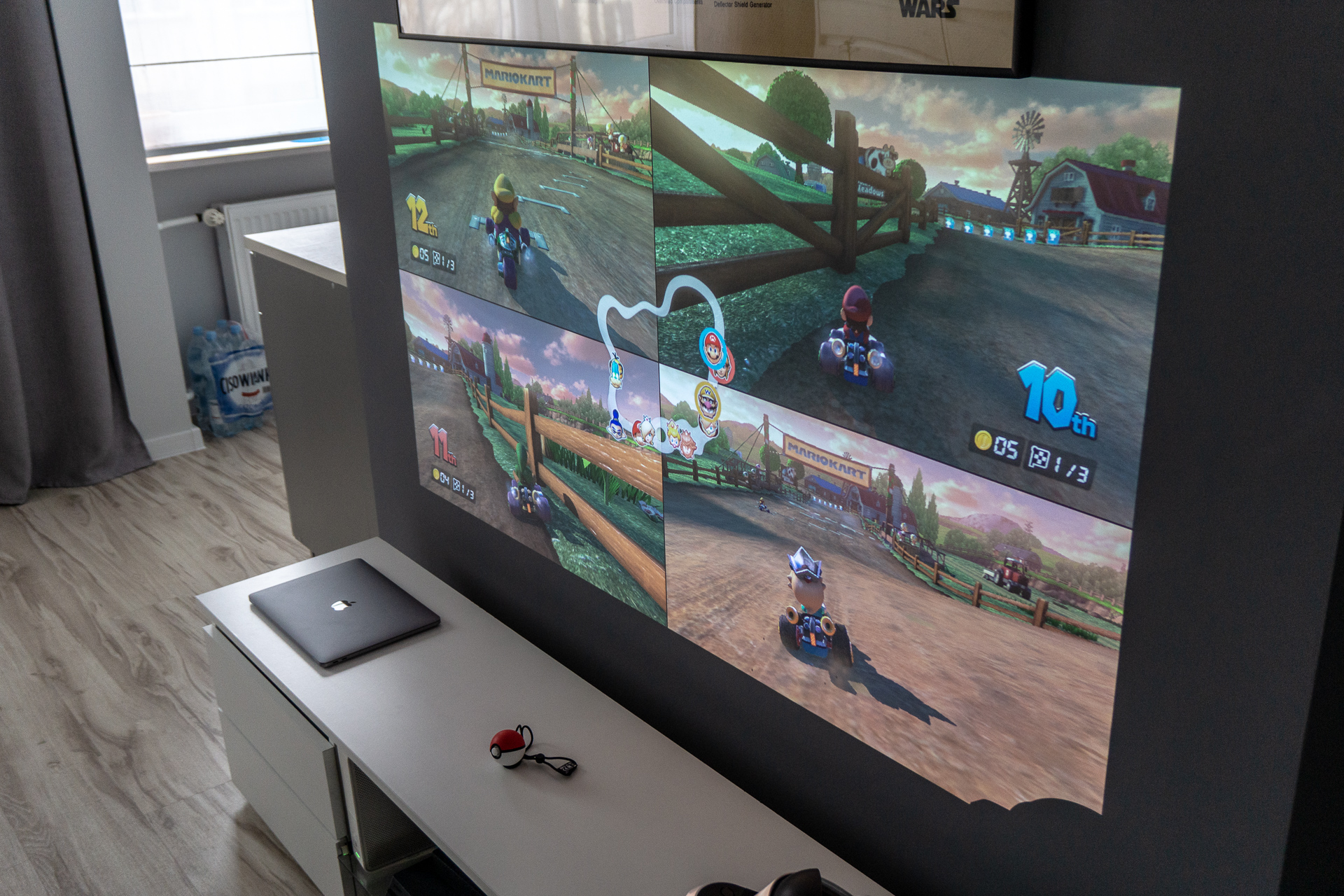 Of course, the longer the way the lamp light must pass, the worse the final image is. Therefore, from my own experience I always assume that half of the maximum size dedicated by the manufacturer is the upper value above which one should not go out. Of course, there are exceptions to this, such as visualizations during outdoor events. However, as a rule, these 50 percent. the maximum range of the lamp always guarantees sharp, bright, clear and vivid picture. So we're talking about projecting a 150-inch screen from a distance of about 5 meters.
Now go to Allegro, Ceneo or Amazon and see how much the cheapest 150-inch TV costs. Empty? For good reason. Screens over 100 inches are either not available in Poland or their costs are counted in hundreds (not exaggerating) thousands. Therefore, thinking about the large screen surface the projector was, is and will be irreplaceable for a long time. Well, unless you have half a million zlotys to make an OLED wall in the style of a budget television studio.
[caption id = "attachment_842045" align = "alignleft" width = "1920"]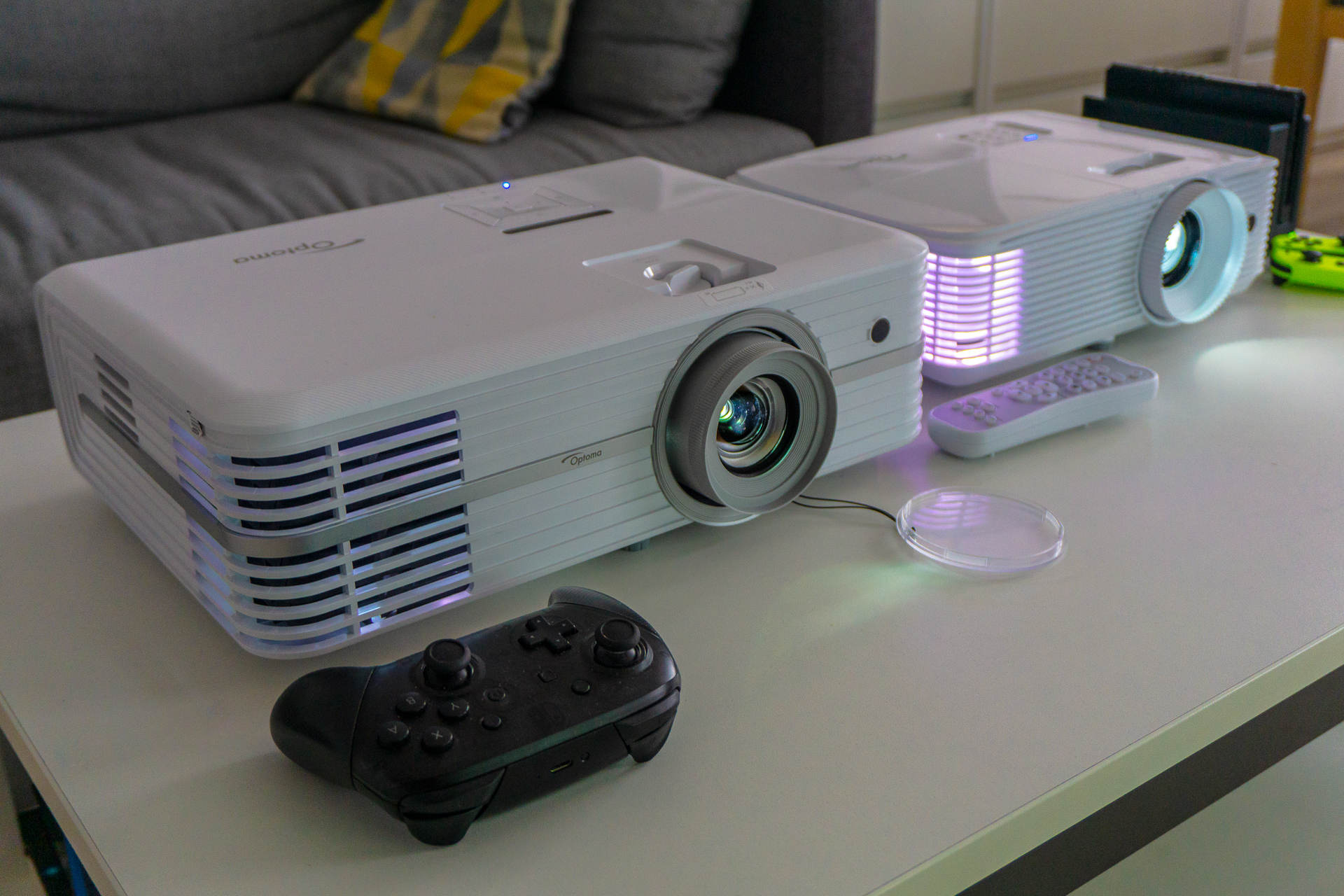 Bigger Optoma UHD300X (4K) projector and smaller Optoma HD27e (FHD) [/ caption]
Advantage # 2: Just do not forget to take the projector!
I remember very well when I first threw the painting on the uniform wall of the allotment house. Friends immediately began to switch ideas of using the projector. For the last few years my private projector has been used as a multimedia center of attractions. Sometimes I had the impression that the device became a more important guest on summer barbecues than myself. On the other hand, I can not blame my friends for it. Who once tasted the support of the Representation under the cloud, in their own garden, quickly gets used to good.
The projector is undoubtedly a much more portable product than the TV. Sure, there is no obstacle to put a table in the garden, and put a beautiful glass screen on it for several thousand. It's just that if the TV belonged to me, I would go to a heart attack at every high-potted outdoor event. Televisions have it to themselves that it's easy to turn them over, but it's very hard to put them back intact.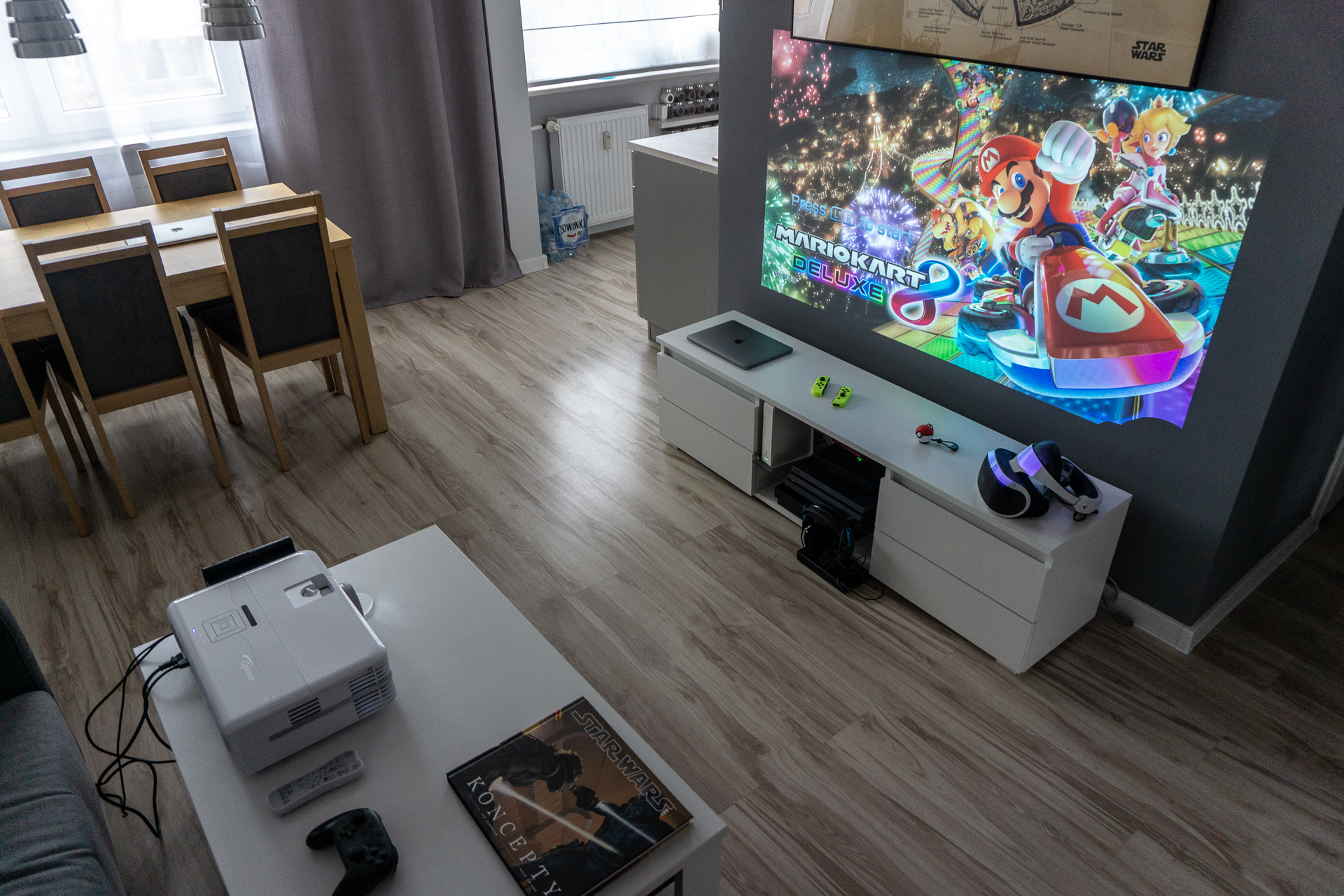 Of course, the projector is not a mobile beast for the smartphone or tablet. I need a power source, so it will not be possible to pull cables anyway. However, I prefer to throw the projector into a bag (the handy Optoma HD27e easily fits into a laptop backpack) than think about moving a 60+ inch TV set. The projector takes up less space, it is easier to set it, it is more stable and it is harder to push it off the table.
Advantage # 3: a multimedia center from A to Z
For a few years now, stereo speakers are standard equipment for the projector. Despite this, on film marathons with friends from time to time they ask if I took any speakers to connect. These surprised faces when the music comes directly from the projector ... Well, just magic. Space technology. The example with the loudspeakers once again reinforces my conviction of the low awareness of the possibilities of modern lamps. These are pretty good multimedia centers that allow you to do much more than squeeze the image from your laptop.
[caption id = "attachment_842069" align = "alignleft" width = "1920"]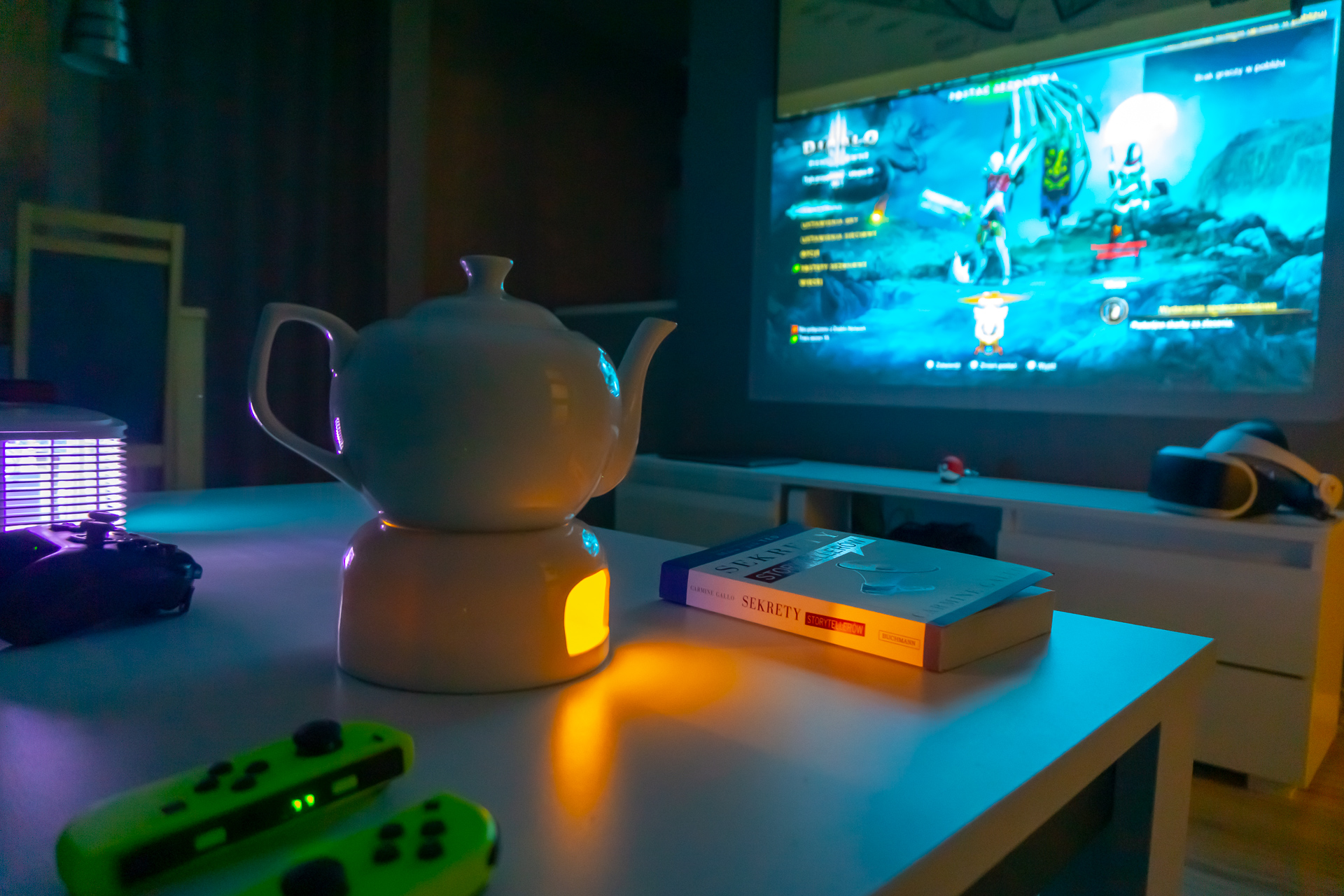 An evening hunt for demons? I do not know anyone who would refuse [/ caption]
For example, both Optomy I have tested have USB sockets, which are additionally powered. This means you can connect Google Chromecast style snap-ins to projectors. You climb and it's ready. Netflix, Spotify, Google Photos, YouTube - whatever you want. A laptop connected via HDMI becomes unnecessary. In spite of this, I constantly carry a MHL cable in my backpack pocket, which allows me to drop the image from my smartphone directly on the cable. Forewarned is forearmed.
The standard equipment of Optoma projectors is also a 3.5 mm audio socket and a 12 V output connector (for the electrically expanding screen). Two HDMI ports mean that I do not have to juggle cables between Chromecast and Nintendo Switches. In addition, the powerful Optoma UHD300X is also equipped with an optical connector that will be appreciated by lovers of sound. I have a DAC connected here.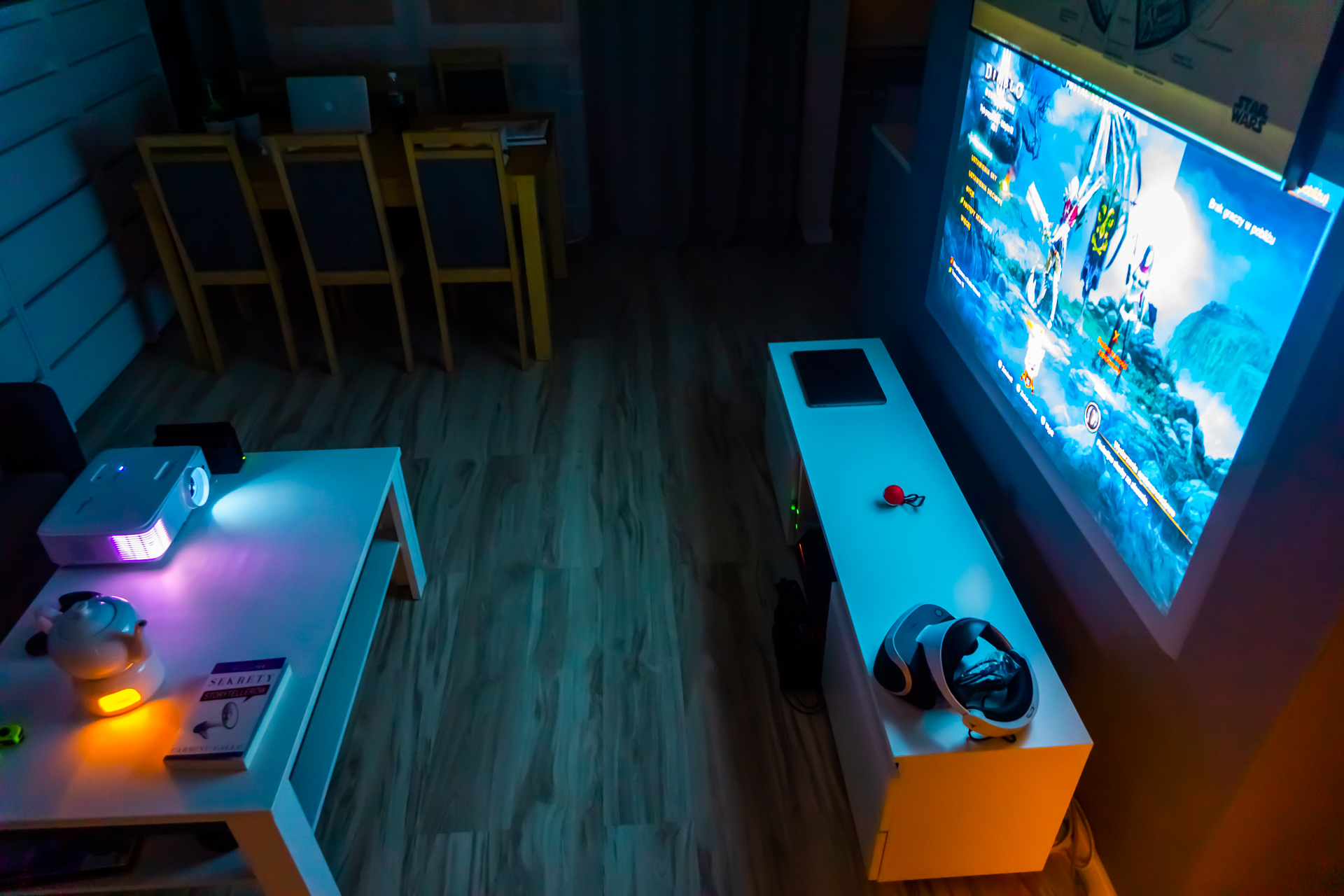 A modern projector, not only from the premium shelf, really does well without a laptop. If you have a Chromecast dust in your closet, you can bring a whole new life to the lamp thanks to the snap-in. The powered, standalone USB-A socket should be the standard of all modern projectors. Optoma does it well and I would not really be offended if the producers of competing devices have followed exactly the same path.
The advantage # 4: a picture in such a quality that it defends itself
Projectors have their technological limitations. The biggest of them is undoubtedly black, which has never been, is not, and probably will not be as black as the demanding cinema maniacs would like. On the other hand, in terms of achieved parameters and image possibilities, modern projectors are similar to lamps in cinemas. Also those with the most expensive tickets, like IMAX (because of the accuracy we have to deal with the picture 2K) or Skoda.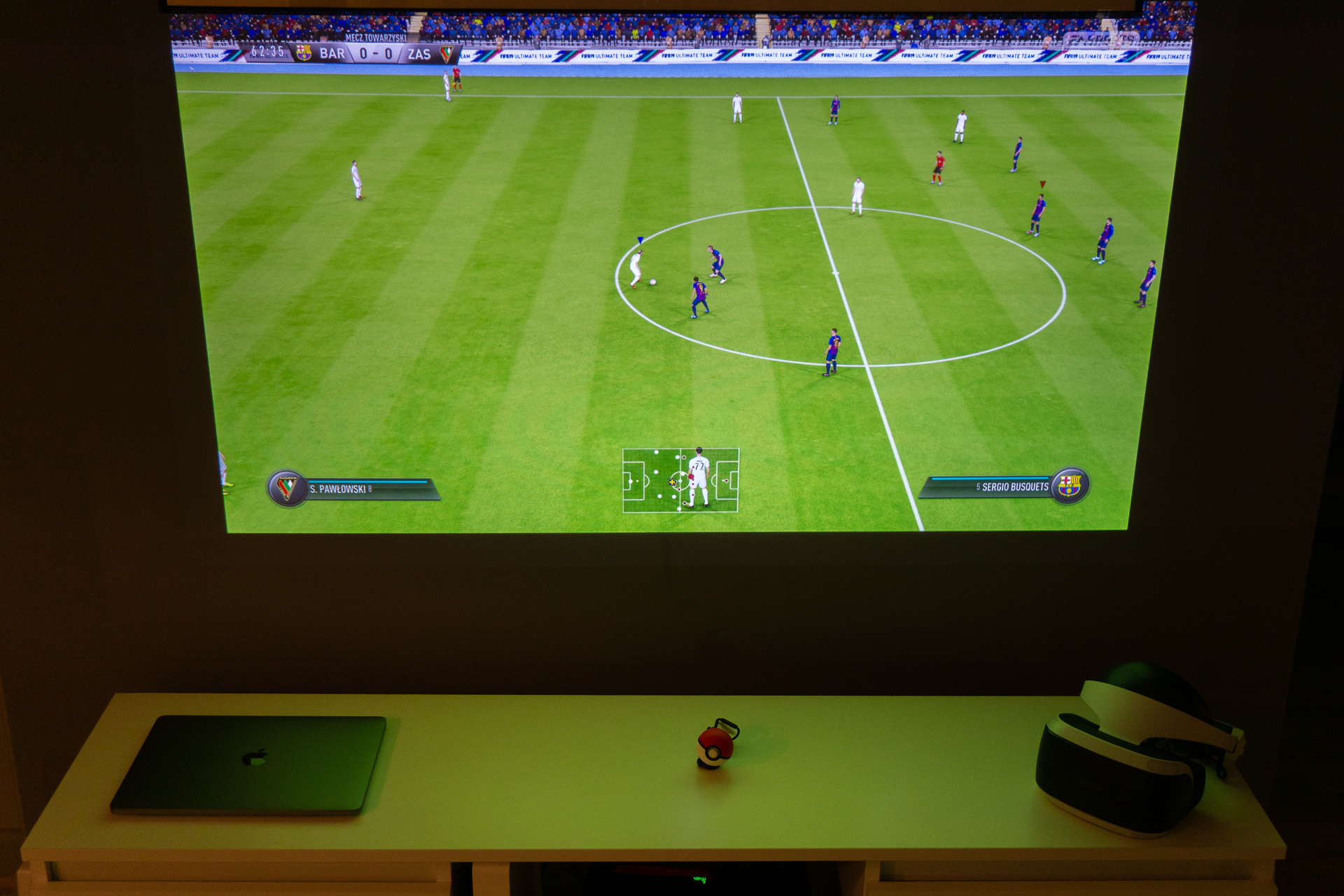 I really did not hear that a person coming out of the latest Avengers complained about contrast, brightness or timbre. To make it more interesting, the cinematic image is often worse than the one achieved in your own salon. It happens that in multiplexes they save on lamps, casting a picture in extending the life of the eco mode. This negatively affects the naturalness of colors or brightness. That's why I was always entertained by negative comments of people about the image quality in projectors, when the same people were then delighted with cinema standards. Placebo in the form of popcorn can do wonders.
Anyway, what I will write. Take a look at the pictures taken by me at different times of the day. Cheaper, costing just over PLN 2,000 Optoma HD27e is doing very well. Even at noon, when the window is bright, and the picture falls on a gray wall without a dedicated screen. It's amazing how economical projectors have come close to quality for economical televisions. When together with friends we play Mario Kart 8 on a split screen, you are constantly surprised that during the day the image of the lamp may look so sharp and clear.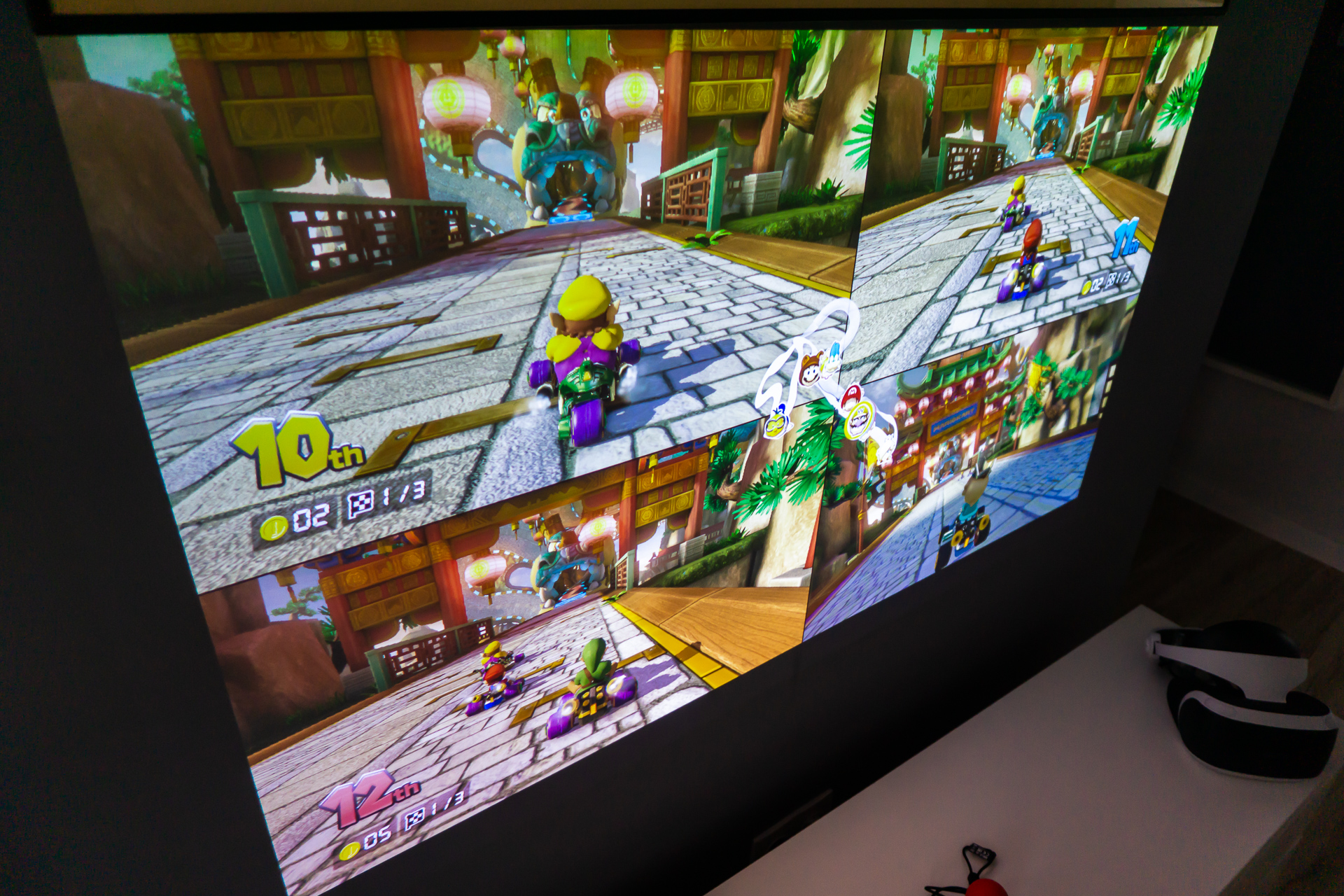 In addition, the projector image can be technologically processed. In addition to the classic brightness, contrast or saturation sliders, Optomics also have a dedicated game mode. The delay here is minimal, which will be appreciated by the owners of consoles connected via HDMI cable. Projectors can also slow down with the refresh rate, going down to 24 frames per second. In this way, the image becomes less dynamic and begins to be more cinematic.
To this Optomy greatly use what is most important in the lamps: brightness. Thanks to strong light, the UDH300X model simulates the operation of HDR technology, whose signal is able to recognize. White flares can be blinding. Explosions, tongues of fire, rays of light - all this looks really impressive. This is not the same HDR we know from medium and high quality TVs, but something much more ... natural? Bright? It is difficult to describe and even harder to capture in the picture. The effect, however, is WOW.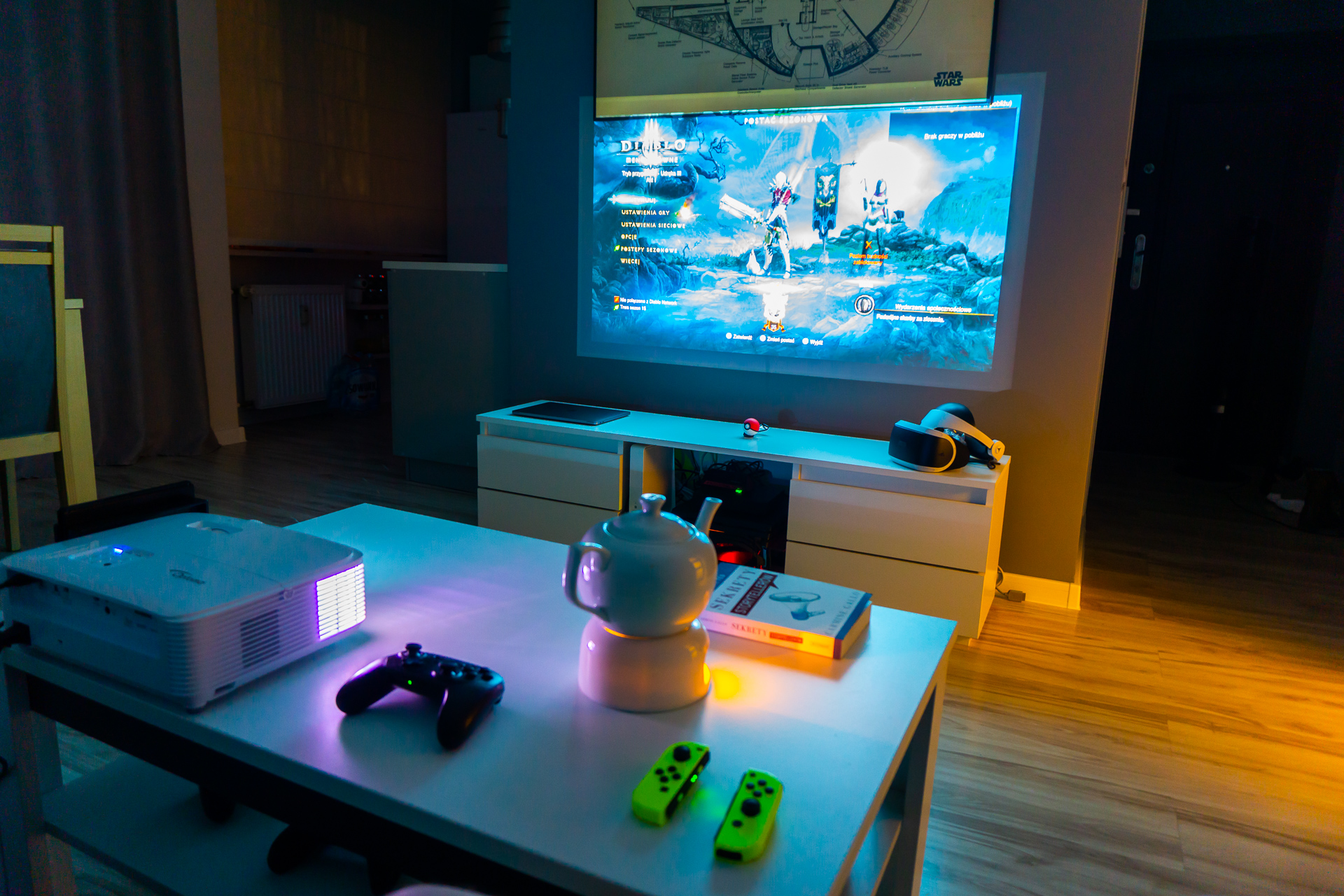 Advantage # 5: you will not go with the bags.
After many years of heating the apartment with a lamp, I think that the projector can not fight the TV. Both devices are to complement each other. While the beautiful DiCaprio Apparition I still prefer to watch on a 4K TV, FIFA 2019, Mario Kart 8, Diablo 3 or Tekken is compulsorily played on the projector. I prefer to see a heavy psychedelic thriller on the TV, but when my friends visit, only the projector counts. There is no conflict here. It is maximizing the possibilities.
Since both devices are complementary to each other, a decent projector can not be more expensive than a decent television. After all, in most apartments TV is the product of the first choice. Therefore, an additional projector should not cost several times more. Fortunately, it does not cost. On the contrary. For a little over 2,000 PLN, you can get a decent lamp, while for 2000 PLN in my life I would not buy a decent television.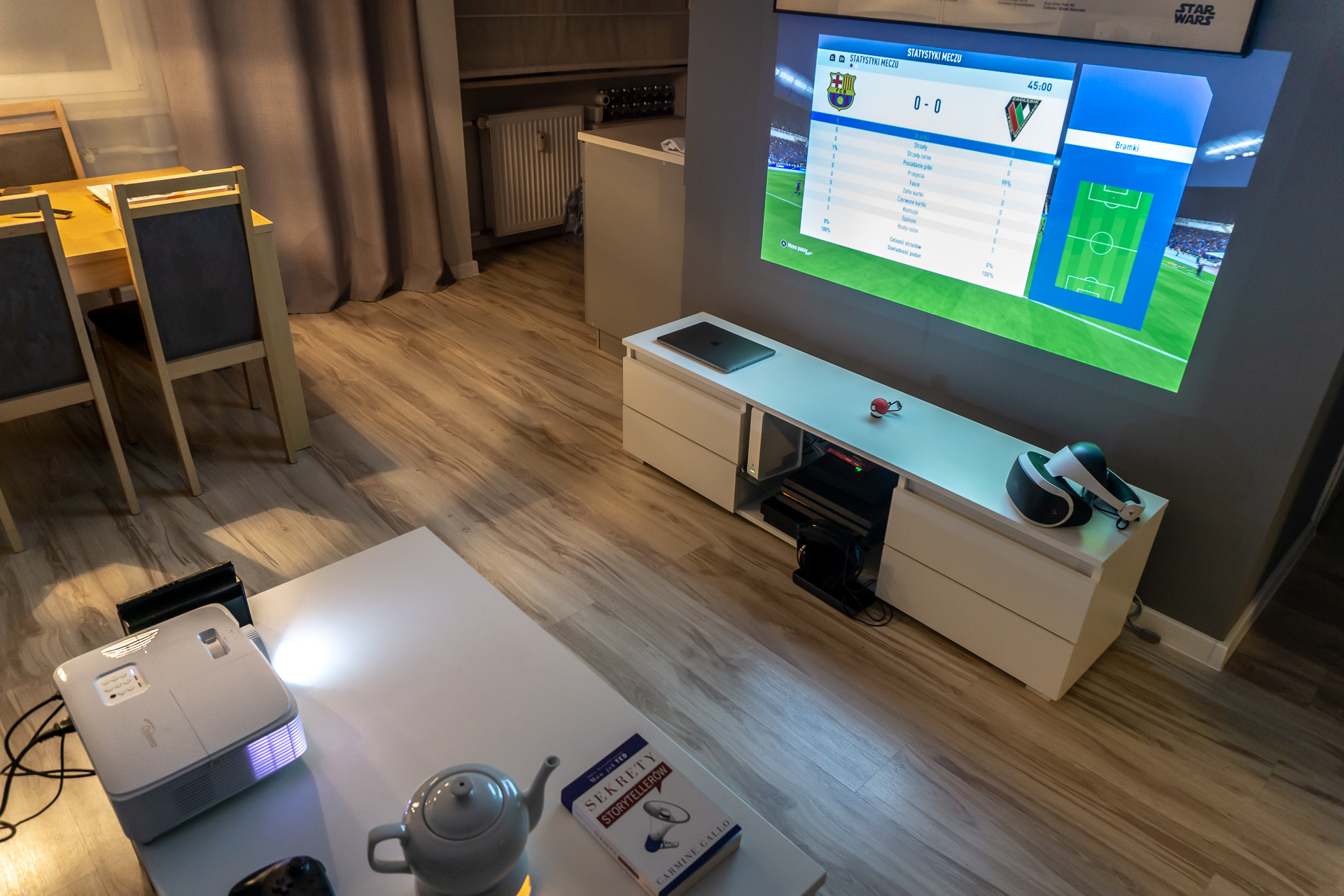 In recent years, the average shelf of projectors has drastically dropped from the price. This is great news for everyone looking for a lamp in the living room. The fact that such equipment as Optoma HD27e costs PLN 2,500, would have been unthinkable a few years ago. Maximum diagonal of 300 inches, solid quality up to 150 inches, brightness above 3000 ANSI, built-in 10W speakers, USB socket with autonomous power supply, two HDMI ports, solid software support - really, really nothing to cling to. Great, universal Full HD configuration.
Honestly? I am slightly annoyed by the unawareness of the possibilities of modern projectors.
We follow competition in the TV market with bated breath, when a really profitable, really versatile product category grows under our noses. If someone has a few meters in the living room to use, it is a sin not to check what modern projectors are capable of. If you still associate these devices as unreliable boxes suspended in classrooms, you will be taken by a huge surprise. Just like my friends. Then friends of their friends.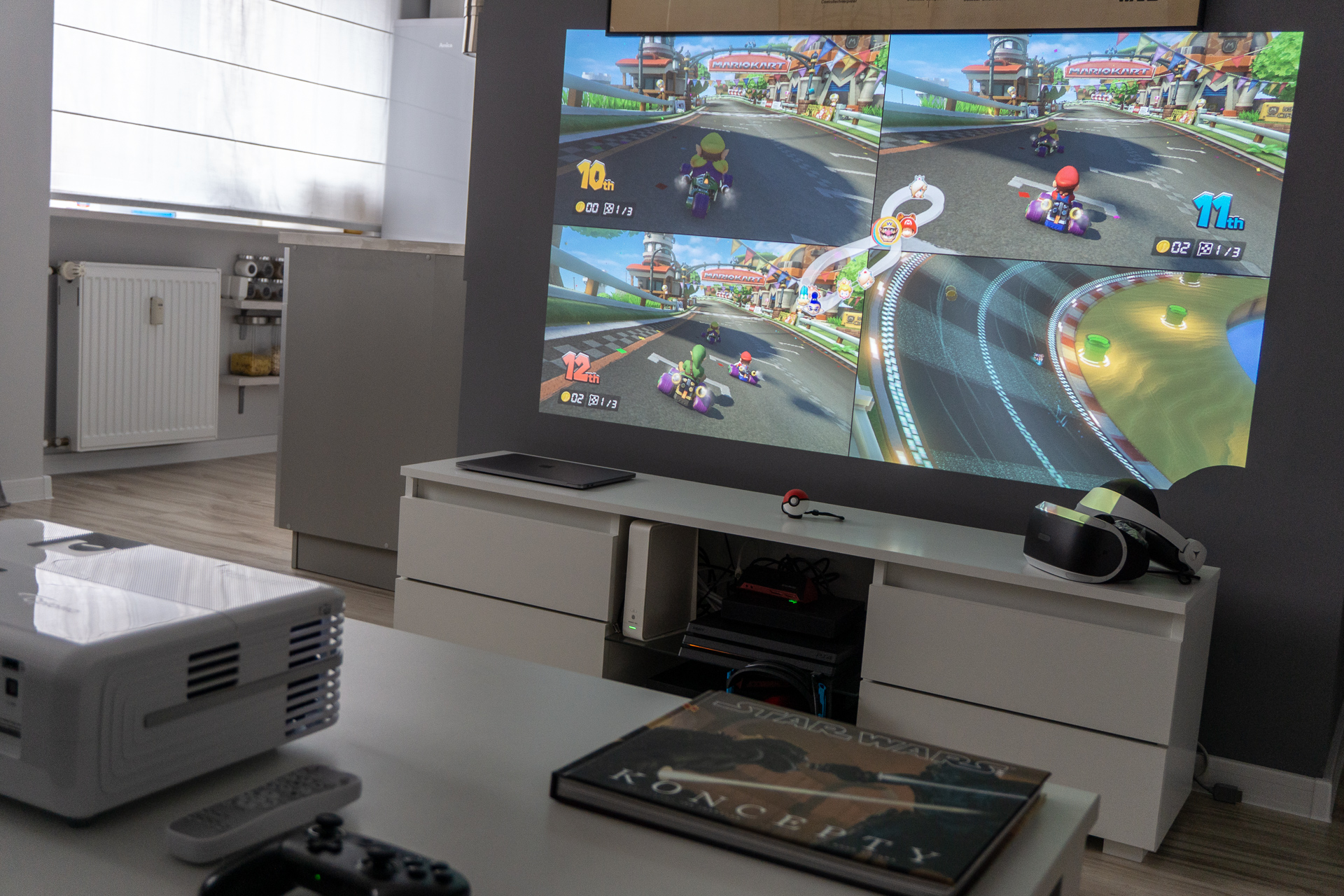 You will not read that the projector is better (or worse) than the TV set. However, no television will work during summer grilling like a warm lamp. The projector is unrivaled during the Star Wars wars marathon and during the editorial Mario Kart 8 Deluxe tournament. These are situations in which I would never change Optoma into a fashionable, bulky TV set. No flat will lose at the presence of the projector, and depending on the creativity of its owners can gain incredibly. I leave it to you for consideration.
* The material was created in cooperation with the Optoma brand
The projector is not a replacement for TV. This is a special task machine that allows more